Arizona Trail FKT
Time to get back after it. Excited to be hitting one of the most diverse scenic long trails in the United States. After setting FKTs on the Pacific Crest Trail, Appalachian Trail and Long Trail, I can't wait to try to push the limits.
I'm getting the chills just writing about this.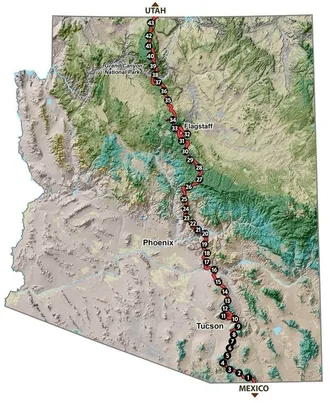 Dates: 3/23/21 around 10AM to ~4/3/21
Style: Supported, northbound. We will have 2 support crews helping make my effort as quick and efficient as possible. The crew will include Katie, Will and Mary Ann McConaughy, Witt Wisebram (former self-supported FKT holder), Jack Murphy, and Michael Dillon (posting daily vlogs).
Arizona Trail FKT Fastest Known Time Record Holders (click for more info)
Josh Perry (self-supported, male) – 14d12h31m
Michael Versteeg (supported, male) – 15d22m39m
Heather Anderson (self-supported, female) – 19d17h09m
Helen Galerakis (supported, female) – 17d11h03m
Tracking: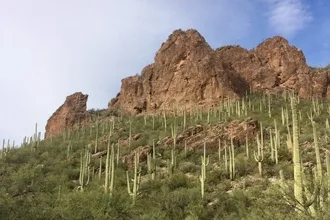 Awareness and Funds for American Indian Communities: Arizona and much of the American West is comprised of native lands that were bought, claimed or stolen. The land I will be traversing is the ancestral and current homeland of American Indians. I will be raising awareness and funds for 2 organizations.
Chizh For Cheii is an Indian American led non-profit that collects and distributes firewood for elders and provides essential community services for the Navajo community in Arizona, Utah and New Mexico. They've been in operation for 9 years. In talking with Loren Anthony, a Diné and the organizations founder, I asked how they determined need on the reservation. He responded by saying, "you go outside your front door and it is right there. Need is everywhere.'
To learn more about Chizh for Cheii, visit the Facebook below. Our goal is to help raise the remaining $25,000 of a fundraising campaign that started last September. This would provide funding for 3.5 months of operational costs.
The Native American Rights Fund, or NARF, provides legal assistance to Indian tribes, organizations, and individuals nationwide who might otherwise have gone without adequate representation. NARF has successfully asserted and defended the most important rights of Indians and tribes in hundreds of major cases, and has achieved significant results in such critical areas as tribal sovereignty, treaty rights, natural resource protection, and Indian education. Currently, NARF is representing a case in front of the Supreme Court on voting rights of concerning ballot counting and out-of-district voting, which heavily impacts rural Arizonan American Indians ability to vote.
Our goal is to raise $10,000 to help fund their legal services which they have been able to offer for the last 50 years to help cases like the Keystone Pipeline and Bear Ears.
For Science!: I teamed up with PhD Candidate Drew Best at Umass Amherst, Dr. Hermann Pontzer at Duke and Dr. Cara Ocobok at Notre Dame to track metabolic and physiological data from my run. I will be collecting urine samples and wearing a fitness tracker to collect data on how my body responds to the effort. The closest studies I could find were on Kilian Jornet's Everest FKT, which is mountaineering focused and on the Race Across America, which is a non-max effort endurance event.
I believe this is most comprehensive research study documenting a FKT type endurance attempt and am really excited to see what happens.
Sponsors: Thank you to support from Columbia, COROS, TrailButter, Sawyer, ProBar and FastestKnownTime.com. Columbia, and Sawyer are helping fund the documentary and vlog, which I am SO grateful for. Dills, the owner of Pilot Field has helped make documentaries with me on the AT and PCT.
Goals: My goal is do to 50 miles on day 1. I'm going to keep the first 2-3 days light and then get into my rhythm. Aiming for a 11-12 day effort, which would put me at between 60-70 miles per day. A few comparison points:
Supported on the Pacific Crest Trail in 2014, I averaged 50 miles per day for 53 days with 155 ft gain/mi
Self-supported on the Appalachian Trail in 2017, I averaged 50 miles a day for 45 days with 235 ft gain/mi
Self-supported on the Long Trail in 2020, I averaged 55 miles a day for 5 days with 238 ft
Supported on the Arizona Trail in 2021, I will average 65 miles a day for 11.5 days with 150 ft gain/mi?
Visitors on Trail: If you'd like to come meet up/run with me on trail, this is okay. However, there are 2 basic rules to protect the safety of myself and my crew.
COVID protocol: Wear a mask at all times around others, maintain 6 feet distant from myself and my crew.
Unnecessary burden on crew: You are responsible for your own water, food and transportation. Please be self-sufficient. Please respect any decisions that we need to make that might affect you.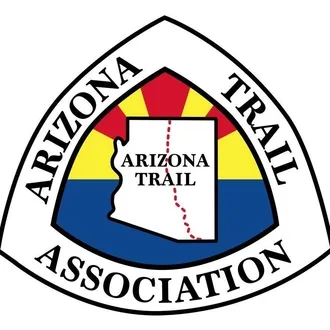 Awareness and Funds for American Indian Communities
After California and Oklahoma, Arizona has the 3rd highest Native American population. Many of us use the past tense when talking about Native Americans. Thanksgiving was when the Native Americans and Pilgrims shared a harvest banquet or This area was a sacred Navajo burial ground. Native Americans are often portrayed in a pre-1900 context in schools, and they are often an afterthought in our wild spaces. Their land has been brokered, conquered or stolen into the tribal reservations. Your average American is only reminded of these lands when they look at a map. Myself included.
We read stories in newspapers about invasive pipelines, about historic and current disenfranchisement, and health and economic disparities. When it comes to outdoor spaces, BIPOC are often forgotten about. I'm hoping to raise awareness and funds for organizations furthering Native American voting & land rights and Navajo communities.
Components and Goals of the Run:
Establishing relationships and conversations with the wonderful people who make Chizh for Cheii and NARF run
Give personal donations to Chizh for Cheii and NARF
Raise awareness both organizations
Continue educating myself and connecting with Native Americans individual and communities.
Acknowledge that my actions will not fix disparate economic, health and discrimination challenges that Native Americans experience, however that isn't an excuse for inaction.
Ask for Others: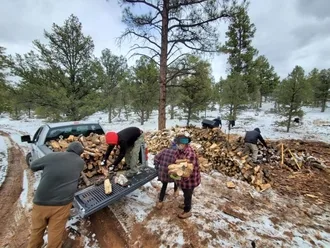 ---
---
This post contains affiliate links. I earn a small commission on sales via these links at no additional cost to you. If you'd like to support me, please purchase products through the affiliate links. Thanks!