This is a five-part series on winter hiking by Aubri Drake. Aubri has winter hiked the New Hampshire 48 4000 Footers, the New England 67 4000 Footers, the New England Hundred Highest, and many of the Adirondack 46ers, most often solo. They've hiked in temperatures as cold as -20F actual/-50 windchill, broken trail alone through 2+ feet of freshly fallen snow, bumped into a moose in a snowstorm, waded through waist-deep snow, and still have all of their toes and fingers. Simply put, Aubri has spent more time winter hiking than many of us have spent at the gym:
Assessing Winter Conditions in the White Mountains – (congrats, you're here!)
---
Winter hiking is a complex web of moving parts. This article's scope will be limited to discussing day hikes in non-technical conditions; there will be no discussions of ice axes, ropes, overnights, glaciers, or avalanche preparedness.
Running and hiking in the White Mountains of New Hampshire can be a jarring experience, even on a beautiful summer day. The terrain is technical and unforgiving, with steep climbs and even steeper descents. The weather is known for its tumultuous moods and ability to change incredibly rapidly. Mt Washington and the higher summits in the White Mountains can see snow every month of the year; the average wind speed on Mt Washington is 35 MPH. The average July temperature on Mt Washington is 55 degrees; the highest recorded temperature on the summit is 72 degrees and the record low is -47 (actual, not windchill).
The White Mountains become even more challenging in winter. Temperatures drop; previously clear trails are now covered in many feet of snow. Water crossings can become life-threatening. I started hiking in the Whites in 2014 and dove into hiking the New Hampshire 48 4000 Footers in winter in 2018, learning winter hiking lessons the hard way. Since then, I've completed the New England 67 4000 Footers in winter and I'm only 6 peaks away from completing the New England Hundred Highest in winter. But as someone who lives 3-4 hours away from the Whites, I was often planning my weekend trips to the mountains weeks or months in advance. And weather in the valley rarely matches that of the mountains. This can make it difficult to anticipate what conditions you might face. I've seen dozens of inexperienced people enthusiastically hiking into the winter mountains in sweatpants, sweatshirts, and sneakers because it was a sunny 45 degrees and they didn't realize how quickly the weather could change or what conditions they'd be facing further up the trail. Even in late October, half a foot of snowfall isn't uncommon.
Thankfully, there are a number of resources you can use to triangulate and approximate the conditions you'll be facing, so you can plan and pack accordingly. These resources can help inform your decision-making and temper your risk-taking, so you're less likely to be surprised or taken off-guard. This can optimize enjoyment, lower stress, and reduce risk and the possibility of needing self-rescue or outside assistance, straining an already exhausted search and rescue network.
---
White Mountain Weather
Town Weather Data
For up to 14 days out, check out the local town's weather forecast; I typically use Gorham or Lincoln. Weather in the valley won't exactly match the mountains, but it'll tell you something. If it's 0 degrees in the valley, it's going to be subarctic in the mountains. If it's going to snow a foot in the valley, the mountains will probably get more. I generally assume it'll be at least 5-10 degrees colder in the mountains with more snow accumulation as well.
Mountain Forecast
For 5-10 days out, check out Mountain-Forecast. It's a powerful tool you can use in the White Mountains and for other mountains around the world. It will give you the projected weather for both the summit and the base of your selected mountain, including temperature, wind speed, windchill, sunrise/sunset, snow or rain fall, and freezing level/elevation. My biggest complaint with this site is that their search function is terrible – it won't find the mountain unless you type the exact name they use. I often use Google to find the mountain I'm looking for, searching 'mountain forecast + [mountain name] + [state].' I keep an eye on the weather the week leading up to my winter hikes because it shows me if there will be fresh snow, rain, or freeze-thaw conditions, all which change trail conditions.
Higher Summit Forecast
For up to 48 hours in advance, check out the Mt Washington Observatory Higher Summit Forecast. These weather reports are completed by the meteorologists who live and work at the summit of Mt Washington, often braving the current weather conditions to measure snow, rain, and wind by hand. If you're heading to the Presidentials, this forecast will be invaluable, particularly if the weather forecast has been looking questionable. This is the report I'll use the night before to decide if I need to change my above-treeline plans. Particularly on the Presidentials and Franconia Ridge, trails are above treeline and without cover for miles; people have died from exposure less than a hundred feet from a mountain hut because the conditions were so bad they couldn't see it. It can be easy to get lost or disoriented above treeline in winter in poor visibility, with no features to guide you; cairns can look like snow-covered rocks and snow-covered rocks can look like cairns. Alternatively, if your planned hike is staying below treeline, the Higher Summit Forecast can give you a worst-case scenario/outward bound for how bad the weather could be on the most exposed areas of your hike. If I'm not going above treeline, I take this report with a few grains of salt.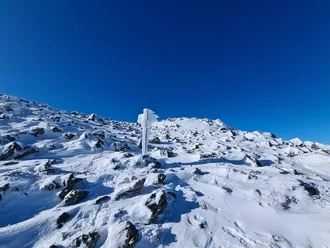 ---
Topography and Terrain
Wind Above Tree Line
Winds (and windchill) are more severe above treeline, where you'll have no tree cover to protect you or act as a windbreak. Understand how 'exposed' your route will be, and plan exit strategies if you're above treeline and the wind and weather become dangerous. For glasses wearers, you should be aware that if summits are in the clouds (which leads to higher moisture in the air), glasses can grow rime ice. The freezing fog will accumulate on the lenses and make it impossible to see out of them. I would recommend that you bring a back-up pair, so you can always be defrosting one set inside your jacket. Even in excellent conditions, I always bring a back-up pair of glasses, since it's the difference between a mild inconvenience and being unable to safely continue moving, which is critical in winter.
Snow depth and accumulation
Snow depth may be shallower above treeline because of high winds, particularly on rock (sometimes called 'bony' conditions – where rock isn't snow-covered), but the snow has to go somewhere. Typically, other areas then accumulate that snow into deep drifts. I've hiked Franconia Ridge when there was trace snow on the rocky areas and waist-deep snow in the saddles between summits. In the Presidentials, Monticello/Jefferson Lawn, Edmands Col, and other lawns and cols/saddles often have deep drifted snow.
Water Crossings
Routes with larger water crossings can have more serious consequences if you aren't able to stay dry while you cross. For the NH48, summits like Mt. Isolation, Owl's Head, and the Tripyramids traditionally have multiple large water crossings, which has led to route adaptations to remove or reduce those crossings: Isolation has the Engine Hill Bushwhack; Owl's Head has the Black Pond Bushwhack; and people traditionally approach the Tripyramids via Pine Bend Brook Trail which avoids large water crossings.
Temperature Change
It will always be colder in the mountains than in the valleys. Temperatures typically decrease 3 degrees per 1,000ft gain due to elevation, ignoring windchill which also increases as you climb higher.
Regional Conditions
Regions that are further east can accumulate more snow due to the influence of Mt Washington and the Gulf of Maine, like the Carters and Wildcats. This is where utilizing AMC Pinkham Notch reports, AMC Carter Notch hut reports, and ski resort information can come in handy (see below).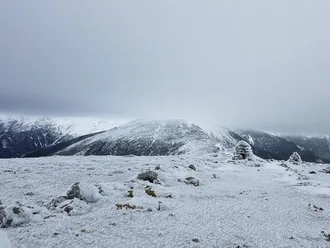 ---
Winter Trail Conditions
Appalachian Mountain Club's Weather webpage
On the AMC's Weather webpage, they list current snow depth and last 24 hour snowfall for a number of locations throughout the White Mountains, including some backcountry areas like Tuckerman Ravine; Carter Notch, Lonesome Lake, and Zealand Falls huts. These can be useful for determining general snowfall in the backcountry, particularly for less frequented areas where you might be breaking snow on untouched trails.
Ski Resort Mountain Reports
Local ski resorts often track recent snowfall, base depth, and season total snowfall. This can be useful for hikes around ski resorts, like Wildcat Mountain or Cannon Mountain.
Trail and Trip Reports from Other Hikers
In winter, my go-to sites for trip reports are Trails NH and New England Trail Conditions. They're free and rely on other hikers to post about trail conditions. The reports can vary in quality, but they're all helpful. They have some traffic in other seasons, but the majority of reports occur in winter. They both offer hyperlinked peakbagging lists to facilitate locating the correct trip reports. Typically, I've found that for every report, at least another 4 people have hiked the trail. This isn't always true for some of the quieter peaks on the New England Hundred Highest, but has held true for New England 67 and New Hampshire 48 4000 Footers. The more popular the list and more common the approach, the more likely it is to be packed out. Summits on the NH48 list can be easier in winter than summer sometimes, as they're generally packed out to a snow sidewalk that only requires traction.
If you find these trip reports to be helpful, I'd encourage you to contribute! The last few years, I've committed to adding trip reports for all of my winter hikes. Some people complain, and say people should go to trailheads without knowing if it's broken out and do the hard work of breaking trail themselves rather than relying on others to break trail first. To me, the reports can help act as an equalizer – not everyone is able, ready, or willing to break through snow and reports let people opt-in at a difficulty that works for them.
For less frequented peaks like those of the New England 67 or New England Hundred Highest, Facebook groups can be very helpful. I'm part of a handful of New England hiking groups and generally speaking, the less frequented the peaks the more willing people are to help others with trail reports and route recommendations. It's been a joy to cheer on other people facing the same challenges I've faced, and support them with good intel
Another way to figure out trail conditions is to consider the weather over the last week and at this point in the season. Recent snowfall, particularly during the week, might not be broken out on Friday or early Saturday. Freeze-thaw conditions can make snowbridges very unstable and conditions sloppy and wet, necessitating waterproof everything and snowshoes even on packed trails. Early in the season, snowbridges often aren't formed, so you'll need to use a trail without water crossings or be very creative in getting across – and if it's very cold temperatures, unbridged water crossings can be dangerous. And while a warm day can seem nice, just above freezing weather can cause poor trail conditions and an increased risk of hypothermia if there's precipitation.
What resources do you use to predict conditions in the Whites? Do you have any experiences and stories of winter hiking in the Whites?
---
---
This post contains affiliate links. I earn a small commission on sales via these links at no additional cost to you. If you'd like to support me, please purchase products through the affiliate links. Thanks!

Aubri ('Data') Drake (they/them) is a queer, transgender, and nonbinary writer, fastpacker, and ultrarunner. They've been published in a number of different mediums, including the Green Mountain Club's Long Trail Magazine and a nonbinary anthology published by Columbia University Press. Aubri has thru-hiked the Appalachian Trail, Tour du Mont Blanc, VT Long Trail, John Muir Trail, Tahoe Rim Trail, New England Trail, Cohos Trail, and are 50% done with the Pacific Crest Trail.
They've also completed the Northeast 111 400 Footers, as well as the New England 67 4000 Footers and the New England Hundred Highest in winter. Aubri has run 50k, 50mi, and 75mi distances and are looking forward to their first 100-miler this year. Aubri is a member of the All In Trail Running Collective.