F
ast, Light and Free. This is the name of
a book by thru-hiker Matt Kirk
, a thru-hiker and previous Fastest Known Time (FKT) record holder on the Appalachian Trail from whom I drew much inspiration in 2017 when I set a new self-supported and overall FKT on the same trail. Fast, Light and Free is the simplest description of moving through mountains quickly. When I am fastpacking, I feel empowerment and joy. Life is simple. Existence is a battle between my will and my body – which will relent first?
Fastpacking is the simple combination of thru hiking and trail running. Whereas a traditional thru-hike of the John Muir Trail often takes a few weeks, individuals have fastpacked it in less than three days. The difference is that fastpacking has an entirely different focus: covering lots of ground quickly and efficiently, pushing your endurance limits, and packing minimally in order to enable swift movement. As such, fastpacking gear selection plays a more crucial role in fastpacking than it does in traditional thru-hiking because in order to increase comfort and reduce drag, you must make every ounce count – because if you're not light, you'll never be free. Where a thru-hiker may have a base weight of 15-20+ pounds and include a few luxuries, a solid fastpacking gear kit almost always weighs in at less than 10 pounds – such as my gear from the Long Trail FKT last year.
In this article, I will outline some of the top fastpacking gear you should consider for adventures in 2021 and beyond, focusing mainly on the Big Three.
---
The Big Three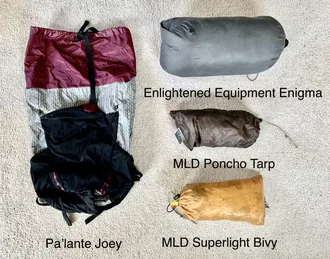 When discussing backpacking gear, you'll often hear reference to the "Big Three": shelter, sleep insulation (bag or quilt), and pack. The reason for this is because these are often the heaviest items in your kit and offer the biggest opportunity for weight savings and comfort. During my AT FKT, I carried a mere 34 items in my pack, and the Big Three had the most significant impact on my experience and thus deserve the most consideration.
As a record-setter on multiple long distance trails, here are my top picks for the Big Three of fastpacking gear.
Note: When planning a fastpacking trip or FKT, you typically want to cherry-pick the best possible conditions because it allows you to carry fewer and lighter items. The options below assume comfortable mid-summer temperatures and no extreme wind or precipitation. This doesn't mean you shouldn't be prepared for possible poor weather, but within reason for the area.
---
Sleep Insulation
Sleeping Bag vs. Quilt
A traditional sleeping bag is essentially a tube of insulation (down or synthetic down) that surrounds your body and traps heat to keep you warm. However, a significant portion of the insulation is rendered useless because it requires loft in order to facilitate warmth and the portion underneath your body is crushed when sleeping on it. Quilts serve to fix this problem by simply removing the section that you would normally sleep on top of and allowing the insulation to drape over your body. Instead of a backing, quilts usually come with a set of elastic cords that attach to your sleeping pad, which acts as insulation against thermal loss to cold ground. Quilts also don't require zippers nor do they come with hoods, so the results is a much lighter, more compressible, and less expensive form of sleep insulation. The downside to quilts is that they are subject to drafts coming in if not attached tightly and also tend to run a bit colder than their stated temperature ratings.
While there are some decently lightweight sleeping bags on the market, I use quilts exclusively for fastpacking and FKTs. Because most of these take place in warmer weather, there is no need for extreme temperature ratings and excess weight.
What temperature rating should I get?
This question depends on the user. While quilts have temperature ratings, they aren't standardized. However, you should aim for a quilt with a rating that matches the average nightly low temperature of your trip. If you are a particularly cold or warm sleeper, you should err on one side or the other – for example, if the average low temperature you expect to experience is 30 degrees and you're a cold sleeper, opt for a 20 degree quilt.
For mid-season temps on the AT, the obvious choice is between a 30 and 40 degree quilt. The lowest average monthly low on the AT is in the high 40's in NH/Maine. Let's compare specs on my go-to quilt, the Enlightened Equipment Enigma:
30 degree: 17.94 oz, $290. The bag is warmer than I need, however a 30 degree bag is a better utility purchase for 3 season camping. The gear item is so expensive and it is a bit redundant to spend over $550 on a 30 and 40 degree bag, I may pick the 30.
40 degree bag: 14.69 oz, $270. The right bag for the trip, no question about that. Even 3 years of heavy use after the AT, I still use the same bag. Down is durable. However, when temps dip into the low 30's in the desert in Utah, I'm chilly.
As you can see, the lighter bag is also cheaper. But, in the grand scheme of things, a 3.25 oz is a minimal weight penalty.
Here are three of the top ultralight quilts that are worth considering: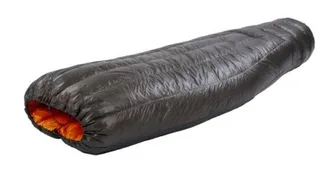 Cost: $270
Weight: 14.69oz
Hot Take: With a super customizable selection of options, the Enlightened Equipment makes it possible to get the best bag tailored to your fit. At 6'3″, I appreciated the option for a long, although I took a regular. The design is simple with just a button snap on the top. I really appreciated a metal fastener because I move a little at night. The fastener ensured that the quilt wouldn't move much while I slept.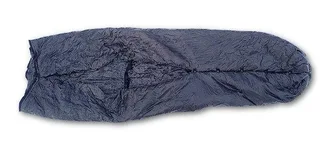 Cost: $245
Weight: 15oz
Hot Take: The Mountain Laurel Design FKT Quilt is aptly named. It is minimalist and designed with an FKT-type user in mind. The biggest sell for me is the bag is synthetic, so it will perform better when wet. Overall, down is better weight/heat ratio, and wins out. This quilt is lighter because there is slightly less insulation because it assumes the user will only experience warm summer nights.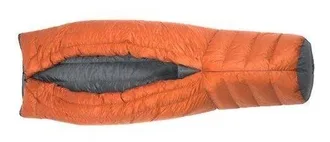 Cost: $139.95
Weight: 17.57oz
Hot Take: Slightly heavier but significantly less expensive. This is a great choice for budget-minded hikers. Being it's the "economy" version, the amount of down and quality of materials is less than more premium choices, but plenty good enough to last a long time. It's worth noting that the Burrow has a DWR, or Durable Water Repellent, coating.
---
Shelter
There an infinite amount of products when choosing a shelter for your fastpacking trip. After spending 2 hours at REI, you may realize that 5x as many cottage industry options exist online.
Freestanding vs. Non-Freestanding

A freestanding tent 1) has poles and 2) doesn't require stakes to be standing. I believe non-freestanding tents are the way to go in most situations and climates, but they require some technical know-how. I'd highly recommend spending at least a few nights in the field with your tent and understand how to tie quick and efficient knots. If this intimidates you, keep in mind that some freestanding tents (like the Nemo Hornet Elite) are between 9-22 oz heavier than a non-freestanding and a solid starter option.
Tarp + Bivy vs. UL Tent Shelters
A subsection of freestanding tents is the tarp + bivy setup. This is a great option for fastpacking because it is quick to set up (once you have some practice) and extremely versatile. If there are no bugs, and it's warm there's no need to use the bivy, and if there's no chance of rain then don't bother setting up the tarp! Further, if you use a poncho tarp it doubles as both rain gear and shelter, making it multi-functional and lightweight. What's not to love? A few words of warning:
Poncho tarps are small: You are more likely to get splash back or wet overnight. Also, you have a higher margin of error setting up the tarp incorrectly, so you need to practice beforehand.
Less warmth: A traditional rain jacket traps heat whereas a poncho is open on the sides. I've had minor issues keeping my arms and hands warm during downpours in a poncho.
Not bomb-proof: High winds and heavy rains are the arch nemesis of the poncho tarp. Avoid camping in exposed areas.
Here are some excellent choices for lightweight fastpacking shelters:
Me and my poncho tarp had some dreary times on the Appalachian Trail.
View this post on Instagram

Tarp* & Bivy Cost: $189 + $245
Tarp* & Bivy Weight: 5oz + 5.5oz
The tarp is priced/weighed in DCF, which is a better fabric type for fastpacking. SilNylon is cheaper/heavier.
Hot Take: This set up is pure minimalist awesomeness and my personal favorite choice for all solo fastpacking trips. Since you can save on the weight of a rain jacket, this system is by far the most weight efficient. You will not regret the simplicity of a bivy. When considering a shorter FKT with sunny conditions, you can ditch the poncho tarp. The downside? The Poncho Tarp provides adequate but, for many, not sufficient rain protection. Also, the poncho tarp pitch takes a bit of work, and if you aren't familiar with pitching a taut tent, expect a learning curve.
There another alternative is the Gatewood Cape by Six Moon Designs, which offers superior rain protection protection, but requires 6 stakes and is 6oz heavier.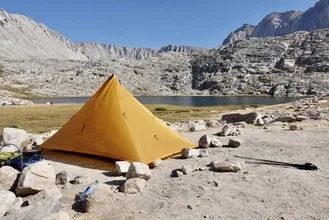 Solomid* & Innernet Cost: $255 + $165
Solomid* & Innernet Weight: 14oz + 10oz
*Solomid is priced/weighed in SilNylon. While not a higher performance fabric, it is a small weight penalty for a much more friendly price tag.
Hot Take: Mountain Laurel Design just gets UL backpacking and fastpacking. The Solomid is a freestanding pyramid shelter tent with a rectangular footprint. This set up is quite bomb proof and with a minimum of 4 stakes required to pitch, it is a very straightforward pitch. Due to its relatively low weight, resistance against harsh conditions, and affordable price tag, this is the recommended intro set for someone newer to fastpacking who wants a little more comfort.
The Innernet as an easy add on for anyone worried about bugs, but it is a big weight penalty. I wouldn't use it on an FKT attempt, but it's great to have for a more casual fastpacking effort.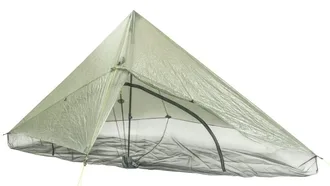 Cost: $424
Weight: 10.4oz
Hot Take: At 10.4oz, why isn't this #1? The Z-packs Hexamid requires more stakes, and, as a single walled shelter, is less versatile.
The Hexamid is a freestanding hexagon shelter. Being a hexagon structure is a crux. At least 6 stakes, or a recommended 8, must be staked for each pitch. This means getting a taut pitch is more fussy and requires more precision and time. Also, a hexagon shelter is less resilient in heavy winds compared to a pyramid shelter like the Solomid. Part of the insane 10.4oz weight of the Z-Packs Hexamid is attributed to a single wall system. However, this is an all-or-nothing approach. A bivy can withstand light rains or buffer from winds. I'd rather not be required to set up my shelter if conditions don't require it. While I'm being overly harsh on the Hexamid, I'm doing so to contrast the pros and cons of different systems.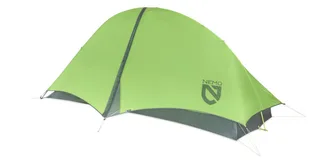 Cost: $449
Weight: 29oz
Hot Take: This option is great for two types of fastpackers – those who aren't comfortable setting up a freestanding tent and those who aren't running with trekking poles. A freestanding tent goes up like magic. You put together the poles, hook them through the tent et voilà! Everything is set. If knots and being outdoorsy isn't your thing, go for the Nemo Hornet. Also, the previous shelters require trekking poles to prop the frame. If you aren't using trekking poles, you'll either need to bring a separate pole (extra weight!) or bring a non-freestanding tent. The Nemo Hornet is still extremely lightweight and has great ventilation, which the REI Flash 1 does not.
Cowboy Camp
Cost & weight: $Free.99
Hot Take: I was recently co-guiding a group of backpackers with legend, Flyin' Brian Robinson. He was the first person to Calendar Year Triple Crown in 2001. He remarked how much he loves cowboy camping, and how few times he set up his shelter during his hike. To me, this was the ultimate endorsement of cowboy camping.
Cowboy camping you sleep under the stars. It saves weight and reduces shelter set-up and take down. It also exposes you to the elements: bugs, wind and precipitation. However, for a shorter FKT, you can cherry pick the best weather, save the weight and set a blazing fast time. I would 100% recommend an emergency shelter, like the SOL Survival Bivy, to anyone who I speak with. Be lightweight, but don't be callous.
---
Backpack
What should I look for in a backpack?
A good fastpacking pack should have 22L+ of storage capacity, reinforced stitching on should straps, and accessible pockets for food and water on the move. Additionally, the pack should be frameless and ergonomically designed for comfort and for running.
Because of the smaller load and necessity to shave weight, using a frameless pack makes the most sense. Packs specifically designed for the sport generally include ample storage on the straps to minimize the need to take it off in order to reach essentials like hydration and nutrition while balancing the load more efficiently. Further, they tend to hug your body tighter than traditional packs so as to minimize bounce during jogging.
One miscellaneous note: fastpacking set ups aren't ideal for long water carries. If you have to carry 4L+ of water at one time, typically a requirement in the desert, you should field test one of the below bags with your gear. If the additional water takes up too much space or causes discomfort in your shoulders, you may want to consider a framed pack, like the Z-Packs Arc Air or ULA Ohm.
Packing a frameless pack
When hiking the Appalachian Trail, a small piece of gear protruded at the bottom of my pack into my back. I couldn't easily adjust it, and I wouldn't worry about it. Fastforward to a few days later, and the protrusion had caused a cigar-sized wound that became infected and took 2.5 weeks to heal. Ouch.
Since you are working with a frameless pack, uneven packing can cause significant issues. I use a modified Thermarest Zlite Sol pad as both my sleeping pad and back support/protection in my Pa'lante Joey. This helps distribute pressure along the lower back, reducing risk of pain. If you use a traditional inflatable pad, you can do something similar with a Z Seat.
Regardless, the point is that it takes some thought and care (and practice!) to pack a frameless pack so that it rides comfortably.
Here are some tried-and-true bags that are ideal for fastpacking trips:
Cost: $240
Weight: 12.2oz
Hot Take: The Pa'lante is the cream of the crop. The bag is durable, simple, ergonomic and has a neat butt pocket. If you through hike with a Pa'lante bag, you will be the envy of all. And if you have a fully dialed in gear list, your baseweight should be low enough that you can cruise miles about as comfortably as possibly, given the circumstances.
The two downsides are bag size and product availability. The bag is great for someone with a really dialed fastpack setup, but you may find it too snug if you are out for 4+ days with a Sol-Z Pad 'frame' and haven't cut excess ounces from gear, water and food. Also, Pa'lante releases a drop of bags a handful of times a year, and they often sell out in an hour.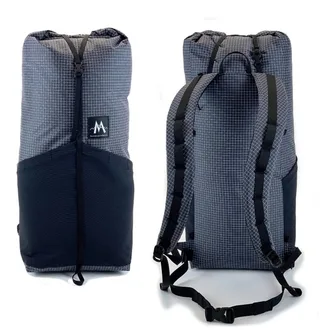 Cost: $190
Weight: 12oz
Hot Take: Mountain Laurel Design garners a lot of praise for lightweight backpackers. While MLD advertises the 38L Burn backpack for fastpackers, I'd prefer the Hell 27L to size and weight. If you have a dialed kit, 27L is plenty room and the pack is made with the same quality to make it dependable and efficient for running.
At a lower price point and with a little more room, the Hell is the best fastpacking intro option, although you can argue that it is a pretty dialed in piece of gear.
Cost: ~$290 (all gear customized)
Weight: 13oz
Hot Take: Nashville Pack & Equipment Company is the brainchild of two ultralight hikers from Tennessee, and their flagship product, the Cutaway, hit the market in 2019 to rave reviews. It features a higher load and weight capacity than most other options and a super lightweight design that doesn't skimp on functionality. The best features include ample storage on the straps, a stash pocket on the bottom of the pack for snacks or trash, and a wrap-around kangaroo pocket on the rear that is accessible without taking the pack off. What's more, they offer tons of customizations that will ensure you get exactly what you want.
Read Brandon's review here for more information.
---
Takeaways
A fastpacking trip or FKT is closely related to ultralight hiking, but on another level. Your fastpacking gear, fitness, and mental game must be keenly dialed in to facilitate light and fast movement and achievement of your goals. One of the most important areas of your gear is the "Big Three", which can have the largest impact on your base weight and overall comfort. By focusing on the lightest options you can afford and which meet the demands of your trip, you will be well on your way to a successful journey.
Have you used any of this gear? What recommendations would you make?
---
---
This post contains affiliate links. I earn a small commission on sales via these links at no additional cost to you. If you'd like to support me, please purchase products through the affiliate links. Thanks!