Seattle is a premier city to run in. Neighborhoods are distinct and quirky, bike-friendly routes like the Burke-Gilman and Lake Union Loop are great connectors, and the city has great green spaces. As someone who grew up in Seattle and is a professional trail runner for the Seattle-based company Brooks, I care a lot about access to trails. Luckily, Seattle has no shortage of spectacular options!
This article is meant to highlight the diverse and wonderful trail running areas within 30 minutes of downtown Seattle.
Criteria:
Started with my favorites at the top
Driving: Trailhead must be within 30 minutes driving of downtown Seattle
Soft surfaces: The running surface must be dominantly trail (75%+)
Distance: Must have 4+ miles of trail
Aesthetic: On a scale of 1-5, how beautiful is this location?
Vertical: On a scale of 1-5, how much vertical gain is there?
Map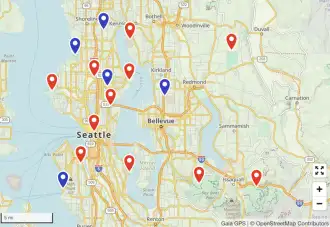 Top 12 traileads are colored red, honorable mention trailheads are colored blue.
View/download the map through Gaia GPS here.
Like Gaia GPS? It is my go-to mapping system. Receive a 20% discount if you subscribe to their premium app version (lots of great free features, as well) using this link, through which I receive a small commission.
---
The real deal, also known as the Issy Alps. Tiger looks pretty far away on a map, but it is actually quite accessible from downtown and not much farther than other trails on this list. Tiger Mountain is a staple of the Seattle trail scene, with big vert, beautiful forests, nice vistas and a wide
Surfaces: Tiger has it all. Windy singletrack, groomed bike trails, wide hiker trails, gravel forest service roads. During the winter and spring, the snow line often fluctuates from the base of the mountain to ~2,500ft, which can cause muddy conditions on some trails.
Driving from downtown: 25 minutes east of downtown
Distance of trails: However long you want it to be. Finding a 20+ mile on mostly trail with some gravel road is not difficult.
Aesthetic: 5. Lots to rave about here, which I've already done. Only knock is that there was recently logging on a few of the Tiger Peaks, leaving behind empty feeling vertical peaks. The deforestation leaves for nice views, but a certain sense of destruction and loss.
Vertical: 5. You can find some flatter trails, but most trails require some serious vert.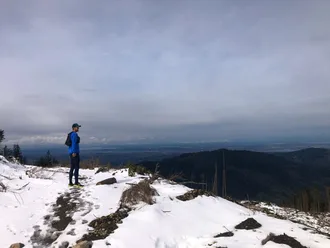 ---
A poor man's Tiger Mountain. Sorry, that was cruel Cougar Mountain, I take it back. Cougars are a little more tame than Tigers, and the trails reflect that. Cougar's trails are less extreme, but can still be spicy at times and are quite beautiful.
Surfaces: Cougar's trails are still technical and rugged, but often less jarring than Tiger.
Driving from downtown: 20 minutes northeast of downtown
Distance of trails: An outer loop is about 10 miles and 2k of vert. This can easily be extended by crossing Rt. 900 at the Margaret's Way Trailhead and adding on another 10 miles at Squak Mountain.
Aesthetic: 5. While I prefer Tiger, Cougar also has it's own charms and, compared to the other trails on this list, it doesn't feel like a green zone in an urban or suburban setting like the remaining trails on this list.
Vertical: 4. While it is hard to not get more than 200+ ft/mi, you can string together a ~5 mi, 800ft elevation gain route from the Sky Country Trailhead if you head East.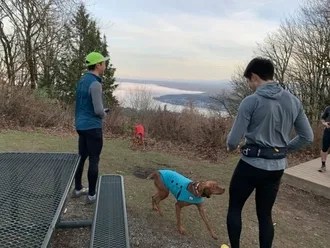 ---
Discovery Park is a popular outdoor space with 534 acres of natural park area and great westward-facing views over the Puget Sound. There is a steep drop down to the water. Discovery Park is deceptively hard to get to, but it is one of the best places to catch a sunset.
Surfaces: A weblike trail network can easily get you turned, but the good news is pretty much every aspect of the park is worth visiting. Most of the trails are wide, established paths with some road sections depending on your specific route.
Drive time: ~15 minute drive northwest of downtown.
Distance of trails: ~4 mile outer loop up to 6 miles with some creativity.
Aesthetic: 3. Discovery Park earns more aesthetic points when it is less crowded and it's around sunset. However, the park is pretty large and offers a variety of scenery: forests, fields and waterfront.
Vertical: 3. Rolling trails, however the drop to the water is about 200ft of elevation loss, which will provide a good shock on the system for some.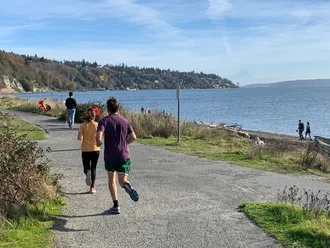 ---
If you haven't gone on a run at Green Lake, have you even been on a Seattle run? Greenlake is a hub of Seattle running with nearby stores like Super Jock n' Jill and Roadrunner Sports and the Brooks Flagship Store just down the street. Many running clubs meet here. Great people watching.
Surfaces: Busy, cement inner lake loop with less trafficked, gravel trail around the outer. If you add on a loop around Woodland Park and the zoo, you will cross road and more remote trails.
Drive time: 10 minutes north of downtown.
Distance of trails: 5 or less miles. The outer-Greenlake loop is ~2.5 miles.
Aesthetic: 2. A great neighborhood resource, but very crowded. Woodland Park has many homeless encampments and a mix of gravel paths, dirt roads and trail.
Vertical: 1. Greenlake loop has no vertical gain and the Woodland Park/Zoo loop has ~65 ft/mi of gain.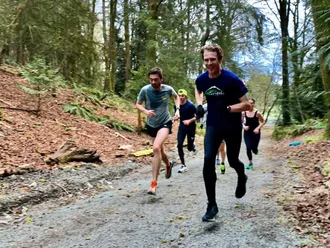 ---
What more would you expect from the sleepy neighborhoods of suburban Seattle that pleasant, well-maintained, cruisy trail? Running here is pure joy and a great spot for an intro trail runner. The terrain feels undulating and interesting, but the vertical gain and hills are not intense.
Surfaces: There are lots of wide, dirt mixed with woodchips trail, which is just downright pleasant to run on. Some trail is singletrack. I get into a certain flow feeling whenever I'm running here.
Driving from downtown: 25 minutes northeast of downtown
Distance of trails: An outer loop is about 5 miles with 500ft of gain, however there are miles more worth of trail exploring.
Aesthetic: 4. A hidden, pleasant land preserve with lovely evergreen forests, streams, and well-constructed trails. A powerline through the middle of the park is the only knock on the aesthetic.
Vertical: 2. Rolling hills with about 100ft/mi of vert on the standard loop.
---
Saint Edwards is a state park adjacent to Bastyr University, a leading alternative medicine institution. St. Edwards originated as a functional seminary until 1976 when it was sold to the state to become a state park. As of 2017, the seminary is a hotel, but the State Park is still just as beautiful!
Surfaces: Mostly singletrack woodland trails. Some wide gravel trails and perhaps a short road section depending on your route. Features a very steep descent to Lake Washington.
Drive time: 25 minutes northeast of downtown.
Distance of trails: 5 or less miles
Aesthetic: 5. St. Edwards is one of my favorite urban reprieves in Seattle. It feels wild and big, and there is a wide variety of terrain. Like anywhere in Seattle, it can get a little crowded.
Vertical: 4. Dropping to the water is a 300-400ft gain/loss. Plan accordingly. A typical loop will garner 220 ft/mi of gain.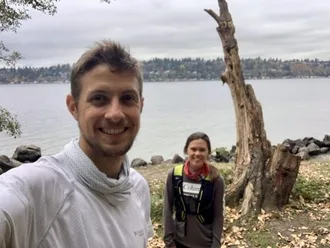 ---
This is where the University of Washington Cross Country and Brooks Beasts often go for workouts. Also, there is a huge dog park on the west side of the park. Did you know that this is where NOAA vessels anchor before heading out on assignments in Alaska and the Pacific? Oh, and how cool is it the Mountaineers headquarters is here, complete with indoor and outdoor climbing walls and features? Okay, I'll stop.
Surfaces: A popular city park. A combination of wide gravel trails, muddy singletrack, and cement paths. There is a big dog park at this Seattle classic. This is a nice easy add on to a run down the Burke-Gilman.
Drive time: 15 minutes northeast of downtown.
Distance of trails: Outer loop is about 2.5 miles, but you can stretch it to 4 if you are creative.
Aesthetic: 2. A very busy city park that feels secluded at times and bombarded with traffic in other places. Lots of open space, beaches and fields.
Vertical: 1. Magnuson features a few small hills by the water and at its western entrance. Outside of that, it's quite flat with ~50 ft/mi.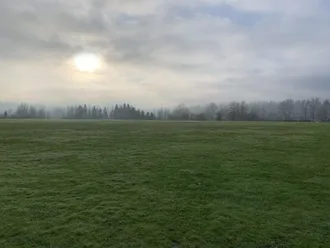 ---
The city's longest remaining contiguous forest, the West Duwamish Greenbelt covers over 500 acres on the Delridge area (hint: 'ridge') of West Seattle. Expect this area to continue to develop to have more established trails!
Surfaces: A long greenway featuring wider single-track tracks. Expect some mud and expect to do a little bit of an out and back since this is a long, skinny greenbelt that contains the largest contiguous forest in the city.
Drive time: 15 minutes south of downtown.
Distance of trails: A skinny 3.5 mile loop from the northernmost point, you can stretch this for up to 8 miles for an out and back.
Aesthetic: 3. A gem of south Seattle, the greenbelt is long and skinny but offers a nice reprieve from city life.
Vertical: 4. The trail covers a ridgy hillside, the greenbelt trails are windy with a fair amount of vert, ~250 ft/mi.
---
Seward Park is a small, forested peninsula that juts out into Lake Washington. Seward Park has a few simple amenities and a stunning view of the Cascades. Link up with the Lake Washington Shore Loop and you have almost unlimited out and back on uninterrupted, paved trail.
Surfaces: The lakeside trail is mostly road with an option for trail. The center of the park consists of mostly wide, gravel trail.
Drive time: 15 minutes from downtown.
Distance of trails: 4 or less miles. Gotta hustle for those miles, though!
Aesthetic: 3. Seward Park is a very pleasant city park. Situated on its own peninsula, it doesn't receive as much traffic as other parks.
Vertical: 1 or 3. If you stick to the outer loop on the lake, it'll be flat. Hit the hill in the middle and it won't. Simple as that! A loop around the middle will get you around 150 ft/mi of vert.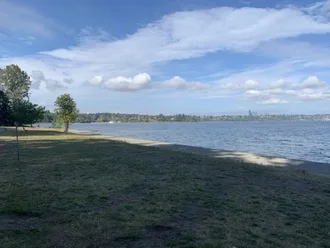 ---
Wide, manicured trails in Seattle's Public Arboretum. If you do the Marsh Island loop north of the arboretum, you will likely experience soggy trails. Pro tip – do it. You can also add on miles on the pedestrian-only Interlaken Drive with a combination of trail and road.
Surfaces: The Arb has a variety of winding, aimless trails. Most are gravel and wide enough for a car, although some are paved. Interlaken is paved. The Marsh Island loop is single-track, although you'll have to hit some pavement to get there.
Driving from downtown: 10 minutes northeast of downtown.
Distance of trails: A simple loop of the Arb is about 2 miles although you can stretch it to 3. Marsh Island is an additional two.
Aesthetic: 3. A very pleasant urban arboretum, Marsh Island and Interlaken do not feel like city trails. Great views of the Puget Sound and Olympics.
Vertical: 2. Rolling hills with about 100ft/mi of vert on the standard loop. If you add on Interlaken, expect a bit more vert, especially if you head up to Volunteer Park.
---
Honorable Mentions
Honorable Mentions are colored blue on the map above.
Hamlin Park – Located in North Seattle, Hamlin Park is an expansive city greenspace with nice hills. The north side has wandering trails which are surprisingly easy to get disoriented in.
Ravenna Park – A great add-on to any run. Ravenna is located near University of Washington and is a very pleasant mile-long gorge in the middle of a residential area. Easily combined with Magnuson, Green Lake and the Arboreteum.
Carkeek Park – Doesn't make the list because of a limited trail system, Carkeek is a fun park to explore and catch a sunset on the beach.
Lincoln Park – While it is a haul to get to West Seattle, Lincoln Park offers a great spot for sunset views and casual jaunting along the water.
Bridal Trails State Park – A very pleasant trail system in Kirkland that includes a nice 3.5 mile loop on the Coyote Trail.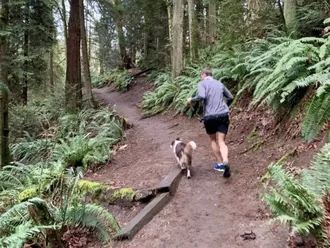 What is your favorite trail on this list? Do you have a run or route that didn't make it?
---
---
This post contains affiliate links. I earn a small commission on sales via these links at no additional cost to you. If you'd like to support me, please purchase products through the affiliate links. Thanks!