This is the 3rd of a 4 part series on nutrition for endurance athletes. Subscribe to get updates when we drop future articles:
Common Foods for Marathons, Ultramarathons and FKTs (congrats, you're here!)
Ask Me Anything: Food and Nutrition Q&A for Runners
When you look at the wide variety of fueling strategies, it is clear that there is no 'silver bullet' of race day. Everyone operates differently. I have an inability to burp and regularly vomit in races as a way to relieve bloating and cramping. On the other hand, some runners never get any nausea. Some runners use fats as a fuel source better than others or prefer whole foods over drink mixes and gels. Therefore, we've created a starter list for you to consider on race day and to experiment with in training. These foods are often seen at race aid stations and common place in long distance running events.
As a running coach, I work with my athletes to find, train and execute food strategies that will help them both perform better and enjoy the experience more.
Below, food recommendations are broken up into 3 categories: sports nutrition products, i.e. drink mixes, gels, foods you will commonly find marathoners using; common aid station fare; and DIY foods i.e. foods that you will likely not find at an aid station.
For each item, I've included a few simple numbers in the below format. Foods that are denoted ultra+ indicate that they are an appropriate fuel source for an ultra, but not a good selection for a marathon. This is due to the slower and less comfortable digestion of most foods while running at a faster pace.
Food name
(type, ultra+)
: Total calories, total grams of carbohydrate per serving. Unique qualities.
I listed carbs specifically since they are the
best fuel source in races
. And remember, developing a nutrition strategy and testing foods on long runs is the best approach to succeed on race day.
---
Sports Nutrition Products
Drink mixes, gels and chews are specific products designed for endurance running performance. These fuel sources are geared for marathoners to inject a boost of carbohydrates into your system while reducing stomach discomfort. A common critique of sports nutrition products is that they can cause stomach discomfort when used as a primary resource for longer races.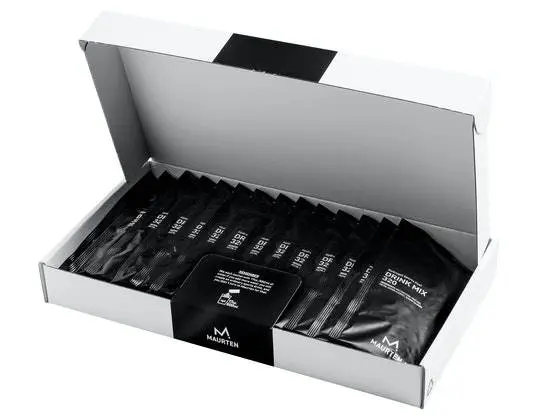 Maurten 160 or 320 Mix
(drink mix)
: 160 cal per 500ml or 320 cal per 500ml, 39g carbs. Maurten is expensive but the most stomach friendly drink mix, in my experience. You won't find this at ultra races. Flavorless, sort of. Maurten is designed to convert into a gel when it hits your stomach, making it much more efficient and comfortable to digest.
Tailwind Endurance Fuel
(drink mix)
: 150-250 cal per 500ml (100 cal/serving), 37-62g carbs (25g/serving). Tailwind is the drink I will most often see at races. Variety of flavors with different electrolyte balances.
Skratch Labs Endurance Fuel (drink mix): 80 cal/1 scoop or 22g, 21g carbs. Many athletes will align with either Skratch or Tailwind, as Maurten is expensive and hasn't caught on in the ultra world.
Maurten 100 (gel): 150-250 cal per 500ml (100 cal/serving), 37-62g carbs (25g/serving). A flavorless gel that has similar properties to the aforementioned drink mixes.
Spring Energy (gel): 100 cal per pack, 17g carbs. Vegan, whole ingredients and maltodextrin free.
ProBar Bolt Chews (gummy chews): 180 cal per pack, 48 carbs. Water helps wash them down, although I find them to stick to your teeth less than other products.
---
Common Ultramarathon Aid Station Foods
It's best to reach out to a race organizer to see what foods they have available. Races may have water-only aid stations, not allow drop bags, or have a limited food selection. Below are a grab bag ideas, but in no way is comprehensive.

Bananas (fruit): 105 cal/banana, 27g carbs. When you grab a half banana aid station at an aid station and go, know that you have about 50 calories worth of food!
Oranges (fruit): 60 cal/orange, 15g carbs. Rich in potassium, calcium and magnesium, not calorically efficient.
Watermelon (fruit): 46 cal/cup of watermelon, 12g carbs. Great for a hot day, hydrate and get calories down!
Grapes (fruit): 62 cal/cup of grapes, 16g carbs. Another good way to get sugar down when you have had too much processed sugar.
Lays/potato chips (chips, ultra+): 160 cal/28g or ~15 chips, 15g carbs. Salty, salty, salt, oh how I love you in races. Moderate fat content.
Pringles (chips, ultra+): 150 cal/28g or ~18 chips, 16g carbs. Another favorite for salt. They can taste so good. Moderate fat content.
Pretzels (hard mini pretzels, ultra+): 110 cal/30g or ~13 gummies, 23g carbs. Another salt #FTW, 450mg to be exact.
Gummy Bears (chips): 100 cal/30g or ~13 gummies, 23g carbs. Straight sugar usually goes down easy. Watch out for them sticking to your mouth.
Dark Chocolate, 72% cacao (chocolate goodness, ultra+): 230 cal/38g or 3 squares, 19g carbs. Chocolate also has caffeine in it.
PB&J (sandwich, ultra+): 360 cal/sandwich, 37g carbs. Fair amount of fat, and beware that a PB&J can sometimes make your mouth quite dry. Often found in squares at races, ~90 calories per square.
Trail Mix (Kirkland signature brand, ultra+): 310 cal/57g, 23 carbs. Trail mix typically has significant amounts of fat/protein and I like it more for efforts over 24 hours.
Chocolate Chip Cookies (ultra+): 148 cal/30g or 1 medium cookie, 20g carbs. Usually my 4th or 5th choice at an aid station – if it looks good, I'll take it.
Brownie Bites (ultra+): 160 cal/38g or 1 medium sized brownie, 22g carbs. Similar to chocolate chip cookies, this is one that might start to look appetizing after too much of the same foods.
Grilled Cheese (sandwich, , ultra+): 366 cal/106g or 1 sandwich, 28g carbs. Comparatively a low carb food, that cheese could potentially sit heavy in your stomach.
Boiled Potatoes (mashed with butter/salt, ultra+): 92 cal/151g or half of a cup, 11g carbs. Especially if you are making this at home, be generous with salt and butter so that it is palatable.
Nuun (electrolyte tablet): 10 cal/tab, 4g carbs. With 360mg of sodium, 100mg of potassium, 12.5mg of calcium, 25mg of magnesium, Nuun is a great way to combat hydration issues. My problem with it? You need to mix and drink with water. Some can have caffeine.
Saltstick Caps (salt tablet): o cal/tab, 0g carbs. 215mg of sodium, 63mg of potassium, 22mg of calcium and 11mg of magnesium. I prefer salt tablets to Nuun because they don't require drinking a lot of water, which often further upsets the stomach. Plus it is cheaper. Some can have caffeine.
Coca-cola (drink): 43 cal/100ml, 10.6g carbs. Quick and easy, a great drink choice in ultras, although it is carbonated. 9.7mg of caffeine per 100ml.
Schweppes Ginger Ale (drink, ultra+): 34cal/100ml, 9.3g carbs. Many runners find that ginger ale sits better in their stomachs. No caffeine.
Sprite (drink, ultra+): 40 cal/100m, 10.7g carbs. Clear liquids for the win? No caffeine.
Coffee (drink, medium strength, black, ultra+): 0 cal/100ml, 0g carbs. Contains 92mg potassium and 8mg magnesium. 95mg is a typical amount, but this can range significantly.
Beef Broth (ultra+): 15 cal/one cup, 1g carbs. With 410mg sodium, a warm cup of a broth mid-race can be a game changer.
Top Ramen (noodles + broth, ultra+): 190 cal/85g or one packet, 0g carbs. Super easy to slurp down and full of salt.
---
DIY Foods
DIY foods are things that you shouldn't expect to find at an aid station, but also foods that may have unique benefits in a race situation. Therefore, it may be worth doing planning to make sure these are available when you need it.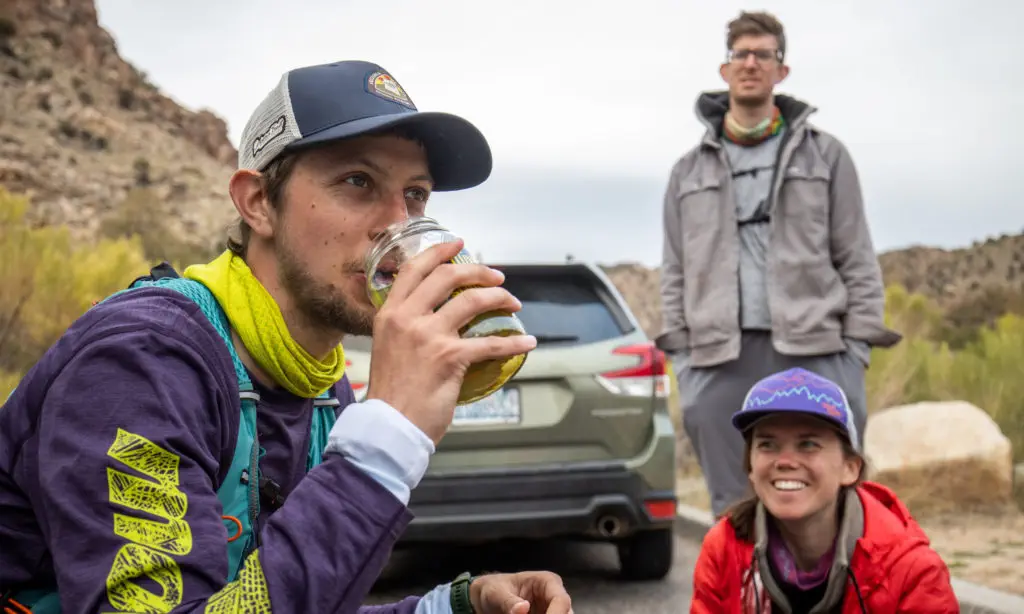 Shredded Chicken (meat + boiled in salt, ultra+): 142 cal/100g, 0g carbs. If you are going for a longer run, chicken boiled in salt is a great source of protein.
Pickle Juice (just the juice, no pickle): 50 cal/one cup, 12g carbs. Different juicing recipes use varying amounts of sugar. I buy a jar of pickles and throw them out. I hate the pickles but love the juice!
TrailButter (nut butter packet, ultra+): 200 cal/packet, 8g carbs. A good balance of fats, carbs, protein and salt.
Honey: 64 cal/21g or 1 tbsp, 17 carbs. A great natural sugar that can be eaten as is or with something else.
Hard-boiled Eggs (ultra+): 78 cal/1 egg, 1g carbs. Good for protein, not so much for carbs. I like having more protein/fats in longer races.
Homemade Energy Bars (nuts + fruit + dates, ultra+): ~100 cal per serving, 24.7g of carbs. This is a great way to control exactly what goes into your body. Dates a great first ingredient.
---
What should I eat if I am struggling in a race?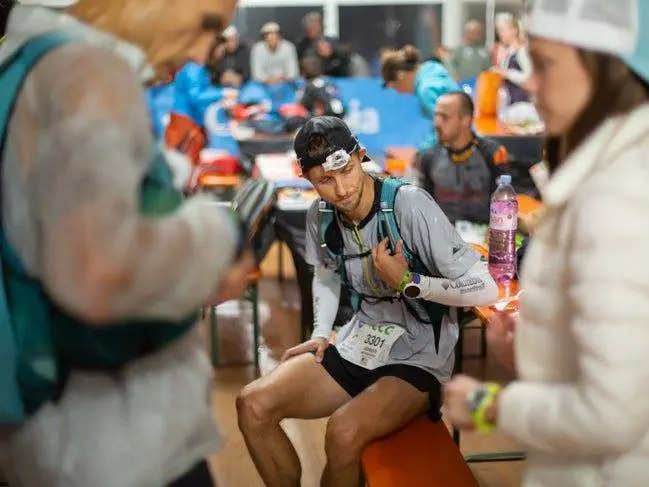 Great question. First, it is important to understand what is going on. Nutrition can impact running performance, mental clarity, stomach discomfort, diarrhea and mood. Typical issues from improper nutrition and/or extreme fatigue can be separated in two categories, GI distress and bonking.
If you have GI distress, you may have symptoms of constipation, bloating, reflux, nausea, vomiting, diarrhea, abdominal pain and cramping. When considering race nutrition (including pre-race), modify your diet to remove fats and fibrous foods. When I have GI issues, I stick with carbohydrates that are designed to be easily digested – I'll use sports nutrition products, coca-cola or other simple carbohydrates. Ginger chews and pickle juice have also helped settle my stomach. Additionally, make sure you are hydrated enough as blood has been shunted from the intestines for exercise and you will likely have significant fluid loss due to sweat. Read more here.
If you are bonking, your legs will feel heavy, body drained, and the mind spent. You may be experiencing symptoms affecting your mood (increased irritability, lack of motivation), energy levels (heavy muscles, slowed pace) or appetite. Often, some form of GI distress will lower the amount of caloric intake, resulting in bonking. To prevent bonking, I like using complex carbs and some simple carbs/sports nutrition products. For longer races (6+ hour), I will also incorporate protein and fats. If I am bonking, my nutrition plan looks remarkably similar to what I have when I have GI distress. I want foods that are easily digested to be injected into my blood stream and muscles as soon as possible. Carbohydrates are able to be digested and used in as short as 15 minutes.
Lastly, nutrition can't be talked about without hydration. iRunFar has a nice article on the subject.
---
Final Thoughts
What are your favorite race foods? What has/hasn't worked for you on race day?
Looking for more? This is a 4 part series on nutrition for endurance athletes:
Fueling and Nutrition for Marathons, Ultras and FKTs (congrats, you're here!)
Race Strategy Nutrition for Ultramarathons
Common Foods for Marathons, Ultramarathons and FKTs
Ask Me Anything: Food and nutrition Q&A for runners
---
---
This post contains affiliate links. I earn a small commission on sales via these links at no additional cost to you. If you'd like to support me, please purchase products through the affiliate links. Thanks!