The Dark Divide is a race in central western Washington near Mt. Rainier featuring a 100 mile, 50 kilometer and a 17 mile course. This year, 2021, was the first year of existence after three years of dreaming by race director Sean Harrasser of Wonderland Running. The Dark Divide has 70,000 acres of roadless terrain. Harrasser advertises this as "NOT AT ALL A BEGINNER LEVEL ULTRAMARATHON," which is accurate.
Yep, this is my type of race.
Dark Divide Course Details
The Dark Divide is located in the Gifford Pinchot National Forest, starting at the Cispus Learning Center. All of the below trail over Juniper Ridge. The Cispus Learning Center is located a little over 1,000ft and the ridge hovers between 4,000-6000ft. So, you start out and end with a lot of vert.
Out of the Cispus Learning Center, you follow roads for a few miles before hitting single track. The first climb peak bags Tongue Mountain at 4,838ft. The route then descends Tongue Mountain onto Juniper Ridge, peak bagging Juniper and Sunrise Peak. This section of trail is the bread and butter of the course – if it wasn't socked in, we would have had glorious views of Mt. Rainier and other iconic PNW peaks. However, the trail is alpine and flowy. After descending a mile from Sunrise Peak, the 50k route does a small lollipop before heading back on the Juniper Ridge. For both the 50k and the 100m the final 8 miles skip Tongue Mountain and have a cruisy, 8 mile drop back to the Cispus Learning Center.
17 miler: 4,000ft of vertical gain, out and back ridgeline
50 kilometers: 9,000ft of vertical gain, out and back on a ridgeline with a few peak bags along the way. Strava.
100 milers: 33,000 of vertical gain (unconfirmed), 20 miles out, 60 miles of a loop and 20 miles back. Strava from Gavin Woody, data looks weird.
Note: Due to trail conditions (specifically, 5 feet worth felled trees on trail), they had to make a few significant route adjustments. The course may feature major or minor changes in future years.
Gear/Nutrition
I ate about 250 calories per hour. I've continued to love Maurten for 50k's. I also had TrailButter, a banana, Coco-cola, kind bar and a small cup of ramen. All of it went down easy. Due to the low temps, long climbs and my conservative start, I didn't push my stomach like I often do.
My favorite piece of gear were my Columbia Ascents. These shoes were launched in the last year, and I haven't tested them in a similar way I have with the Trans Alp FKT. However, they are a little more minimalist but still very grippy. Because the trail gets torn up by bikes, a significant misting caused a bit of mud on trail. The shoes held up really well, and I enjoyed ripping 6 minute miles in the final 8 miles of the race.
My COROS Vertix watch measured the course at 32.1 miles. Other athletes had between 32-32.5 miles, while the RD had initially distanced the course at 33.5 using his GPS while marking.
My biggest disappointment were my Injinji Lightweight Socks. I often by the Midweight sock for this very reason, but the downhill pounding poked holes in the big toe of the socks. I threw them out after the race.
My most underrated piece of gear was my buff. Because it was a 50k, I didn't want any more weight than was necessary. I should've had a light jacket to keep me warm on the wet, windy ridges, however I was able to put my buff on my head and at least prevent some heat loss.
Race Report
Like many of the athletes I coach, I needed a low stakes race that gets me back in the racing game.
When I arrived at the Cispus Learning Center, it was a quiet sight. The 100 miler had started 2 days prior. Five out of ten of the runners had finished. Those runners had a spread of 11 hours, and Sean Harrasser (the RD) and the volunteers were sleepy at 6am. I was in the same boat after a 3:15am wakeup to make the 2.5 hour drive from Seattle. Slowly, more 50k runners showed up. I cracked jokes with a few runners and got intel on the 100 miler. The weekend was filled with rain – a rarity for this time of year – and it had made conditions tough.
I bumped into Gavin Woody, a prominent Seattle ultramarathoner who I first learned about from his JMT FKT attempt many years back. He told me I should expect to get soaked from overgrowth on the climb up Tongue Mountain. He completed the 100 miler for a 2nd place finish. I was excited to finally meet Gavin face-to-face.
Sean gave a pre-race speech. I like how he highlighted the history of the land, 'These races take place upon the ancestral lands of the Cowlitz and Yakama peoples, who have lived here and cared for these lands for over 10,000 years.' You could tell he was both nervous and very excited, which I found endearing. Oh, the life of a race director.
The race started out with much fanfare. I have been dealing with a hip and achilles injury, so I wasn't aiming to blow anyone out of the water. A group of 4 runners jumped out of the gate and I settled into 5th/6th with a friendly runner named Cary. Cary was using this as a training run for the Plain 100. We chatted about our different experiences in ultras up a long forest road climb. After about 3 miles, I decided I was ready to get moving. The top group had about 2 minutes on me, and I closed the gap as we got off the forest road and into the uphill ascent to Tongue Mountain.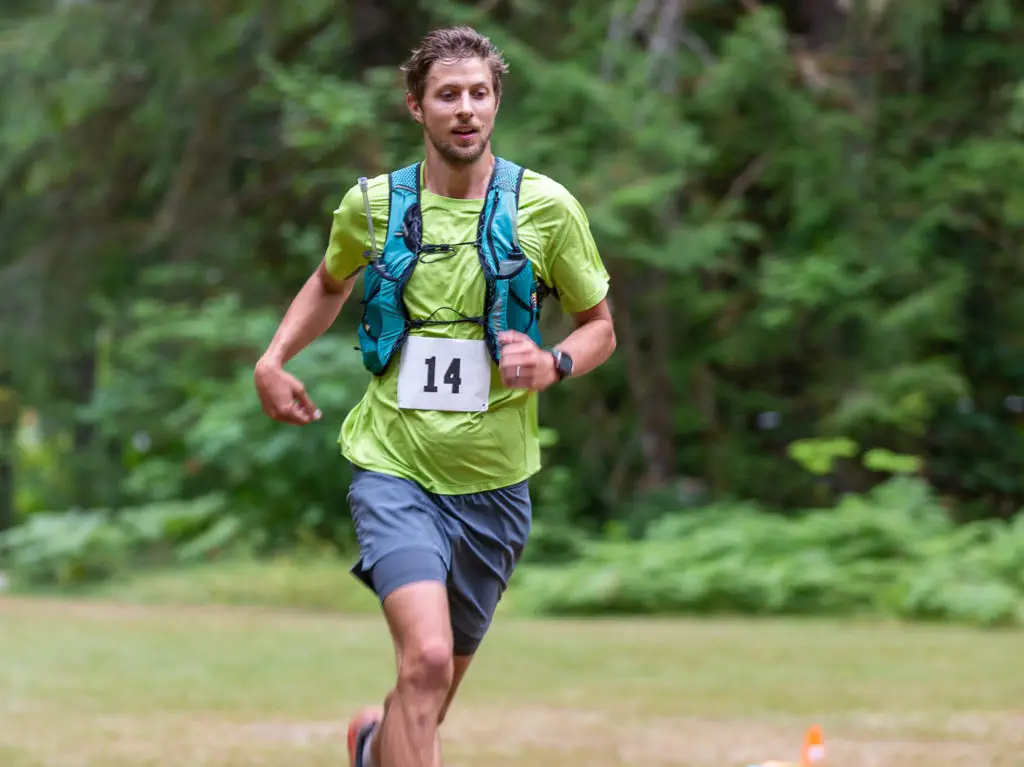 The group was headlined by Seattle local legend Masazumi Fujioka. Cary told me he was the clear favorite of the race, so I hoped to give him a run for his money. As the climb steepened, I settled in. My uphill moving pace was quicker than the group, and I decided to make my move around mile 5. Major mistake. With the recent rain, the overgrown trail up Tongue Mountain was soaked. My clothes were sticking to my skin and I was getting a full shower every time I had to push through a pine tree. Oh well. I got to the top and the cool breeze as I enjoyed the socked in views at the top. Man, this is cool.
As I descended back down the hiker trail, I ran back into Fujioka who had opened up a small gap on 3rd place. I got back on buttery single track, hit the first aid station, and bolted back up on Juniper Ridge. I started off by having a Maurten 320 and a TrailButter Maple Syrup and Sea Salt. Both went down easy. Having not raced in almost two years (not including a track 100, the Arizona Trail FKT and the Long Trail FKT), my stomach and my achilles/hip were major question marks for me.
Once I got on the ridgeline, I felt in my element. I was a little discouraged by my slow time, but realized that at 11 miles, I had hit 5k if vert. If you don't regularly geek out about elevation stats, that is a LOT OF CLIMBING. The trail was well-marked with clown-like surveyor tape and turns. I almost missed some signage, but I made sure to stop at a few questionable intersections to make sure I was on the right course. I made it to the aid station past Sunrise at mile 17 in about 3:15. I hoped I would be able to break 6:00, but that seemed a little out of reach. Oh well, just go with the flow!
On the return, I bumped into the 2nd place runner with Fujioka hot on his heels. I estimated I had a 10-15 minute gap at this point, although they looked like they were cruising. However, I knew I was moving well and they'd have to have a miraculous last half of the race to catch me. At about mile 20, I had my biggest disappointment of the race. The Dark Divide is a multi-use area, meaning it is open to dirt and mountain bikes. I was passed by two group of dirk bikes and was forced to idly stand off trail as they zoomed past. It really took me out of the moment.
As I came down to the last aid station, about 8.5 miles from the finish, I reunited with the RD, Sean Harrasser, who told me the rest of the course was downhill. Boy, did that sound good! My hip and achilles were feeling amazing. My stomach was great. All systems go! I have about 1,500ft of vertical loss and 8 miles to go. I hit the lap feature on my watch to see how much I could torch the end. I averaged 6:05 min/miles to the finish, another gear I didn't think I had.
My last race was CCC in August 2019, which was a disappointment. It felt good to get back at it, and I'm excited to have one or two more solid efforts this summer/fall!
And next time, I'd be excited to get the views you'd expect out of this course, see below.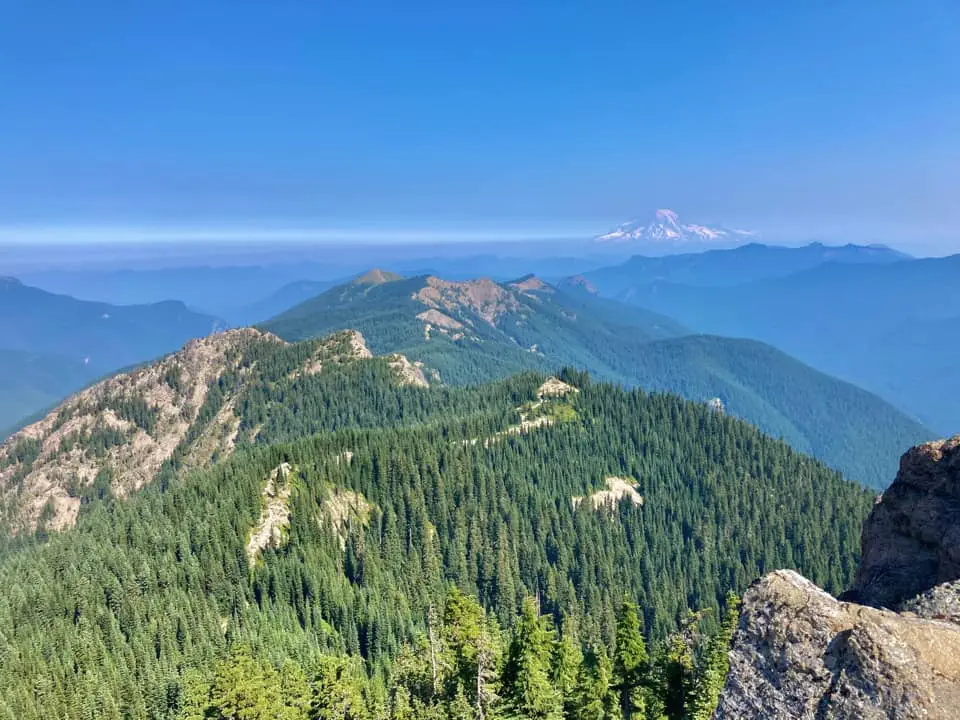 ---
---
This post contains affiliate links. I earn a small commission on sales via these links at no additional cost to you. If you'd like to support me, please purchase products through the affiliate links. Thanks!