This is a five-part series on winter hiking by Aubri Drake. Aubri has winter hiked the New Hampshire 48 4000 Footers, the New England 67 4000 Footers, the New England Hundred Highest, and many of the Adirondack 46ers, most often solo. They've hiked in temperatures as cold as -20F actual/-50 windchill, broken trail alone through 2+ feet of freshly fallen snow, bumped into a moose in a snowstorm, waded through waist-deep snow, and still have all of their toes and fingers. Simply put, Aubri has spent more time winter hiking than many of us have spent at the gym:
Essential Safety Preparations for Winter Hiking – (congrats, you're here!)
---
Winter hiking is a complex web of moving parts. This article's scope will be limited to discussing day hikes in non-technical conditions; there will be no discussions of ice axes, ropes, overnights, glaciers, or avalanche preparedness.
Staying safe in the mountains can be challenging in summer. Dehydration, ticks, and falls are only some of the things that hikers and runners need to prepare for. But there is a fairly large margin of error – there are other people around to call on for help if needed and most people can self-rescue, even if they need medical attention afterwards.
But that margin for error gets so much smaller in winter.
There are fewer people out hiking who might be able to help, and the consequences for a simple mistake can be fatal as the mercury drops. A boot dunked in the creek may be annoying in summer and uncomfortable in fall, but it can be limb- or life-threatening in winter. Here are a few practical safety precautions I take to help reduce these risks, often learned through trial and very uncomfortable error.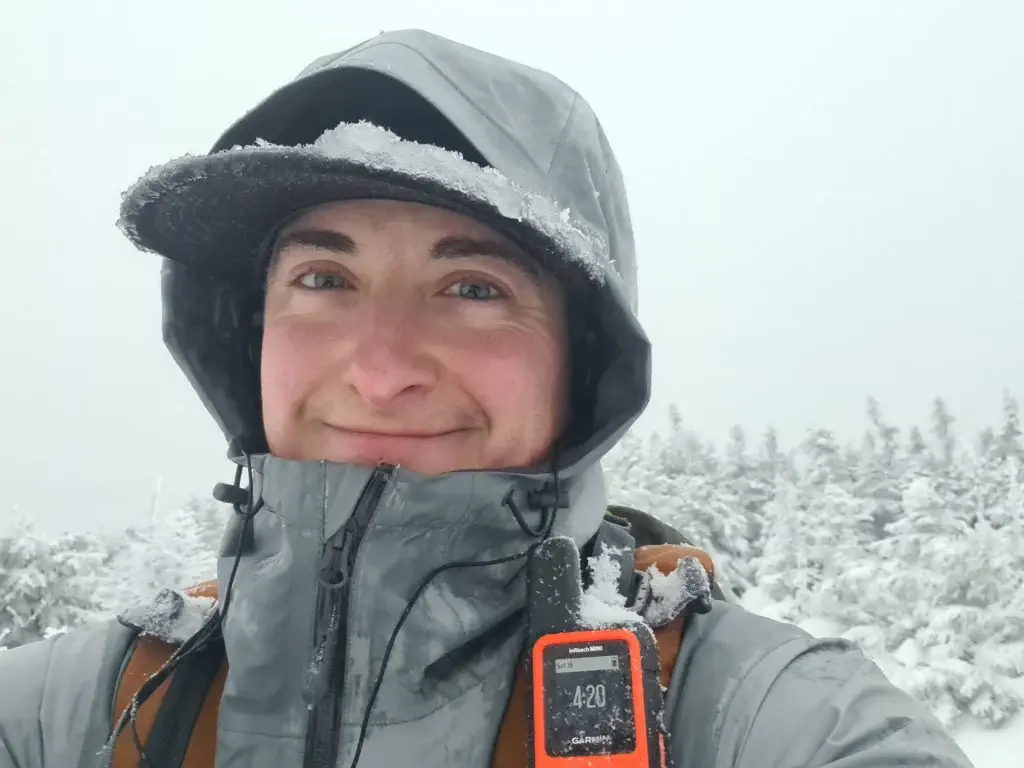 Safety and rescue considerations
In summer, sitting still for 8 hours waiting for SAR to evacuate a broken leg might be very uncomfortable. In winter, without proper gear, it can easily be fatal.
The space between 'small mistake' or 'unexpected situation' and 'fatal error' can become much more narrow, especially as the temperature drops. When I hike in winter, I always make sure that between me and anyone else accompanying me, we have an emergency blanket/bivy, sleeping mat, sleeping bag, and chemical hand and body warmers.
They are a solid insurance against some of the worst winter outcomes, and carrying them has saved people's lives. When I'm solo hiking, this means I'm carrying all of these things by myself. The question I always ask myself is, "If I stopped being able to move, what would I need to survive 8-12 hours alone outside in these conditions?"
It is imprudent and rash to expect to be able to rely on the kindness and preparedness of other hikers, particularly in winter when fewer people are hiking and the margin for error is so much smaller.
Dry clothes
Similarly, when winter hiking I always pack extra layers – that can include extra gloves, glove liners, hat, long sleeve shirt, fleece, and down vest. If I'm not wearing it, I also bring my GoreTex jacket shell. Holding off the chill of hypothermia and protecting my skin from frostbite all start with keeping myself warm.
In most winter conditions, I'll wear lighter clothes on the ascent when I'm working harder and thus warmer, and then stop when I'm sheltered by trees or rocks after I've summited to put on additional layers and change out my wet liner gloves for more substantial gloves or mittens.
Zip ties
One of the most flexible tools in my winter kit are zip ties in various sizes. They can be quickly used to field repair traction, snowshoes, backpacks, jackets, and countless other problems. And they're light and cheap, and typically hold their integrity in below-freezing conditions.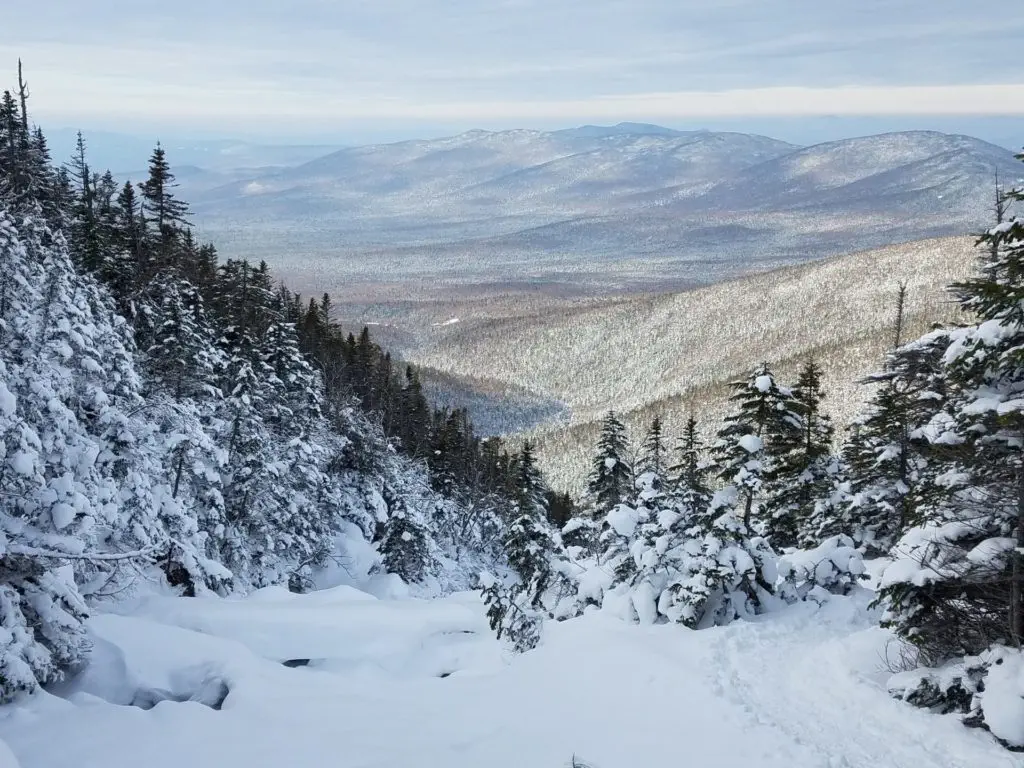 Electronics
Batteries die surprisingly fast in winter. Here are a few tips and recommendations:
Very cold devices will automatically shut themselves off, often to the point where it's not possible to get them to turn back on. The cold doesn't drain your battery, but it does mess with the chemical reactions, making electronics think they don't have battery left. Warming the battery will 'recharge' the item; the charge isn't lost but won't be accessible until it's warm again.
Always put your device inside your layers. If it's in your pack or in an outside pocket, it's often not warm enough to keep the device alive. Inner pockets are your friend. I've had my phone completely die while I was winter hiking in the Adirondacks in subzero temperatures because I put it in my outside jacket pocket with no additional warmth to protect it. Now, I put my phone in my softshell pants' micro-fleece lined pocket, directly pressed against my leg, and zip the pocket if it's particularly cold. Since I started doing this, I've never had issues with my phone's battery decreasing beyond normal. I also bring a mini microfiber towel to dry the screen, since it tends to get wet in my pocket and then the screen stops registering my fingers. I also bring a back-up battery brick in my pack, just in case.
Use chemical hand warmers. Either toss a hand warmer in your pocket along with your device or use a toe warmer and stick it to the back of your phone. Just make sure wherever it is, it has enough air; without oxygen, the chemical reaction of the hand warmers doesn't work.
Your car's key fob contains a battery and needs to be warm to function. I typically put it in my pack for the day and when I'm within an hour of the trailhead, I transfer it to an inner pocket to warm up. I discovered this issue when I hiked in -20F in Maine and couldn't get back into my car until the fob warmed up, since the single keyhole was iced over.
Remove the pin security for easy access. If I'm bushwhacking and need to readily access my phone screen for GPS, I'll remove the pin/face recognition screen lock since it can be very hard to type my password or get my phone to register my face while wearing gloves, a face covering, and a hat.
There are plenty of recommendations around safe hiking in winter, but this is a great place to start.
What are your favorite tips for being prepared and staying safe while winter hiking?
---
---
This post contains affiliate links. I earn a small commission on sales via these links at no additional cost to you. If you'd like to support me, please purchase products through the affiliate links. Thanks!

Aubri ('Data') Drake (they/them) is a queer, transgender, and nonbinary writer, fastpacker, and ultrarunner. They've been published in a number of different mediums, including the Green Mountain Club's Long Trail Magazine and a nonbinary anthology published by Columbia University Press. Aubri has thru-hiked the Appalachian Trail, Tour du Mont Blanc, VT Long Trail, John Muir Trail, Tahoe Rim Trail, New England Trail, Cohos Trail, and are 50% done with the Pacific Crest Trail.
They've also completed the Northeast 111 400 Footers, as well as the New England 67 4000 Footers and the New England Hundred Highest in winter. Aubri has run 50k, 50mi, and 75mi distances and are looking forward to their first 100-miler this year. Aubri is a member of the All In Trail Running Collective.