I'll be the first to admit that once I find a shoe I like, it's hard to get me to change. That being said, I'm not opposed to trying new things and so when the opportunity arose to try out the Columbia Escape Ascents I couldn't pass it up. Boasting several new pieces of shoe technology and an intriguing set of features, I knew out of the box that these would have some utility.
---
Columbia Escape Ascent Quick Glance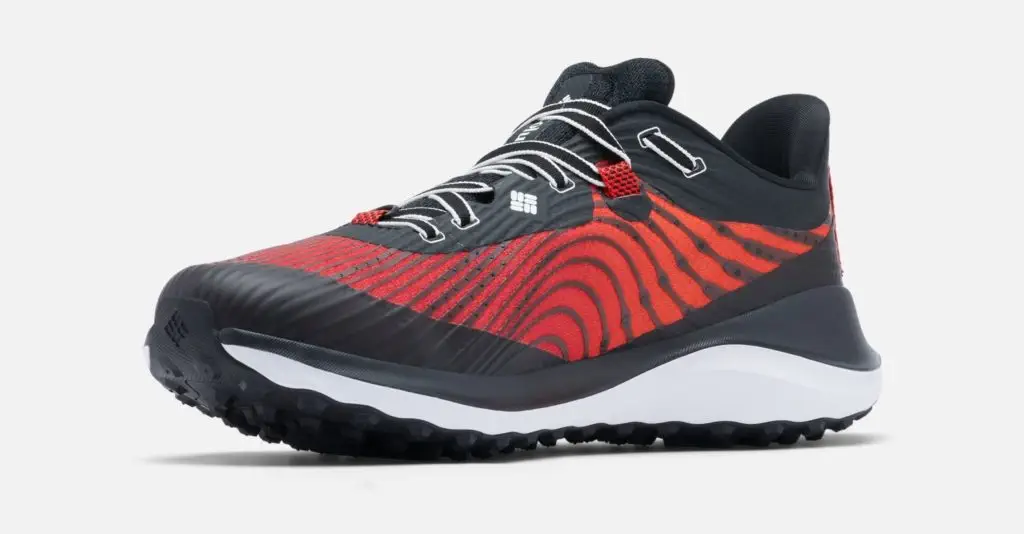 MSRP: $140
Weight: 10.5oz (Size 10)
Sole: Adapt Trax outsole
Drop: 8mm
---
Circumstances of Use
I was sent these shoes to test out, and I did so over a period of several weeks on a variety of surfaces in Maine. This included paved and gravel roads as well as trails in varying wet and dry conditions. All told, I put about 150 miles on these shoes as of the time of this review.
Joe used these shoes guiding backpacking trips in West Virginia and Yosemite and training on a combination of road and trails in Seattle. Additionally, Joe won the Dark Divide 50k in these shoes. All-in-all, he put in about 250 miles of running and 100 miles of hiking at the time of this review.
---
Features
Seamless mesh upper to provide exceptional fit.
Techlite+™ midsole that delivers responsive cushioning and stability, without sacrificing comfort.
Adapt Trax™ outsole with 4mm lugs that provides exceptional traction in wet and dry conditions
Lightweight design shaves weight without sacrificing stability.
---
Positives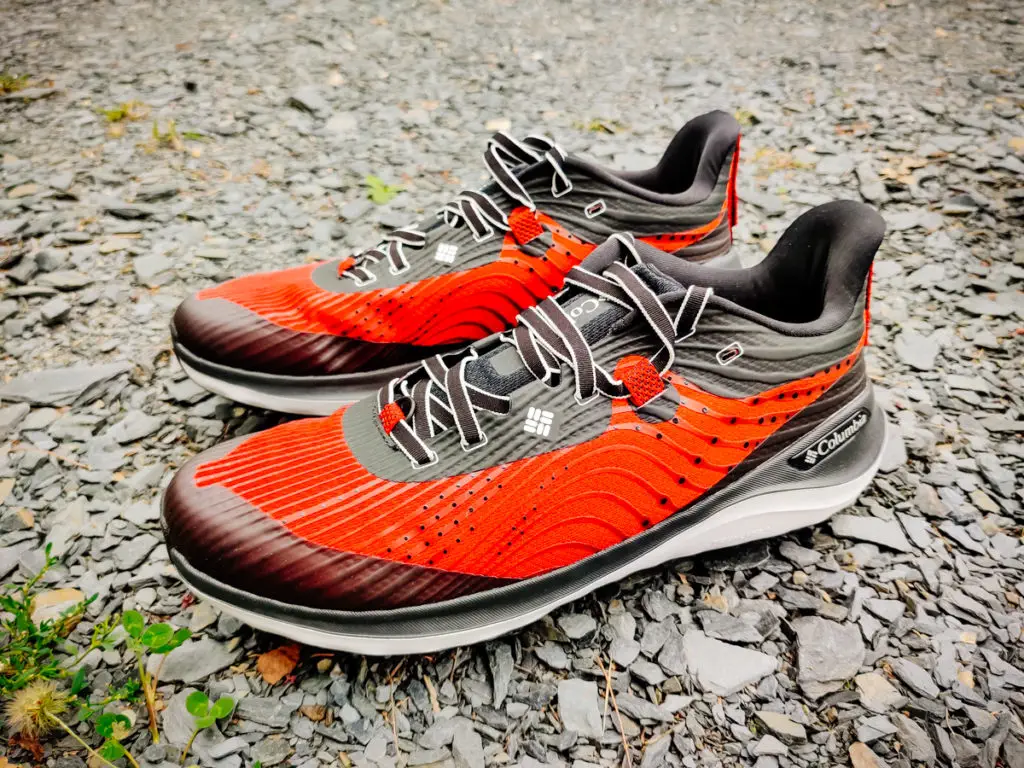 Midsole. Made with Techlite+ foam, the midsole isn't as plush as you might find on a pair of Hokas but it's cushy and responsive. I can't find the actual stack height of this model listed anywhere, but after nearly 100 miles of use they don't feel sloppy or overly-compressed. While there is no rock plate included, I've been able to cruise over gravel roads without feeling a thing.
Weight. This shoe was designed to be light and snappy, and it delivered. At 10.6 ounces for my size 10s, they are a full ounce lighter than my Topo MTN Racers which are extremely light themselves. Columbia clearly focused a lot of effort on making this model responsive and though they aren't as light as road shoes, they feel almost weightless when gliding down the trail.
Features. Not only are these shoes light, but they are packed with thoughtful features like a seamless upper so nothing rubs or chafes your foot. They also include flat shoelaces, which allow for a more comfortable and secure lacing without digging into the tongue. Finally, I was impressed to notice gaiter attachments on these shoes as this is not something you see from many brands. There is a D-ring on the toe-end of the laces and then the flat-sitting heel loop is held together with velcro which would allow attachment of gaiters like DirtyGirl. The velcro has a small surface area so I'm not sure how well they would hold in practice, but still nice to have the option.
---
Drawbacks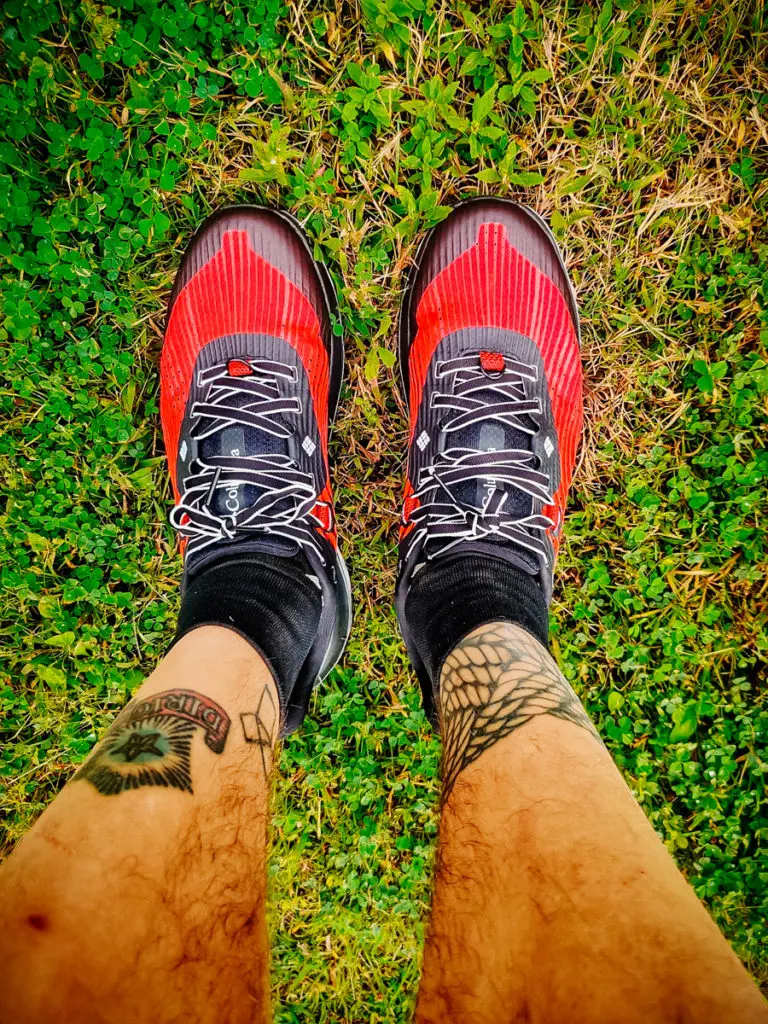 Width. I don't think that every shoe needs to be as wide as a paddle like many Altra models, but I find it hard to believe that there are many people in this world who have a foot shape that comes to a point at the end – and yet, a majority of shoes still implement this design. I have adequate room at the toe of the shoe, indicating they are sized properly, but when I slip these on I feel my pinky toe getting pinched to the point where there is a bulge in the mesh that is clearly visible. It doesn't bother me on short runs but definitely would on longer efforts. I experienced this on the Appalachian Trail and it was terrible, which is why I switched to wider shoes.
Outsole oddities. The outsole lugs are 4mm in height, which is 1mm shorter than many other options like the Topo Ultraventure 2, meaning it doesn't grip quite as well in mud nor for as long, as they will wear out sooner. I was pleasantly surprised with the Adapt Trax outsole performance on wet rock but in mud it felt like I was wearing slippers. On a wet and muddy Dark Divide 50k course, Joe found he had solid traction in mud, but experienced slippage when the mud would cake to his shoes.
Also, the outsole has a bit of a convex shape to it which I found strange. It feels as if the center of the midsole is slightly more pronounced and that the sides are higher, leading to a wobbly sensation on the first few steps. As someone who is prone to rolling ankles, I don't think this feature is doing me any favors.
---
Conclusion
Columbia hit the mark in many ways with the Escape Ascents. They are lightweight, responsive, and comfortable in a way that many trail shoes are not. There are a lot of impressive features packed in, yet they managed to keep from overbuilding the shoe and weighing it down with unnecessary junk.
That being said, I personally dislike the narrow shape of many models on the market which make me feel like I'm wearing elf shoes and are uncomfortable for long days in the mountains. Because the lugs are short and there is no rock plate, their serviceableness begins to break down on heavily rooted and rocky trails such as those in New England that I frequent.
Nevertheless, the Escape Ascents are a solid shoe that fill a need and perform well on dirt or gravel roads and trails where you can really put its features to use. I plan to continue using them for speedwork and endurance runs where the terrain is manageable and I need every advantage I can get.
Check out the Columbia Escape Ascents HERE
---
Comparable Shoes
MSRP: $130
Weight: 11.3 ounces
Drop: 9.5mm
MSRP: $125
Weight: 10.75 ounces
Drop: 8 mm
---
---
This post contains affiliate links. I earn a small commission on sales via these links at no additional cost to you. If you'd like to support me, please purchase products through the affiliate links. Thanks!
Brandon Chase is a writer, endurance athlete, and guide based in Maine. He is a former Foreign Service Officer with the U.S. Department of State and spent nearly a decade overseas serving at embassies in Egypt, Cyprus, and Pakistan.
Along with a 98-day thru-hike of the Appalachian Trail, he has summited Mt. Kilimanjaro, hiked the West Highland Way, fastpacked in the Himalayas, and trekked around New Zealand and South Africa. He also regularly competes in ultramarathons at the 50k, 50-mile, and 100-mile distances.