Someone asked me to write about my top secret race strategy for a premier ultramarathon, so here I am. Am I an idiot for writing this? Most definitely. Is this going to strike fear and confusion into the hearts of my opponents, leading to my eventual success? Ehhhh… sure! Or maybe this is all mind games. #Chaos
The Race
Javelina Jundred is a 100 mile race outside of Phoenix Arizona. It actually takes place at McDowell Mountain Park, which is frightening close to the Arizona Trail which I set the FKT on last April. Spooky coincidence!!! Did I mention the race takes place the day before Halloween and costumes are encouraged?
The race has ~7,000ft of elevation, making it a rolling course. For all intents and purposes, it is a flat 100 miler. Yeah, I'm sure I'll confirm that for you at mile 75! The route is a 5 looped course with about 1,400ft of elevation per loop. The loop has a few different aid stations, and crew is allowed at one aid station on the loop. Temps currently are expected to be in the high of 84 and a low of 59. For anyone coming from the balmy Pacific Northwest, I don't see temperatures to be a concern at all.
The course record is a steamy 13:01 set by Patrick Reagan in 2017 and 14:52 by Devon Yanko in 2015. It is consistently one of the fastest 100 mile races in the world. Javelina Jundred is a Golden Ticket race for Western States. The top two male and female runners will get an automatic qualification into the esteemed 100 mile Western States Endurance Run, so basically nobody cares about this race.
Live tracking found on Javelina's race website.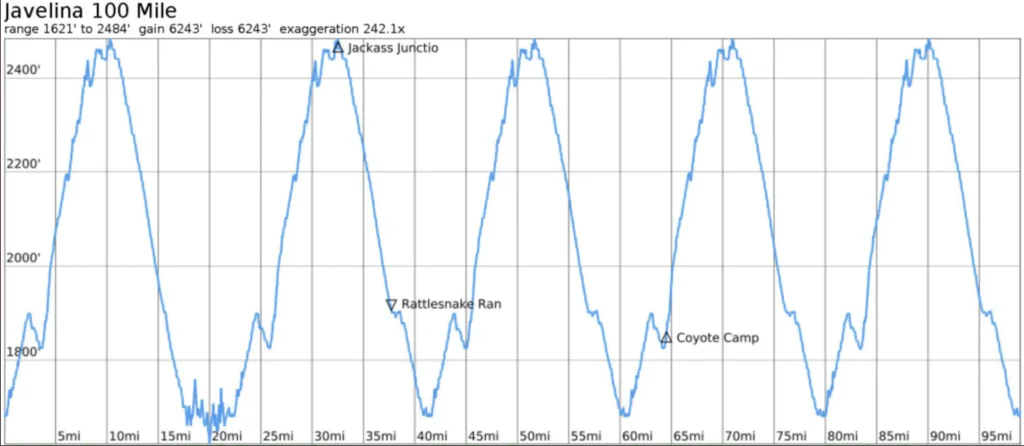 The Competition
The competition is quite drab. Basically, no one showed up on the entrant list. Arlen Glick's wins at Mohican, Burning River, Tuscazoar and Canal Corridor are definitely flukes. A 2nd place performance of only 12:57 at Tunnel Hill is definitely more indicative of his talents. Both Charlie Ware and Zach Merrin dusted me at Sean O'Brien in 2018 but it was really a really sunny day, so no worries there. The Belus brothers are running red hot, but do they know that it isn't summer anymore? Dave Stevens won Run Rabbit Run this year and Ryan Montgomery barely broke 13 hours at Brazos Bend. Yeah, pretty much no concerns.
In seriousness, there are 5-6 guys who I could see going sub 14. I believe it is going to take a sub 14 hour effort to take top two.
The ladies race is shaping up to be even more of a barn burner. Between course record holder Devon Yanko, 100 miler world record holder Camille Heron, Brittany Peterson, Meredith Edwards and Tusconite Lisa Roberts, there are lots of ladies who can throw down! I wouldn't be surprised to see the course record get smashed.
Training
My training in this block has fluctuated from 60-85 mile weeks. I've been doing a good job getting in regular workouts, focusing mostly on tempo work to help improve my lactate shuttling and form efficiency. I've mostly had 2 workout weeks, which is a good sign that my fitness will be there on race day. My biggest weakness is going to be overall volume and long runs. Typically, I'm a 80-100 mile week guy, but a busy travel schedule with guiding gave me a lot of inconsistency during September and early October. I still was able to get a respectable amount of mileage in and hiked for 6-10 hours per day, so hopefully that will translate into some 100 mile fitness. The handful of long, quality long runs is limited, but the results have been strong. I felt controlled and relaxed on a hilly, 3:04 marathon around my neighborhood a few weeks ago.
Additionally, the heat of Arizona is going to be a tough one. Out of the last 15 days, I've been double or tripled layered in clothing with a rain jacket to try to mimic hot temperatures to encourage physiological adaptations to the heat. I've seen a noticeable difference in how my body responds to heat and in the amount and frequency of how much I've sweat. Hopefully, I'll be prepared for 84 degree temps, when you typically see reduction in performance when the weather is over 70 degrees.
Race Strategy
How do you go about running your best effort on a 100 miler? Here are two truths I've found in ultrarunning:
Don't race the first half
Push through the 60-85% mental barrier
I will vom
Race to the conditions
There are a lot more than two truths in ultrarunning
There is no need to go out too hard. In my best 100 mile effort to date, a 12:53 self-organized event at the archrival high school of my partner, Katie, I went out in 6:40 pace for the first 42 miles. I hit a wall and could barely managed 7:30 or 8:00 pace for the rest of the effort. I want to make sure I'm controlling my effort for the first half, so that then when the going gets tough, I have enough tough to keep going.
The latter half of the effort is always the most mentally challenging, no matter your physical state. Specifically, I find that I hit a major wall at some point between 60-85% of a race. Sometimes, I hit a wall for 25 miles! I need to keep my nutrition and hydration game strong and focus on a consistent pacing strategy and neutral thoughts to put myself in the best position possible, and then I need to keep my mental game sharp as long as I can.
I don't have the ability to burp, which makes shoveling food and liquid into stomach not fun. I'll vom, hopefully once, probably twice. Three times is not the charm.
Lastly, I have to race to the conditions. The two conditions that I am most aware of 1) Everybody is going to want a damn golden ticket, and; 2) the heat. First, I'm going to need to run my own race and DGAF about all the fast guys around me. It'll just be me and the dusty road to nowhere for the first half of the race. If I find myself in good racing position at the 50 mile mark, great. If not, no sweat. Actually, a lot of sweat. Which brings me to my second point. Temps will stay high until the sun goes down with the worst being from 1-6PM. Unfortunately, this coincides with probably the most mentally taxing section of the race. I'll go race at a good clip, will need to make an intentional effort not to cook in the sun, and shouldn't let it rip until the sun is fading on the horizon.
I feel very lucky to have a rockstar crew helping me. Katie, Will and Christa McConaughy and Witt Wisebram all crewed me on the Arizona Trail, so that'll be a blast. We met pro skater Ryan Lay on the Arizona Trail, and he is also joining the squad. Should be a blast. The only issue I have: that Witt is the best pacer of the group, but he is coming off of Lyme Disease. We will see how that plays out. Whether or not I run well, we are going to have a lot of fun.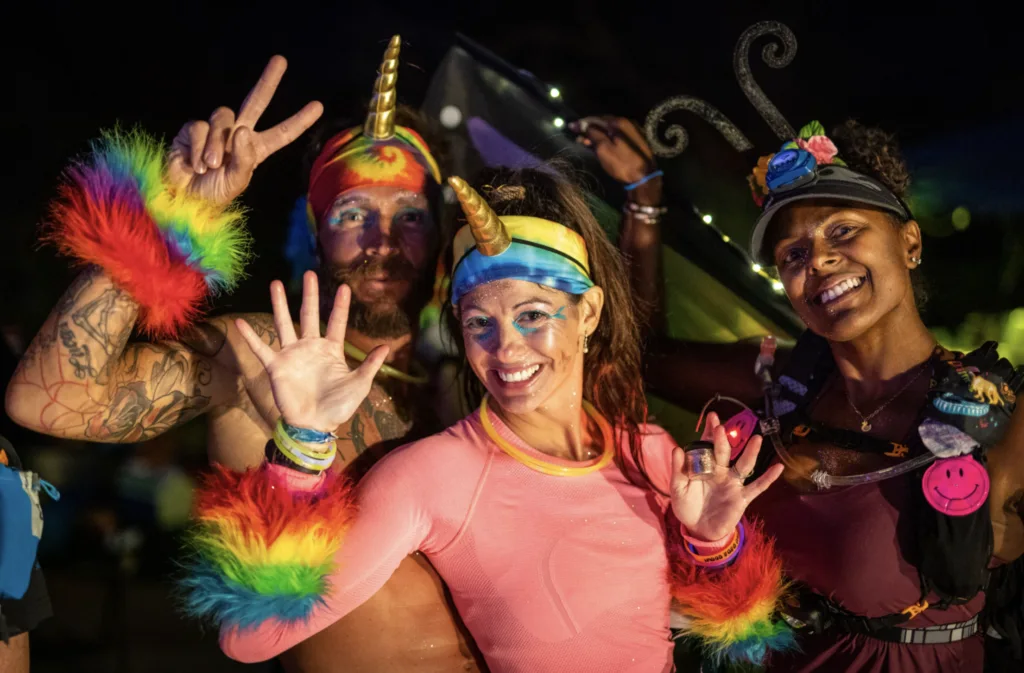 Gear
I am going to wear my Columbia Montrail FKT Lite and potentially switch to my FKT's. The FKT Lite is a zippy, minimalist style shoe that does great on trails. However, over the course of 100 miles it may not provide enough support. If I am feeling achilles or knee pain, I will transition to the sturdier but still race-worthy FKT's.
To handle the sun, I'm still undecided about clothing. At the very least, I plan on wearing a sun cap, shorts and a running vest. I'm debating between a lightweight T + arm sleeves combo or a traditional long sleeve. At the very least, I know I need to keep the sun off my skin to the best of my ability. An easy task in the desert!
I'll have x2 500ml soft flasks and I'm weighing a bladder and a handheld. Ideally, I'd be using a handheld and not need to carry a hydration vest, which is going to hold heat in my core. However, handhelds suck (mostly because of my stringbean-y figure arms) and I also like having ample room to store snacks. I should be able to refill the soft flasks appropriately at aid stations.
Additionally, I will be carrying an ice bandana and the arm sleeves do a great job at holding ice, as well.
Nutrition and Hydration
I'm typically a 250 cal/hr guy, which I did in my most recent race, the Dark Divide 50k. With my inability to burp, I inevitably experience some stomach issues. I find a combination of Maurten drink mixes + gels, bananas, PB + J and pickle juice to be the best calorie cocktail for my stomach. I also eat some protein in a long race like this, some I'll probably have 300-400 calories of protein during the back half of the race.
Given the hot temperatures, I will certainly need to place extra emphasis on hydration and electrolytes. I'm planning on drinking around 750 ml/hr, but I drink to thirst and won't get hung up on a specific number. I'm bringing salt tabs if I'm feeling a little off on trail, and I'll down pickle juice or broth if I'm at an aid station and feeling a little off.
Pace and effort are going to by biggest x-factors on this front. If I am hot and bothered at mile 40, that is likely going to result in stomach discomfort and an inevitable slow down. My plan to race conservatively will also stems from my stomachs capacity and ability to turn food and water into poo poo, pee pee and vom. (Sorry for that one.. I have to entertain myself somehow while I'm writing!)
---
---
This post contains affiliate links. I earn a small commission on sales via these links at no additional cost to you. If you'd like to support me, please purchase products through the affiliate links. Thanks!