Javelina Jundred is a fast, flat 100 mile race in the heart of the Arizona desert. The race has a rich history, 2021 being its 19th year running. The course features desert classics: sandy washes, towering saguaros, packed gravel trail and lots of sun exposure. Seriously, there is no shade until the sun goes so low that the mountains to the west block out its rays. The race is a total Jalloween party (yes, you correctly noticed all H's are replaced with J's). It feels like the ultra runner's version (aka more dirtbag/less flair) of Burning Man.
Click here for my pre-race strategy.
History
The course record is 13:01 set by Patrick Reagan in 2017 and 14:02 set by Camille Heron this year. The race first ran in 2008 and then was purchased by Jamil Coury who then founded Aravaipa Running. There have been plenty of high profile names at this race, including Patrick Reagan, Tim Tollefson, Devon Yanko, Zach Bitter, Kaci Lickteig and Hal Koerner. In 2021, the Javelina Jundred was announced as a Golden Ticket race, meaning the top two finishers would receive an automatic entry to Western States.
The Course
The course is 5 loops of approximately 20 mile loops. The first loop is slightly longer than 20 miles, and the four subsequent loops follow an identical, 19 mile route. The course advertises 7,000ft of elevation gain and my COROS Vertix II calculated 6,906 ft of gain. There are 4 aid stations on route, with Javelina Jeadquarters being the most notable. The only aid station that sucks is Jackass Junction. At the top of a gradual, 1,000 foot climb, Jackass Junction is 6.5 miles from the previous aid station. Why does it suck? The people are lovely, the food is good, and life is pleasant… But the difference between an aid station that is 4 miles away and 6.5 miles away is a hell of a difference. More on that later.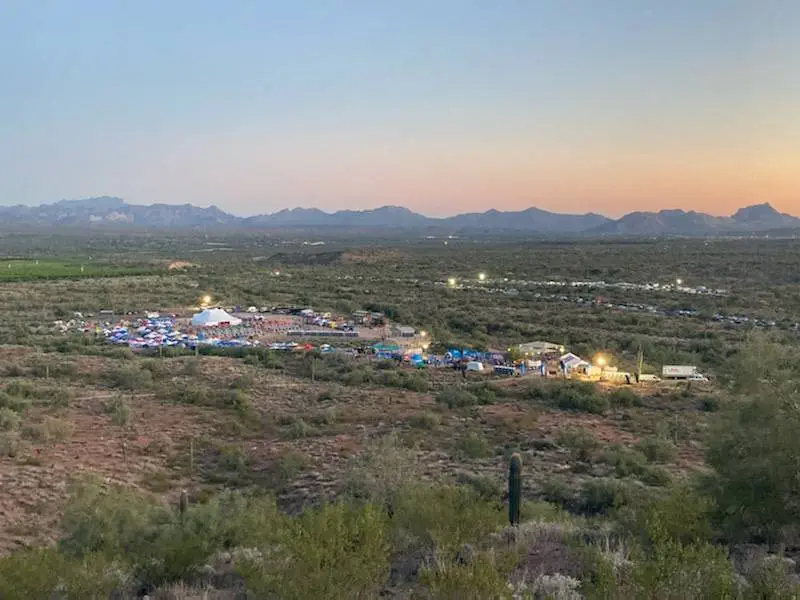 Conditions
The heat makes this race a tricky one. In Seattle, temps are consistently in the 50's. In Phoenix, the heat rises to mid 80's and hovers at that temp from around noon until the sun begins to go down, around 5pm at the end of October. That is brutal on the body. Racing performance in runners really starts to be impacted when temps go above 70, especially if you don't have any heat acclimatization. Since the air is so dry, evaporative cooling can play a serious effect in keeping you cool, but that means you need water to spare between aid stations, and to spend extra time at aid stations getting sponged down with ice water. Many runners complained about the sandy and occasionally rocky terrain, however I found it a plush and groomed course.
My Training
I was stoked to head back to Arizona after setting the FKT on the 800 mile Arizona Trail.
I had a weird training build up. I was on and off of nagging injuries between April and July. I had a tight achilles that kept me at low mileage and then the day after I turned 30, my back seized up. I needed to take 2 weeks off from running.
Once my back cleared up in mid-July, I was back to the races. I ran my first race, winning the Dark Divide 50k, a technical (9,000ft of gain) race in my back yard near Mt. Rainier. This was a good confidence boost and my first competitive race since COVID. I then started to build mileage, maintaining 50-85 miles per week through the race. My mileage was low because I was guiding backpacking trips with Andrew Skurka. I spent 18 days in the field in September and October which cut into longer training runs, but the backpacking helped me feel strong.
For workouts, I focused mostly on tempo and lactic threshold work. Rather than being a specific training adaptation for the 100 mile distance, I simply hadn't done tempo work in a long, long time and knew I needed to sharpen that edge. I worked out twice a week and then tried to get in a quality long run, although the biggest thing to suffer in my training was a long run.
Heat training
The only other race where my hometown made we woefully unprepared for the heat of a race was at Sean O'brien 100k. After a long Boston winter, I headed out to California for an early spring race. It was about 80 degrees and I died. Hard. I had to DNF at mile 50. Compared to Sean O'brien, I could tell my heat preparation had paid off. I rarely felt overheated. I completed 10 of my last 15 runs with multi-layers of clothing and also had 2 hot tub sessions in the week lead up to the race. It only takes 7-10 days to really experience the effects of heat training!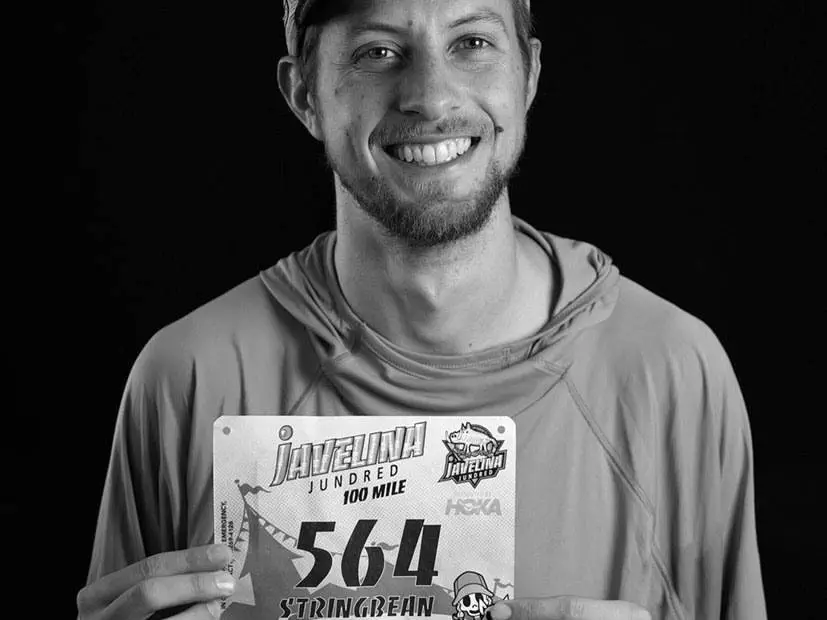 The Race
There were a few big names I knew I had to watch out for. I had been bested by Zach Merrin and Charlie Ware before. I knew Arlen Glick had been running incredible times for the last two years and Dave Stephens was coming off an impressive win at Run Rabbit Run. Ryan Montgomery had some blazing fast, flat 100m efforts. I figured there were a good 6-7 guys who could go sub-14, and that probably two would do it. And don't forget, top two get a Golden Ticket to Western States.
My goals going into the race were:
A goal: Western States Golden Ticket
B goal: Sub 13:30 finishing time
C goal: Conserve for the first 50m to be able to race the back 50m
I'm crewed by Will McConaughy, Christa McConaughy, Katie McConaughy, Witt Wisebram and Ryan Lay.
Loop One
The first lap was 22 miles long. I arrive to the race start and the party is bumping. There is a DJ, a sea of flashing cameras and loads of excited, tense runners. Toeing the starting line at 6AM, the sun is not yet out. When the gun went off, I move into a front position, content to sit around 15th place by the time we hit single track trails. I look in front of me and see a t-shirt with 'WAREWOLF' printed on the back. It is Charlie Ware, and we strike up a conversation. We have crossed paths twice. We raced at Sean O'brien and then at a Thanksgiving 5k in Tucson. I enjoy getting to talk to him in more detail. He teaches me a little trick about how to pee on the run. I am so hydrated that I literally pee 8 times in the first 22 miles, so I probably owe Charlie like 10 minutes of time saved. I finish loop one 13 minutes behind the leaders, Charlie and I comfortable and content not to push too hard, too early.
Loop Two
By this point, the miles are cruising off. Miles 20-40 in a 100 mile race always go so quick. I stick to my nutrition strategy of 250 calories per hour, mostly Maurten supplemented with aid station snacks. Charlie and I are separated by we rejoin. We push a good pace up to Jackass Junction, averaging around 8:10 miles on the 1,000ft, 10 mile climb. It feels perhaps a little quick, but we are both running smooth. Plus, we are on lap two – the gloves are starting to come off. I let Charlie go on the back descent down to the trail start after Jackass Junction. I don't know what it is, but 7:20 miles seemed like a little too much work on the downs. I listened to my body and backed off to 7:50s.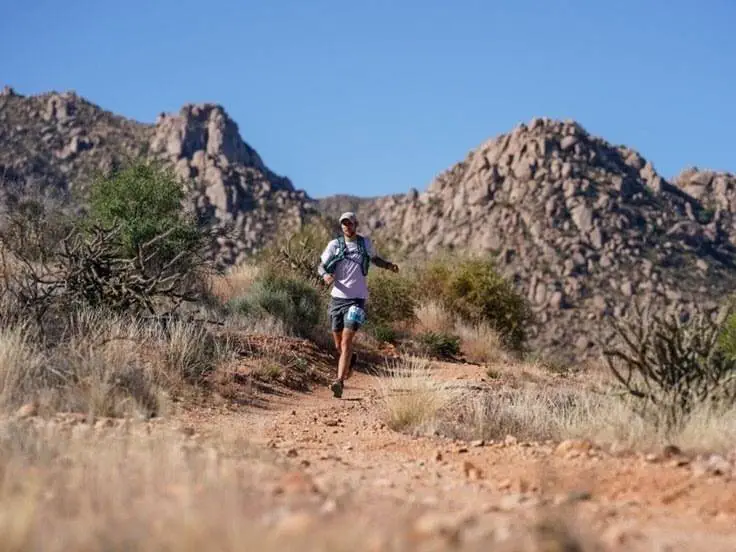 Loop Three
Now is when my crew really shines. It's like a NASCAR pit crew (see second video). Katie and Witt are the two crew chiefs. Katie knows exactly what I need – she's willing and able to push back when I give a fuss. Witt has extensive experience at ultra distances. They are barking orders and within 2 minutes I have:
Changed t-shirts (we had one waiting in an ice cooler)
Been sponged down with ice water
Had ice put into my arm sleeves and in my hat
Drank Maurten, water and pickle juice
Eaten chicken and chips
Swapped running rests to have new water bottles and snacks.
Talk about a pit crew.
I catch Charlie right out of the aid station. He tells me, 'Ehh my legs are feeling a little heavy by I'm alright.' We push up through Coyote Camp, the aid station before Jackass Junction. I say hi to my friend Scott Traer who is working the event for Aravaipa. We know each other from running in Boston and he has put up a variety of really impressive 100 mile times himself. It is nice to see a familiar pace. On trail, Charlie backs off the pace, and I carry on alone up. My stomach feels a little uncomfortable, but I'm still putting back calories just fine. I run out of water on my ascent up to Jackass Junction. Like an idiot, I blew through the last aid station without wetting down or putting ice on myself. So when I get to the next aid station, I spend a few extra minutes cooling down before pounding the downhill back to the start/finish. However, I forgot to get snacks. I end up eating about 520 calories, short 230 of my goal.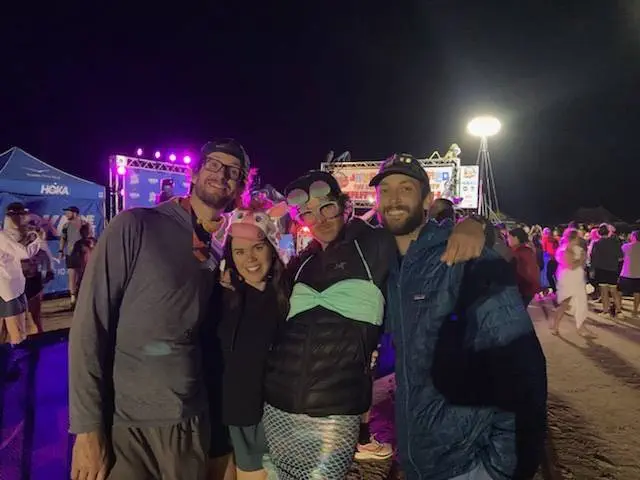 Loop Four
I get into Javelina Jeadquarters and debrief with my crew. Apparently I'm about 20-30 minutes back from the leaders and in 4th place. Cole Watson, Ryan Montgomery and Arlen Glick are ahead of me. I have them exactly where I want them. I figure that someone is going to fold under the heat and with two more strong laps I can surely make top 2. Katie knows I'm a little underfed. I shovel down some chicken, pickle juice and chips and head back for a big loop with Witt as a pacer. This will be the last of the heat for the day, with temps maintaining around 85 the entire time. I bump into Camille Herron, who holds 11 American records. We share some miles and yo-yo off each other. She is faster through aid stations but I'm sustaining a faster running pace. I start to feel like a #2 is in order but it doesn't bother me too much. Witt cruises with me through 6 miles and then let's me go. When he leaves, my moving pace slows down as I climb the back miles to the top of Jackass Junction. I'm hot and bothered – I can tell the heat is getting to me. When I get into the aid station, I start to feel lightheaded, an early sign up bonking. I eat a pickle, a pickle and put mix some gatorade into my soft flask. I realize that I have to go take a big bathroom break, which I've ignored for the last 10 miles. Camille and I work together through the back half and my pace picks back up. At this point, I can tell I am working to hit 8:00 downhill miles. I can tell my hamstrings are quite fatigued and I try to lean into activating my gluts/quads on the downhill. One more lap. I have to give this what I got.
Loop Five
Word on the street is that Cole dropped? SWEET, does that mean 3rd place? Maybe I can work it up 25 minutes if Ryan really crashes at the finish. The gatorade gives me what I need, although Katie says I'm looking a bit hollow-eyed and mid bonk. My energy levels feel good, but I stuff down a PB&J sammy to put a few more calories down and run off with Ryan. The sun is about to set and I'm feeling energized. Out of the gate I'm hitting 9:00 miles on the uphill, which sounds groovy to me, until I need another bathroom stop. And then another bathroom stop. All in all, I experienced some serious GI distress and needed to make 4 stops on the last lap. My positive momentum fades like my moving pace. Talking with an aid station volunteer, I find out Cole didn't in fact drop. There is a technical glitch and he has 10 minutes on me. Heading up to mile 90, I start needing to walk uphills. I'm not in a mood to eat much and I hope I have enough to cap off the run with 10 more miles. Camille passes me for the final time with 8 miles to the finish and my stomach is not about keeping up with her. With 3.7 miles to go, I chugged some coke and ate half of a Maurten gel. Bad idea, and my body rejects the high volume of fluid. I can't help but laugh at the absurdity of the situation that I found myself in – puking in the desert. Alone. Missing a golden ticket. Crazy proud of the effort. Smiling. Puking. I jog in a few 9-12 minute miles to finish off the race to a finishing line of epic proportions. Crazy lights, screaming fans, an MC and DJ blasting music.
HUMBLE. By Kendrick Lamar is on and I can't help but dance at the finish. My tired legs almost buckle twice on me, and then I embrace my incredible crew who is waiting at the finish. They did such an amazing job and I feel so blessed to be surrounded by such amazing people. I may not have gotten the golden ticket, but I had the race I wanted – my best effort surrounded by my favorite people.
View this post on Instagram
Top Results and Splits
Male top three: Arlen Glick (13:14), Ryan Montgomery (13:33), Cole Watson (13:49)
Female top three: Camille Herron (14:04, Course Record), Brittany Peterson (15:47), Tessa Chesser (16:25)
Strava data here. Final time: 14:13. Place: 4th male, 5th overall
Loop 1 – 22.3 miles: 2:56 (7:36 min/mi)
Loop 2 – 41.7 miles: 2:33 (7:44 min/mi)
Loop 3 – 61.1 miles: 2:42 (8:13 min/mi)
Loop 4 – 80.5 miles: 2:55 (8:52 min/mi)
Loop 5 – 99.9 miles: 3:05 (9:23 min/mi)
Bean Sprout (my athlete team) Jacob Buller finished in 29 hours, making the cutoff by about an hour. He took 8 hours to complete the 4th lap and rallied to finish.
Cowgill Trail Collective also represented, with 4 other runners from my club participating. Kevin Metz finished in sub-24 hours, Troy Haesler finished in 21:37, Ben Logsdon finished in 25 hours and Kevin Weirman DNF'd after cramping 40 miles in. Troy and I shared most of the miles on the first lap!
The Good
Gear. I wore Columbia Montrail FKT Lites, Kahtoola Gaiters, Columbia Titan Ultra t-shirt and shorts, Columbia Deflector Arm Sleeves, Columbia Cachalot Hat, COROS Vertix II, Columbia Trans Alp Vest, x2 500ml soft flasks and a Petzl NAO at night. The FKT Lites are no-frills trail shoes I've never worn for that distance and my feet held up remarkably well. The Cachalot hat excelled at holding ice and keeping sun off my face. My COROS watch only had 37% battery at the race start and had over 20% when I finished.
Crew. Dang, a crew is nice. It was like NASCAR whenever I came by the headquarters. Everyone knew exactly what I wanted and got me out of the aid station quickly with a smile on my face.
Heat Training and Management. I withstood the heat remarkably well. I've been in sub 70 degree temperature for months now, so not feeling like I lost much time based on a lack of heat acclimatization or mid-race overheating was awesome.
Patience. There were probably about 10 runners who could've gone sub 14:30, however only 4 males managed to do it. I was really happy that I didn't get carried away with the lead pack early.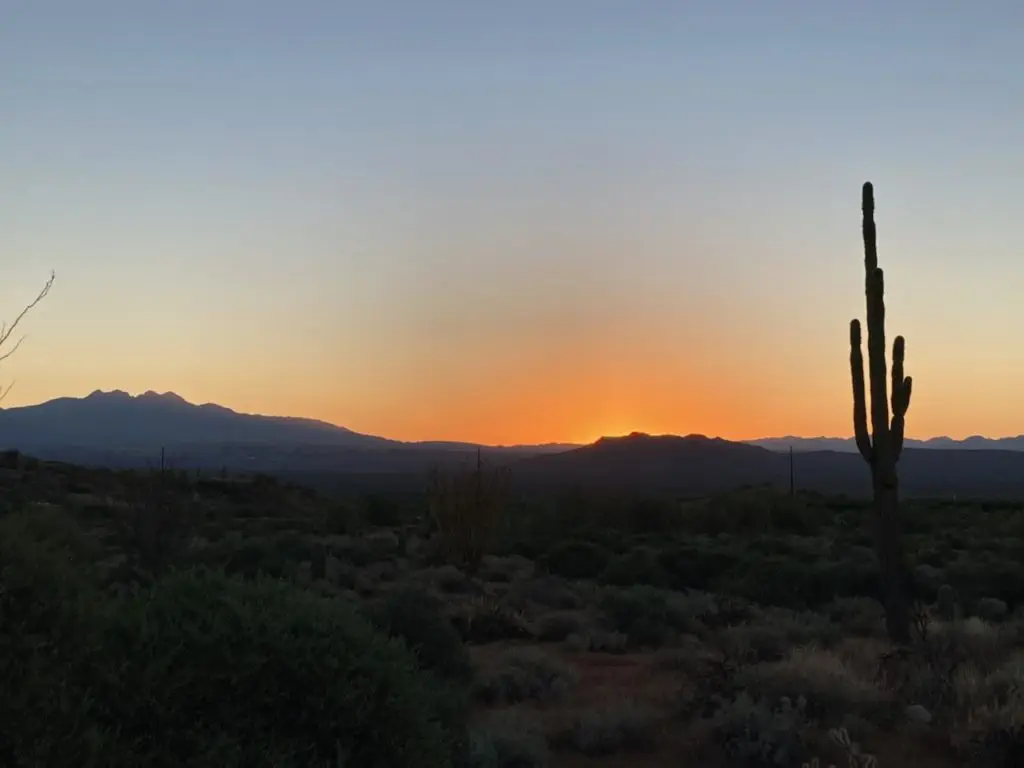 The Bad
Nutrition Execution. On lap 3, I only had 520 calories, or about 230 short of my calorie goal. That hurt on lap 4 when I bonked. On the last lap, I also shortchanged calories, which I believe is why I found the final 10 downhill miles so hard. Interestingly, I noticed a major energy improvement on lap 4 shortly after having some electrolytes, so I presume I was short on that.
Bathroom Planning. Holding in going to the bathroom on lap 4 and dehydration led to major GI distress on lap 5. That was a bummer and lost me ~10-15 minutes.
Training. I knew this was a weakness going in, but I guided for 19 of 40 days in Sept/Oct which cut into mileage and long runs. Incorporating a lot of tempo runs really helped strengthen my quads, but the lack of longer mileage and fine-tuning my nutrition hurt me. 60-85 mile weeks are on the lower end!
No Golden Ticket. This race makes me 0 for 4 for Golden Tickets. I went in hoping to run a 13:30, which is also a bummer. I really want to toe the line at Western States. I'm disappointed in my performance, especially since I ran the first half of the race with such patience. Without GI distress, I know I have an extra 10-20 minutes extra in me. With better nutrition, I believe I could've saved another 10-15, but I can't go through the what ifs. I ran a great race that I'm super proud of. I raced smart, met a lot of awesome people, and strengthened relationships with people I love. That is all I need!
Header photo credit: Howie Stern
---
---
This post contains affiliate links. I earn a small commission on sales via these links at no additional cost to you. If you'd like to support me, please purchase products through the affiliate links. Thanks!