Ever since discovering Topo Athletics during my 2018 Appalachian Trail thru-hike, I've been a big fan. I find them to have a better fit and increased durability over competitors such as Altra while maintaining features like low heel-to-toe drop and a wide toebox. As an instructor for Andrew Skurka's Backpacking Planning Course, I review hundreds of client-submitted gear lists and often recommend Topo shoes to those who are seeking these characteristics in their footwear.
Earlier this year, I found myself at home in Maine for an extended period due to COVID-19 as opposed to overseas, where I had been stationed for nearly 7 years, and running my favorite trails in Acadia National Park. Frustrated with the durability of the Altra Lone Peak 4s I was using (on sale and decided to give them another shot), I ordered a pair of Topo Ultraventures. Having experience with the Terraventure, Topo's medium-cushion trailrunner, I expected a high quality shoe and that's exactly what I got. The Ultraventures became my go-to trailrunner for the next 7 months and shuttled my weary feet through hundreds of miles of rugged New England trail until being retired just last week.
Let's take a closer look at the Ultraventures and what made them my top choice this year.
---
The Topo Ultraventure At-a-Glance

MSRP: $130
Weight: 10.4oz (Size 9)
Sole: Vibram XS Trek
Drop: 5 mm
---
Circumstances of Use
The Ultraventures saw most of their miles on the rugged and rooty trails of New England, mostly in Acadia National Park but also for 62 miles along the Midstate trail in Massachusetts during my attempt at the Midstate Massive 100 mile race in October. I also wore them while on a guided backpacking trip with Andrew Skurka and Joe in the Dolly Sods area of West Virginia, which has similar terrain to that of New England.
All told, I put at least 800 hard miles (probably closer to 1,000) on this pair of shoes.
---
Features
Roomy Toe Box to allow toes to spread naturally and comfortably.
Vibram XS Trek Outsole with generous lug spacing for mud and snow release but high level of contact for grip.
EVA Midsole for a cushioned ride that won't overly compress over time.
Lightweight and Breathable Design for a quick-drying, moisture-managed ride and second-skin feeling.
---
Positives
Fit. My feet are unequivocally more comfortable during longer efforts in a shoe with a wider toe box. Those with narrow or shallow feet may be more comfortable in something else, but for me this fits the bill perfectly. Unlike many "wide" shoes, the
Durability. Every pair of Topos I have owned (half a dozen, at least) have worn like iron. They are simply some of the toughest and most durable shoes on the market that continue to impress me. Even when approaching 1,000 miles on my pair, you can barely tell by looking at them. I finally decided to retire this pair as the tread was worn enough to leave me slipping on nearly all surfaces, but the upper is still in great shape.
Construction. How many different ways can I say that these shoes are rock solid? In addition to a great fit and durable wear, the midsole is cushioned without getting sloppy (ahem, Altra). With a stack height of 30mm/25mm for a 5mm drop, the ride was plush enough for me to skate over many sharp roots and jagged rocks without a second thought. My feet still hurt after a 50-mile effort no matter the shoe, but these definitely helped to take some of the bite out of the rugged Northern terrain even after many miles.
---
Drawbacks
Grip. There's always a tradeoff between outsole durability and traction: the stickier the lugs, the less sturdy they are. On one end of the spectrum, Altra has a very grippy outsole that wears like a pencil eraser while Topo tries to strike more of a balance. They succeed in many ways, but the adhesion to slick granite (of which most New England mountains are made of) still suffers.
Gaiters. Alright, this isn't as much a knock on the shoe itself as it is their proprietary gaiter system. The newer Topo models come with loops on the heel but, until the recent release of the Ultraventure Pro, there was no attachment system on the front. This meant that not only did you have to buy their specific gaiters instead of, say, Dirty Girl gaiters, you also didn't get a great fit because the front hook that attaches to the laces would slide around. Side note, I tried a pair of their Performance Gaiters and the velcro detached from the fabric within a month of use – would not purchase again.
---
Conclusion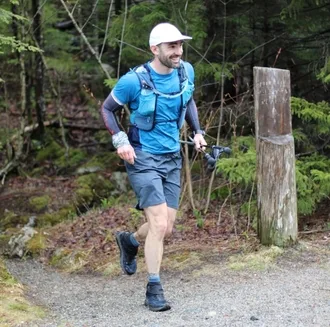 As you can tell, I'm a huge fan of the Ultraventures. Having been through lots of shoes between running and thru-hiking, I can confidentially say this is one of my favorite pairs of all time. Topo really hit the mark by marrying a great fit with a durable and breathable construction that makes for the perfect long-distance shoe on rugged terrain.
Although I'm planning to try out the new Ultraventure Pro model next, I wouldn't hesitate to pick up another pair of these (especially if they go on sale). I highly recommend you take a good look at Topo when you're ready to pick out your next pair of trailrunners!
Check out the Topo Ultraventures here
---
Comparable Shoes
MSRP: $169.95
Weight: 11.6 ounces
Drop: Zero
MSRP: $144.95
Weight: 10.8 ounces
Drop: 4 mm
---
---
This post contains affiliate links. I earn a small commission on sales via these links at no additional cost to you. If you'd like to support me, please purchase products through the affiliate links. Thanks!
Brandon Chase is a writer, endurance athlete, and guide based in Maine. He is a former Foreign Service Officer with the U.S. Department of State and spent nearly a decade overseas serving at embassies in Egypt, Cyprus, and Pakistan.
Along with a 98-day thru-hike of the Appalachian Trail, he has summited Mt. Kilimanjaro, hiked the West Highland Way, fastpacked in the Himalayas, and trekked around New Zealand and South Africa. He also regularly competes in ultramarathons at the 50k, 50-mile, and 100-mile distances.