Peyton Bilo is a former D-1 All-American runner. She recently completed her first ultramarathon, finishing the Chuckanut 50k in 6th place with a time of 4:24, only 14 minutes off first place. Overall, she ran a consistent, strong race and is excited to keeping running longer distances this summer and in the future!
This article outlines part of her experience of using mountain biking to transition from a collegiate track athlete to running trails.
---
Discovering Mountain Biking
I graduated from Cal Poly, SLO in March of 2020 and moved home to northern California, shortly thereafter meeting my boyfriend, Curtis. Due to the COVID-19 pandemic, the first few months of our relationship were far from normal: dates consisted solely of outdoor activities such as camping, hiking, paddleboarding, road biking, and eventually, mountain biking.
Curtis is a highly-skilled mountain biker and has years of experience in the sport, which I found slightly intimidating since I spent most of my time running in circles. Eventually, he convinced me to rent a mountain bike during a camping trip in South Lake Tahoe, and I have loved the sport ever since. After almost two years of mountain biking, I have come to realize learning to ride was what ultimately led me to finding trail running.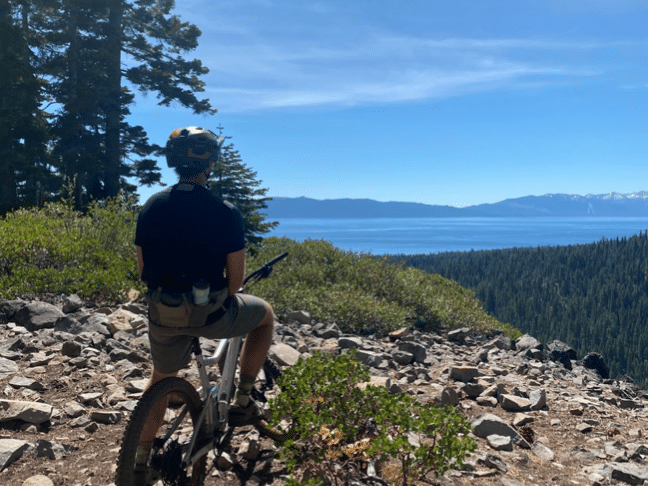 ---
Learning my "why" after collegiate running
After losing my senior year track season due to the pandemic, I struggled to move on from collegiate running and found it difficult to let go of my identity as a student-athlete. I experienced mixed feelings of relief, confusion, and a bit of grief over my "career" ending so suddenly. I continued to run 5-6 days a week but was unsure of what I wanted in the long-term. Some days I wanted to give up running altogether, and other days I wanted to find a team to train with and pursue personal bests on the track. Over the course of the year, I tried both of these things but neither felt quite right. Not running made me restless, and getting back on the track was not fulfilling in the same way that it was in college.
Due to this dissatisfaction with running combined with an achilles injury, I started to spend more time on my mountain bike and realized that long efforts in the mountains fulfilled me in a new way. I learned to slow down, soak in my surroundings, pack snacks, and shifted my attention to the beauty of my surroundings rather than the pace on my GPS watch. When my Achilles healed, I found myself wanting to run again but did not want to lose touch with this new mindset. This was when I began to transition from the track to the trails.
Coming back from injury on the trails taught me to slow down and enjoy the process of building up mileage.
In college, I often found myself scrutinizing the data and paces I was running as I was often so rushed to return to racing after injury. Thankfully, this build-up was different and I was able to re-train my hardwired 5k brain to start running based on effort instead of pace. Looking back, this was partially because I was no longer in the collegiate racing environment and also because my watch didn't work very well on the trails, which is something I am now thankful for (although it was frustrating at the time).
I found that my aerobic fitness returned just as quickly on the trails as it did in college, even without forcing or rushing it. More importantly, the comeback process was much more enjoyable as I was able to let go of my fears of being out of shape and learned to enjoy running simply for what it was.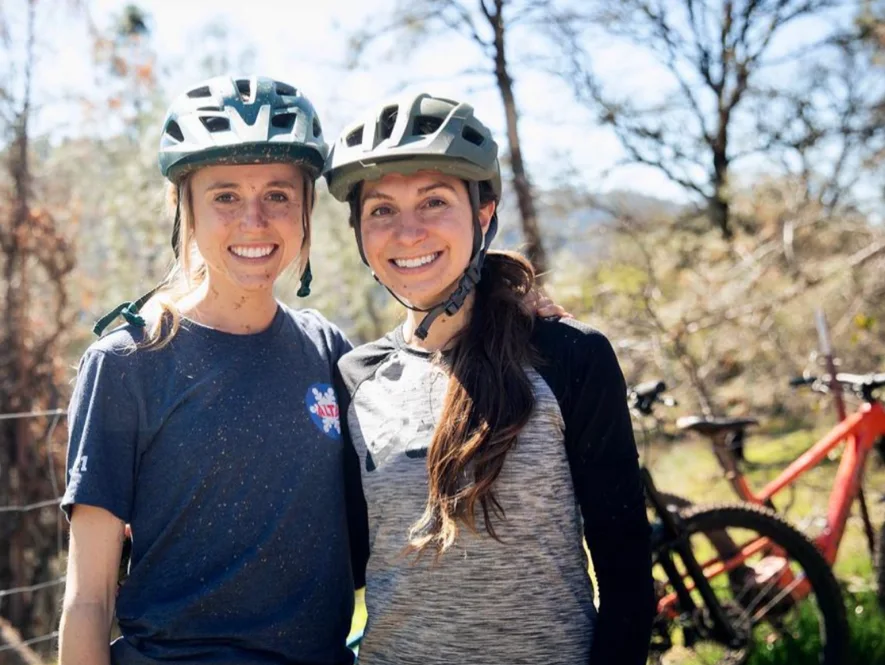 ---
The overlap between trail running and mountain biking
After almost a year of doing both sports, I am beginning to realize mountain biking is complementary to trail running in multiple ways. First off, mountain biking is a great way to add some fun cross-training in and improve both cardiovascular fitness and muscular endurance. When an injury prevents me from running, I cherish the days I find time to ride my mountain bike, as it feels so familiar to trail running and also provides a great escape from the monotony of cross-training in the gym or pool.
One less obvious similarity between mountain biking and trail running is learning how to choose lines on descents. I prefer downhill mountain biking, which involves long climbs coupled with technical, quick descents.
Over time, I have grown to love the adrenaline rush that comes with clearing difficult segments of a trail and weaving through the trees at high speeds. Learning how to choose the best (and safest) line while descending quickly is something that takes a lot of practice and usually comes with a few inevitable crashes. However, learning how to choose lines on a bike has made me a much better downhill runner (not that I would consider myself at all above average at this yet) because I have trained my eyes to focus on what is immediately in front of me as well as detect upcoming changes in terrain.
Since downhill running is slower than biking (at least for me), developing these skills on a bike makes choosing a line while downhill running even easier and has increased my confidence that I can stay in control and on my feet while running fast.
---
Mountain biking has helped expand my comfort zone
Other similarities between mountain biking and trail running are more psychological. When my boyfriend was first teaching me to ride more technical terrain, he would often say "only look where you want to go" and "choosing an easier gear on the climb will help you go faster in the long term." Since then, I have come to realize these statements also hold true on trail runs.
When first setting out on long runs, I often find myself a bit overwhelmed or nervous about the distance and vertical gain that lies ahead. Longer efforts are still fairly new to me and it is easy for me to focus on parts of the run that I have not yet reached. When I think "only look where you want to go" it helps me to focus on the present moment and reminds me to enjoy the mile I'm in. It also serves as a good reminder to pay attention to my foot placement.
The second statement, "choosing an easier gear on the climb will help you go faster in the long term" is a helpful reminder to slow down during climbs. In mountain biking, if the gears are too high, it is easy to get tripped up or stopped completely by big rocks or roots; however, if the gears are low, it is easier to maintain speed on difficult sections and keep climbing without interruption. The same is true for trail running: taking the hills at a controlled pace, which I am learning often means walking, makes it easier to maintain momentum throughout the run and keeps energy levels higher to tackle the descents at a high speed.
Another similarity between mountain biking and trail running is the chance to travel to beautiful places with friends and/or family. With technology becoming so pervasive in our everyday lives, it is becoming increasingly difficult to connect with others. Having the chance to experience nature with loved ones, away from screens and cell service, is something that I truly cherish. Long days in the mountains, whether on wheels or feet, always leads to unforgettable views, laughs, and lifelong memories.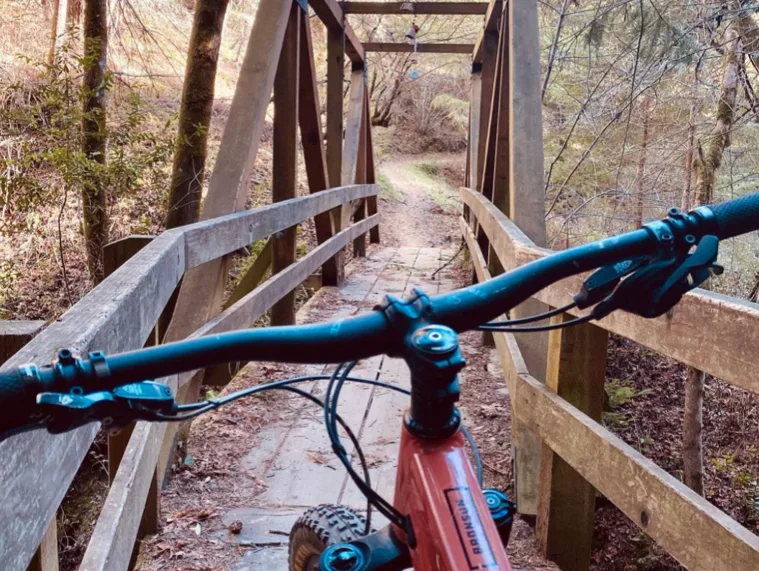 ---
Swap legs for wheels to gain a fresh perspective
If you are a trail runner who finds themselves annoyed by mountain bikers, I hear you.
They can be loud and fast and don't always stop for runners. However, the next time you experience an injury, or just don't feel like running one day (yes, we all feel this way sometimes), I would challenge you to try out a mountain bike and see where you end up. Riding a bike can cause feelings of playfulness, creativity, and youthfulness that running can't always produce. Although I love trail running (most days), mountain biking has a special place in my heart because of the places it has taken me and the people it has led me to.
Have you used mountain biking to train for trail running? How have different types of cross-training affected your enjoyment of the outdoors and your fitness?
---
---
This post contains affiliate links. I earn a small commission on sales via these links at no additional cost to you. If you'd like to support me, please purchase products through the affiliate links. Thanks!

Peyton Bilo is a trail runner, mountain biker, and skier living in Bellingham, Washington. She is a Cal Poly alumni currently pursuing a Master's degree in Sport and Exercise Psychology at Western Washington University.
During her time at Cal Poly, Peyton competed in Cross Country and Track at the NCAA DI level and earned 2x All-American accolades along with multiple Big West Championship titles. She is now transitioning her running career from the track to the trails with plans to race the 50k distance in 2022. Peyton is a member of the All In Trail Running Collective.