Track 100 Miler
At mile 47 of my track 100 mile run, I approached a crossroads. I had already run 188 laps on the 400-meter track. My mind was a blur from so many circles. The only change since the beginning of my journey was the slow pursuit of the ever brightening sun across the Cincinnati sky.
As the last few miles added up, my body slowly fell apart. The tightness began in my right hamstring. The sensation quickly jumped to my left hamstring before pulsating in my lower right quad and left calf. My knee hurt. That was concerning. I had 214 laps to go, and I was experiencing knee pain. Doubt crept into my mind. Why did my knee hurt? I'm not even halfway – can I really do this?
100 Miles on a Track?
I asked my father-in-law, "What do you think people would find most interesting about running 100 miles on a track?" He responded, "It sounds like the most miserable experience ever. Running in circles, it just sounds awful."
So, that begs the question: Why was I running 100 miles in the first place? And couldn't I have picked a less mind numbing challenge?
Let me start by mentioning that this took place on the Winter Solstice. Isn't that a good enough of an excuse as any?
In seriousness, I love exploring trails and a track doesn't have that same kind of appeal to me either. Since my miler and cross country career ended at Boston College in 2014, ultra running has more passion, joy, and balance in my life. I've run two of the most epic American long trails, the Pacific Crest Trail and Appalachian Trail, races in France, Italy and Ireland, and found community in Boston with the Trail Animals Running Club and the Heartbreakers.
Going into 2019, I'd been inspired by some fast times by people like Patrick Caron and Zach Bitter. I would be lying if thoughts of glory didn't run through my mind – might I have what it takes to get close to the American Record of 11:40? Also, running around a track seemed like the ultimate mental challenge. Manicured trails, picturesque peaks and deep valleys are straight eye candy. A high school track does not offer the same scenery. A track 100 is both tedious and intimidating. I like that.
Why else would someone want to run a track 100? Well, I found huge motivation in my run by doing it for a cause. Katie, my lovely wife, was diagnosed with Crohn's Disease in 2015. Through the run, we raised money and awareness for Crohn's. At times, my mind would go to a dark place, however I had a purpose. Running for a cause was a constant reminder of the why behind my actions, and I was able to stay more focused and purposeful. We are still accepting donations to the Crohn's and Colitis Foundation by clicking this link! Thank you to all who have donated and supported already – it means a ton to us.
Not Even Halfway
I had two particularly trying moments during the Track 100. The first incident happened at mile 47. My race unfolded like this. I started at 6:42 AM at the Anderson High School track. Anderson High School in Cincinnati is my wife's old high school rival. After an hour in the dark, I was joined by a few runners from the local club Cincinnatus Elite, named after the Roman general. More locals runners joined and left as I passed through mile 40. Generally, I felt good, until I didn't.
Around mile 45, I noticed a tightness my right hamstring. That moved into my left calf, my right quad and both my hamstrings. Most significantly, my right knee started to have acute pain. As I ticked off more miles into the upper 40's, I began to panic. The pain wasn't going away; my body was falling apart, and I wasn't even halfway.
Alarm bells went off in my head. The task at hand seemed more daunting. My gait changed and I started to limp out of necessity. The 6:50 mile pace that I'd sustained suddenly seemed impossible. My knee became more painful with each lap, but what could I do about it?
At that point, the only sacrifice I could make was time. I yelled to Katie and my brother-in-law, "Pit stop! New shoes!" They came rushing to my aid as I staggered in. With a seat under me, my shoes were quickly attended to. Within 30 seconds, I was sucking down water, Maurten, and into a new pair of shoes. Katie took a massage roller to my mischievous quad muscle. Slightly unaware of my surroundings, I realized a small crowd had gathered cheering in my support. I felt the positivity.
With that energy, I got out of the chair and trudged on. Although battered, my spirit was renewed. I began to saunter down the track, eager to tick of the next few miles to cross the halfway point. With a new pair of shoes, some maintenance, and a slowed pace from 7 to 8 minute miles, my body rebounded. A few miles later, a lingering tightness remained in my hamstrings, but I was back on track, literally.
The Secret Weapon
In my preparation for this run, I'd practiced performance visualization through meditation. I envisioned myself sore, tired, bloated and lonely at miles 60-90. I knew this stretch would be the most challenging, both physically and mentally.
As it turns out, miles 50 and beyond weren't easy. Drew jumped in and was a great pacer, but life wasn't getting any cheerier. In the mid-50's I was joined by a crew of local ultra runners by local runner, Harvey Lewis. Harvey brought the house. This year, Harvey competed on the gold winning Team USA for the IAU 24-hour World Championships, which has a similar format. He helped bring a lot of folks to spectate and pace, but he also brought his expertise and knowledge. Harvey helped keep me efficient, hydrated, and eating through those miles, and then I hit mile 70.
My ideal caloric intake per hour is 250 during these kind of events. I'd estimated that I'd accumulated a slight deficit, so I was trying to stuff my body with more food and water. At mile 70, my stomach felt queasy as I put another Maurten gel to my lips, and for good reason. My stomach lurched. I proclaimed, "I'm gonna doing. I have to vomit. Oh man." Harvey and the group of 4 people directed me off the track onto the grass. I pulled the trigger. The onlookers grimaced as the entire contents of my stomach were deposited to the ground.
Sounds gruesome, doesn't it?
In reality, I emerged from the side of the track "feeling good as hell" to quote Lizzo. I unleashed my secret weapon, if you could call it that. My self-proclaimed Achilles heel of ultramarathoning is my inability to burp. Getting sick lost me a few pounds and made me feel significantly less uncomfortable. Afterwards, I cranked up my 400 meter splits by about 5 seconds a lap. Harvey cautioned, "Hold on now. Take these next few laps a little easy you just lost a lot of fluid and calories."
I continued to rattle off more miles. My count slowly rose to 80, and soon 90 miles. I had a few dark spots, but was able to battle through. As of about 14 miles left, I started counting every single lap. Drew, who ended up running about 30 miles that day, ran with me for most of the finish. With 800 meters to go, he peeled off to let me finish alone.
I experienced a lot of turmoil over the track 100, but it was all worth it. My last 400-meter split clocked in at 111 seconds. I crossed the 402nd lap to a crowd of select family and friends who stuck it out in the winter cold. I gave Katie a monster hug, and my eyes welled up. She and Drew had been out there for over 12 hours. Others had been out for over 8. I got emotional as I looked around, but the tears wouldn't come. My body had given all that it could.
Nutrition
In the next few sections, I will elaborate on my approach to nutrition, what Crohn's Disease is, and my approach to pacing.
My main focus with nutrition was to take in approximately 250 calories per hour, 40-60g per hour of carbohydrate (primarily through Maurten but with a few other sources), a small amount of protein and fat, supplemental nutrients through broth, salt pills, and pickle juice, and caffeine after hour 6.
1 Hour: Maurten Gel (100 calories) + Maurten 160 Drink Mix (160 calories)
2 Hour: Banana (100) + Maurten 160 (160)
3 Hour: Gel (100) + Maurten 160 (160)
4 Hour: Potato (50) + Gel (100) + 1/2 Maurten 160 (80)
5 Hour: Chicken (50) + Gel (100) + 1/2 Maurten 160 (80)
6 Hour: Caffeine – Earl Grey Tea (~30 mg) + Gel (100) + Maurten 160 (160)
7 Hour: Caffeine – Earl Grey Tea (~30 mg) + Chicken (50) + Gel (100) + 1/2 Maurten 160 (80)
8 Hour: Caffeine – Earl Grey Tea (~30 mg) + Gel (100) + Maurten 160 (160)
9 Hour: Caffeine – Earl Grey Tea (~30 mg) + Potato (50) + Gel (100) + 1/2 Maurten 160 (80)
10 Hour: Caffeine – Earl Grey Tea (~30 mg) + Gel (100) + Maurten 160 (160)
11 Hour: Caffeine – Earl Grey Tea (~30 mg) + Gel (100) + Maurten 160 (160)
Overall, this was a great strategy. I finished the run only have lost between 1-2 pounds. Despite a few mental lapses and some fogginess, I didn't experience a bonk or significant amounts of lightheadedness. I did get sick at mile 70, however this is the best my stomach has felt in a race in the recent past.
It is also important to note that I did deviate from this strategy. We ran out of Maurten gels towards the end of the run, I consumed more calories after getting sick at mile 70, and I had banana a few different times, but never more than half or a third of the banana.
Crohn's Disease
In 2015, Katie was diagnosed with Crohn's Disease. 1 in 100 Americans live with Crohn's disease and ulcerative colitis, yet there is no cure. That's why we are raising money and awareness for this disease! In total, we ended up raising around $2,500 during the event. Thank you to so many wonderful people, and we are still accepting donations through this link.
Crohn's has not defined who Katie is or changed her passion for life. Despite not being in remission since being diagnosed, Katie is still living life to the fullest and has found an incredible support network through friends and family. We have been surprised at the number of people who have been diagnosed themselves or have had a loved one who has Crohn's, and appreciate their support.
You can find out more about Crohn's, including ways to get involved, through the Crohn's and Colitis Foundation here.
Track 100 Splits and Mileage
More Details such as heart rate, mileage splits are on Strava.
0-10 Mile Split: 1:10 (7:00 min/mile)
10-20 Mile Split: 1:10 (7:00 min/mile )
20-30 Mile Split: 1:09 (6:53 min/mile)
30-40 Mile Split: 1:08 (6:48 min/mile)
40-50 Mile Split: 1:15 (7:30 min/mile)
50-60 Mile Split: 1:20 (8 min/mile)
60-70 Mile Split: 1:21 (8:06 min/mile)
70-80 Mile Split: 1:23 (8:20 min/mile)
80-90 Mile Split: 1:26 (8:38 min/mile)
90-100 Mile Split: 1:29 (8:54 min/mile)
**Splits are estimated and within 1 minute accuracy
Overall mileage on my Coros watch reads as 102.52 for the track 100. Part of this is due to bathroom breaks and GPS inaccuracy. An estimated 15 bathroom stops added an additional 30 meters per stop and between 1 minute to 2.5 minutes per stop.
Splits were tracked by two different mileage keepers who checked off every completed lap. Additionally, I hit the lap button on my watch every single 400 meter split. Yes, I hit my lap button 402 times. My Coros Vertix was able to last the entire time. Upon completion of the run I had at least 60% battery left from a full charge. Occasionally, there were discrepancies in the number of completed laps. We were only 1 or 2 laps off, but upon consulting multiple mileage checkers and my watch counter, we feel very confident in the number of laps completed being correct.
During the track 100, I had a significant amount of pacing help. I probably completed around 15 miles without a pacer running with me. I'm a lucky guy! Additionally, I had a support crew providing water, food and other aid throughout the entire run that helped me save a lot of time.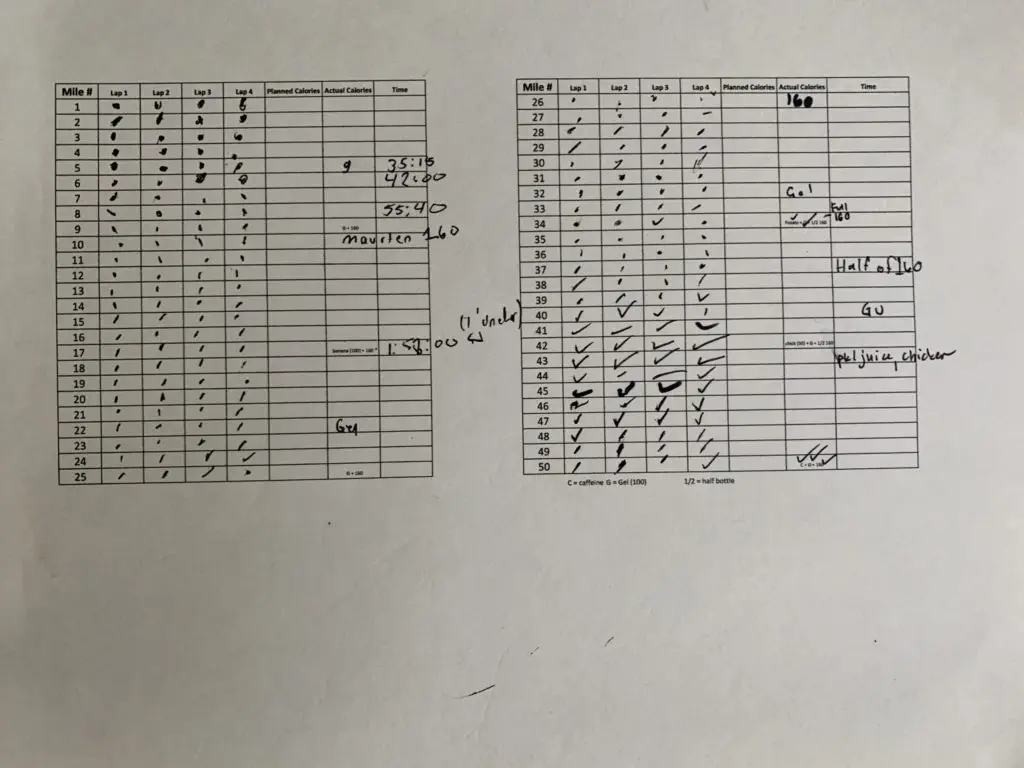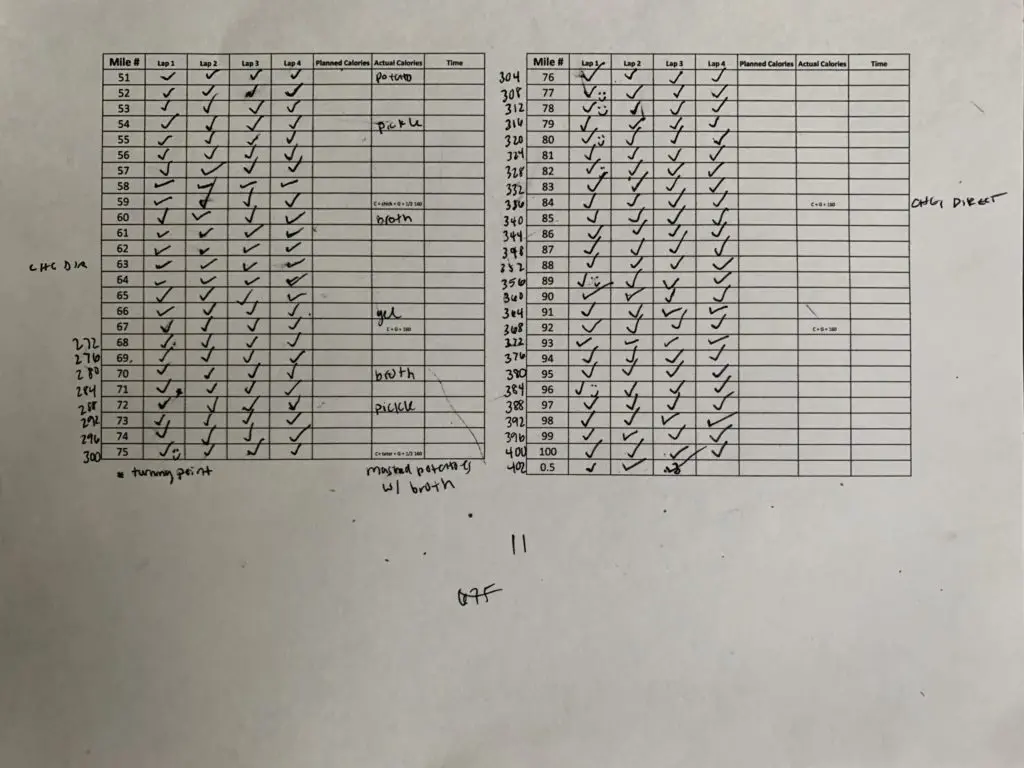 A Big Thank You
First and foremost, I wanted to give a huge shoutout to Anderson High School and the Associate Athletic Director Zach McCormick for being very accommodating with their facilities on a short notice. These guys turned on the lights and gave us access to bathrooms (hugely important).
I wanted to give a huge thank you to the entire Kiracofe, Seurkamp, Mills, Gesenhues, Maxwell, Crawford, and Speidel family. Particularly, I owe Katie McConaughy and Drew Kiracofe 1,000,000 home cooked meals for coordinating, crewing, pacing, Instagram takeovering and so much more. Additionally, I want to give huge thank you to everyone, especially families, who came out and watched. I can't name everyone (although another shout out to Kelly O'Dell), so my apologies, but the love and support from everyone who came made this an incredible experience!
Many thanks to everyone who helped organize and rally pacers, particularly Harvey Lewis, Drew Kiracofe and Kyle Klinger of Cincinnatus Elite. Thank you to all the pacers who ran a lap or 20. If I missed any names, huge apologies I wasn't in my right mind when I met you: Drew Kiracofe, Katie McConaughy, Kyle and Liam Klinger, Will Sprantz, Moses, Brennan, Dallas Parnigoni, Ben Gothard, Harvey Lewis, Jim McCord, Marc Teismann, Paul Seibert, Bryan Nash, Matt Garon, Todd Jeffries, Troy Helmers, Notiel Vasquez-Perez, and Alex Harvey.
Lastly, thank you again to everyone who donated. We raised over $2,500! If you're interested in following along on my adventures, you can follow along on Instagram @thestring.bean or on Facebook!