Ryan Raff is a former D-1 runner for Northern Arizona University. He recently completed Black Canyon 100k, his longest race to date. He has a newborn daughter and lives Flagstaff, AZ. He is an All In Trail athlete coached by Joe McConaughy (Instagram) (Strava)
This article gave me the chills – going from a top college program to running trails and ultras.
---
My Last NCAA Championship
November 19, 2022. My last race in a Northern Arizona University jersey. A thriller, the only race in NCAA DI Cross Country Nationals history to be decided by a tiebreaker; fortunately, miraculously with our team on top. Our 6th title in the last 7 years. Perhaps the one we were least favored to win, after getting third in two of the most competitive races that season. Yet somehow, we found a way.
It's hard to put into words the emotions I felt after that race. Winning the big one with your best friends, there's nothing like it. Standing on the stage holding the trophy with friends, family, and fans going crazy. Looking your brothers in the eye after seeing them overcome all the obstacles they did to get to that start line and run purely for their team. And then remembering that this was your last chance to race for them. After four years of competing for the best college distance program in the country, under one of the best distance running coaches in the world, how could I leave this behind?
"Come back for track," Coach Smith says at a practice earlier that fall. "Let's cut a deal. You'll only have to come to practice on workouts days and you'll only have to race conference and a couple other races." I know he's joking but I'm flattered he wants me to stay. After the third time he does this bit at practice, I start to wonder if I'm doing the right thing. Am I crazy to leave this team while I still have eligibility left? Not many kids get the chance to compete in college for four years, let alone a fifth year – at the school of their dreams. But then I remind myself that I don't want to run in circles anymore. Cross country, team-focused, long tempo runs…I'd do it forever if they'd let me. Track, individual-focused, fast 200m repeats…no thanks. My heart just wasn't up for that anymore. No, it had something else to beat for.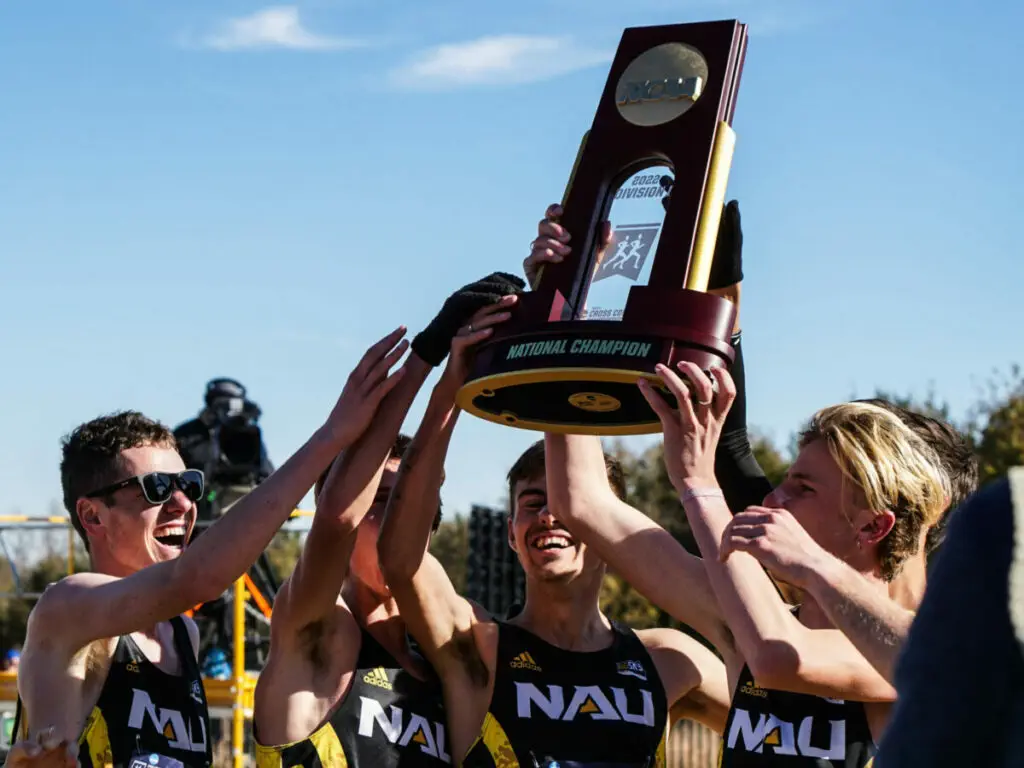 Moving On
You could say the beginning of the end of my time at NAU was a day in August of 2021. We were driving to the Grand Canyon as a team and stopped to take a bathroom break. Coach Smith and I are making light conversation when he points out that where we're stopped is part of the course for the Stagecoach 100 mile ultra race. Then he asks me a question that takes me completely by surprise.
"When are you going to run your first ultra?"
My heart skips a beat. I never thought an ultra would be on the table while I was still competing in college. But then again, Coach and I have a bit of a different relationship. I'm the only guy on the team who runs trails consistently. I'm the only guy on the team who will run the most mileage he's willing to assign and still want more. I'm the only guy on the team he's made a deal with: run in the mountains as much as you want, but after the Nuttycombe Invitational in mid-October, nothing steep or technical (gotta make sure I'm healthy for championship season). Despite all this, he can't be serious.
"Yeah, you should look into this North Face race in California in December." He's serious.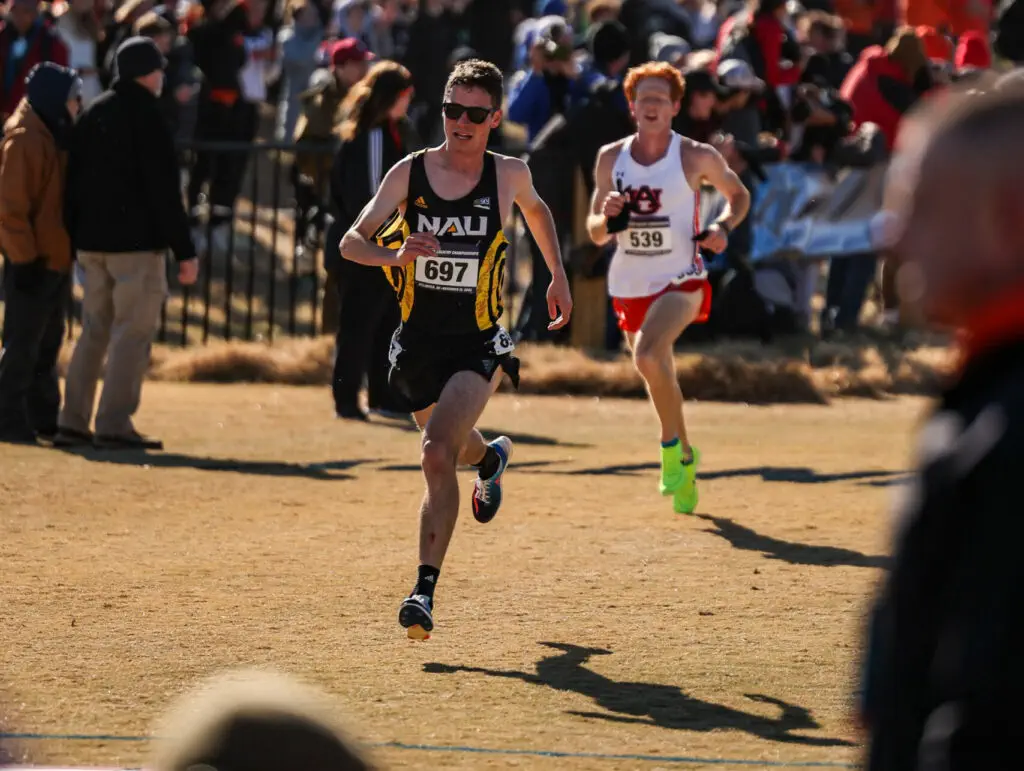 My First Ultra
As soon as I get home, I look up the race and find out it hasn't been run since COVID hit. But that won't deter me. I sign up for a small 50K in the Phoenix area about a month after the national cross country meet. Cross country, right. Stay focused.
That November, we win the national title for the second year in a row. I injure my ankle during the race and feel lucky to even finish but I'm ecstatic about the team win. In the weeks following, I try not to think ahead to the ultra but I can feel it approaching. The ankle still isn't feeling too good so I'm not hopeful the 50K will happen.
A week out from the race my ankle seems good to go. I line up for the Cave Creek Thriller, my first ultra, without really any expectation except to complete the distance. The gun goes off and I feel like I could run forever. I win the race and I'm hooked. All I can think about is when my next opportunity will be.
I sign up for the Speedgoat 50K, a completely different beast. This race has over 11,000 feet of elevation gain in the mountains of Utah in the warm weather of July. But this time I'll have over a month to prepare after the track season. Track, right. One thing at a time. Stay focused.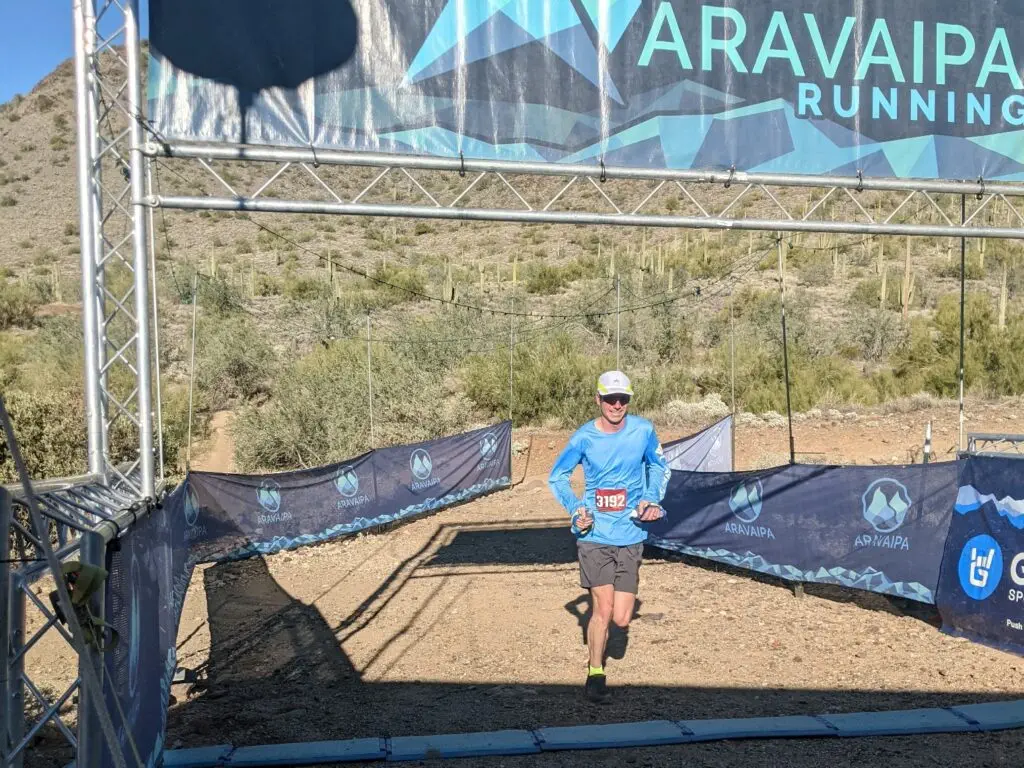 Overcoming Dissapointment
Before I know it, I'm on the start line at Speedgoat, feeling ready to go. Over the first 18 miles, I enjoy the breathtaking scenery and move up through the field, knocking on the door of top 20. Then things take a turn for the worse. I realize I'm dehydrated, not fueling enough and my climbing legs are shot. I climbed a lot in training, or so I thought. What I didn't do is power hike up a mountain side off trail as the course demands. I trudge through the remaining 14 miles, spirits down and ego crushed. I'm humbled by each passing runner and my frustration rises as the finish line approaches. I'm on the best cross country team in the nation but that won't help me here. I finish the race, discouraged, defeated, done. I want nothing to do with ultra running, at least not for a while. Luckily, I have a cross country season coming up. Cross country, right. One more season, make it count. Stay focused.
I'm on the plane headed back after nationals. The last plane ride, my teammates remind me. "The last" has come up a lot this trip. The last team dinner. The last pre-race shakeout. The last-post race speech from Coach Smith. With each reminder, I crack a nervous smile and try to hide the tug of war going on in my heart. It's bittersweet. What a way to go out. Sharing a hard-fought victory with friends on the biggest stage. I can't believe it's all over. I'm really going to miss it. These people, these places, these races. This has been my life for the past 4 and a half years. But I'm also excited. No more suppressing my passion for ultra running out of fear of losing focus on collegiate running. No more worrying about whether my mountain run on Monday will affect my workout on Tuesday. No more wondering if I'm cut out to run against the best in the NCAA. My college running days have come to an end, ultra running awaits.
Postscript: Ryan will continue to fully dedicate himself to trails, connect with him via Instagram or Strava
---
---
This post contains affiliate links. I earn a small commission on sales via these links at no additional cost to you. If you'd like to support me, please purchase products through the affiliate links. Thanks!