This article is co-written by ultrarunners Brandon Chase and Joe McConaughy on the broad topic of fastpacking, the symmetry of backpacking and running.
S
imply put, fastpacking is the merger between ultrarunning and lightweight backpacking. It's a niche sport that has garnered much attention over the last decade in response to athletes' desire to go longer, faster, and lighter – especially in the form of
Fastest Known Time speed records
. Whether you're running, jogging, or power hiking, fastpacking is all about challenging yourself both physically and mentally while soaking up your environment as much as possible.
Fastpacking is an adventure unlike any other. It's unique because unlike ultrarunning, you carry all necessary supplies on your back including a sleep system, clothing, first aid, and food for a multi-day trip. And unlike backpacking, your kit is extremely minimal and often weighs less than half that of a traditional thru-hiker.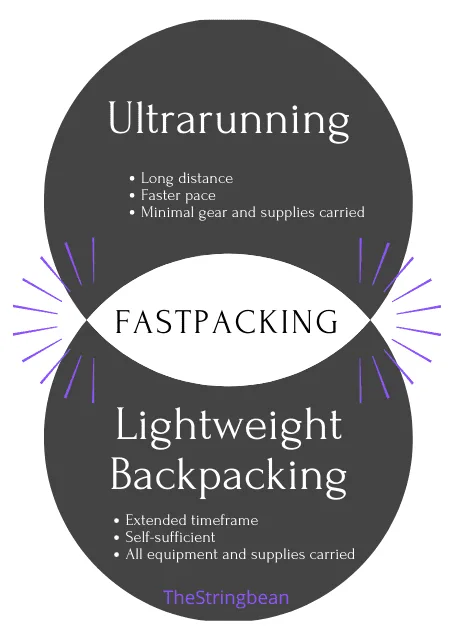 Because of the sport's very essence, you're able to cover more ground and get deeper into nature than traditional backcountry trips while honing your navigation, nutrition, and injury prevention (or management) skills. The technical, physical and critical thinking components of fastpacking make it a fascinating sport. There are no aid stations in the wilderness, so you must be confident in your ability to manage risk and keep yourself safe and nourished for the entirety of your trip.
In this article, we outline some of the major topics and definitions in the sport to help get you out on your first fastpacking trip.
---
Fastpacking Training
Training for a fastpacking adventure will depend on many factors including the type and length of your desired trip, the climate, and your current fitness level. For someone who has never a fastpacking trip, it is best to have a running background, preferably with ultramarathon training and race experience. Many hikers also change there style over time to develop into accomplished fastpackers.
A solid training regimen will include lots of running as well as some weighted hikes and strength training. Most fastpackers follow modified versions of ultramarathon training plans. Your training should attempt to match the terrain and conditions you expect to face as closely as possible, and if you're ramping up your weekly mileage or duration do not increase it by more than 10% per week to minimize the risk of injury. Since you will be covering a lot of distance at a relatively slow pace, building a strong aerobic base is the most crucial aspect of training.
While you can certainly train for fastpacking trips on your own, having a coach can greatly reduce the learning curve on and provide personalized training plans, nutritional analysis, and gear advice that will help you set expectations and reach your goals. Taking a course can also be beneficial for learning the logistical and planning skills necessary for longer projects.
---
Fastpacking Nutrition
In an ultramarathon, you can generally get away with gels, sports drinks, fruit, and other food items that are high in sugar and carbohydrates but low in other macro and micronutrients. For longer efforts, however, this can become a problem as your body requires adequate nutrition to properly recover from protracted stresses. Not only are sugar-based foods not going to provide the necessary nutrition, but they can also be heavier (and add more to your load) than better alternatives.
The "golden ratio" of lightweight backpacking is to take foods that provide approximately 100 calories per ounce of weight, and the same holds true for fastpacking. For example, one ounce of almonds contains 160 calories which makes them an excellent fastpacking food. When researching other items to pack, you'll notice that high-fat foods tend to most closely meet the golden ratio. That's because one gram of fat contains 9 calories, whereas one gram of either carbohydrate or protein contains just 4 calories. Although you can't live off fat alone, you can lighten your load and increase your caloric intake by taking fat-dense foods. On Joe's Long Trail FKT fastpacking trip, he carried about 3.5 pounds of food per day with an average ratio of 140 calories per ounce.
This is just scratching the surface of fastpacking nutrition; there is a lot more we'll discuss in future articles.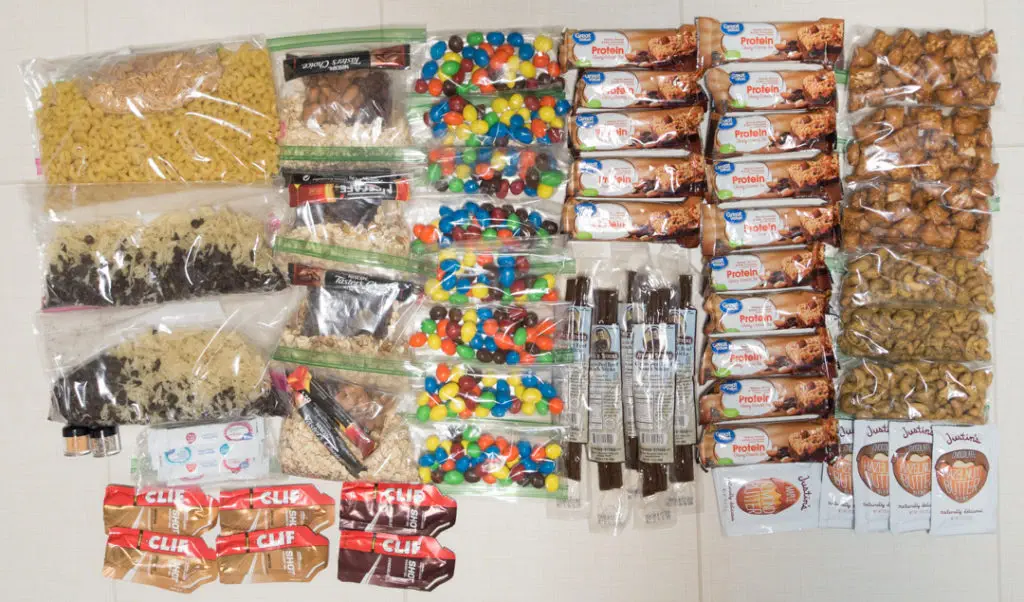 ---
Fastpacking Trips
Fastpacking is a style. Mostly people choose to go long, longer, or really long.
A fastpacking trip can take place any time, anywhere. It doesn't have to be a specific distance or in a particularly remote area – the beauty is that you can choose your own adventure. That being said, the easiest trips to plan are those on established trails that already have infrastructure like resupply points, lodging, and shuttles readily available. This makes it much easier to get going than having to map your own route, find water sources, etc. – although that can be part of the fun as well!
To plan your first fastpacking trip, start by considering a trail section or wilderness area you'd like to explore more of and start researching the ideal time of year, the most suitable length given your personal constraints, entry/exit points, and what kind of gear you'll need. The longer the adventure, the more challenging the planning and execution becomes.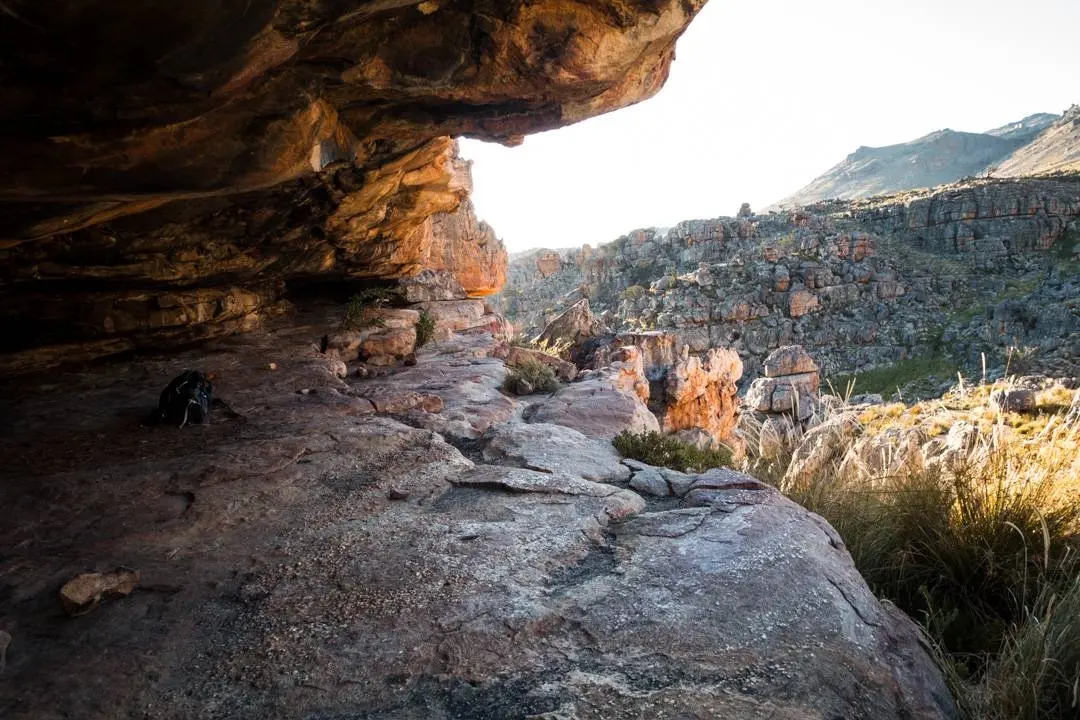 ---
Fastpacking Gear
Because fastpacking is still relatively new, there is not a specific line of gear or clothing tailor-made for the sport. Instead, fastpackers borrow concepts and gear from both ultrarunning and ultralight backpacking that work best for them and meet the needs of their trip. That being said, there are certainly some standout pieces that warrant attention.
We plan to write lots more on this topic, but the information below should help get you thinking on what type of gear is necessary and useful for a fastpacking trip. Check out recommendations on The Big Three, your pack, sleep system and shelter.
Packs
Traditional, full-frame, 60+ liter packs have no place in fastpacking. They can certainly help you carry a large load and distribute the weight across your shoulders and hips, but trying to move quickly with one of these behemoths strapped to your back may lead to injury or at least some extreme chaffing and discomfort.
The best fastpacking packs are designed to feel and function like hydration vests, which offer a snug fit and lots of accessible storage. While hydration vests can work for some short overnight trips, depending on the size of your kit, they generally lack the capacity necessary and weight bearing capability for longer pursuits and are often over-engineered.
In the last few years, a handful of cottage companies began producing packs that have the carrying capacity of a backpack with the accessibility of a hydration vest. These running-vest style packs are the best of both worlds, often able to carry loads of 30+ liters at 15-20 pounds which generally weighing less than a pound themselves. They ride well under weight and don't bounce around while running.
Two of our favorites are Pa'lante Packs' "Joey" (Joe's pick) and the Nashville Pack & Equipment Company's "Cutaway" (Brandon's pick).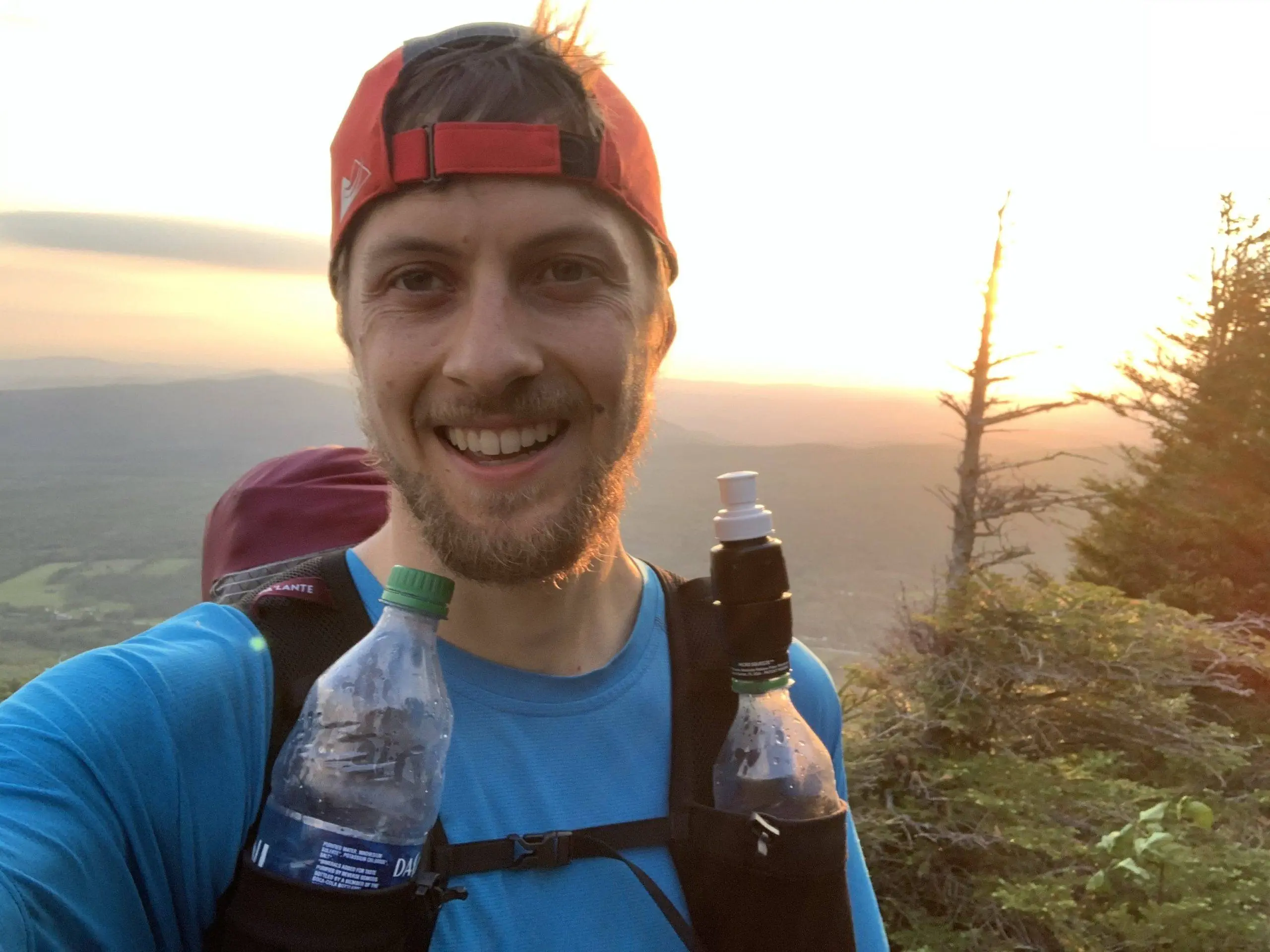 Clothing
Clothing is highly dependent on what kind of trip you're embarking on. You'll typically spend more time moving than you will stopped during a fastpacking, and the trips are usually only a few days in length (unless you're Joe!), so you don't need a lot of extra clothing weighing you down. A reliable setup for three-season trips is as follows:
Worn:

Running shirt
Running shorts
Socks

Packed:

Insulating active layer (such as the Patagonia Capilene Air Hoody)
Puffy jacket (if needed)
Running tights (recommended) or thermal pants (if needed)
Rain jacket plus rain skirt or wind pants (rain ponchos also perform well)
Gloves/hat/rain mitts (if needed)
Extra pair of socks
That's it! No need for multiple changes of clothes. Polyester or wool materials are the highest performing clothes to wear. If you choose to sleep, you can do so in your running clothes or change into your thermals. Do yourself (and everyone else) a favor and quickly rinse your body each day. Partially for the smell, partially to prevent skin infections.
Keep in mind that conditions can drastically change based on conditions like elevation and the seasons. Plan accordingly.
Shoes
Shoes are highly personal, but trailrunners are your go-to. They offer the flexibility, breathability, buoyancy, and comfort of a running shoe with the performance of a hiking boot. There are many options to choose from, and you should try different styles and brands to find what works best for you. Joe likes the Columbia Trans Alp FKT and Brandon loves his Topo Ultraventures. Other excellent brands include Altra, La Sportiva, and Salomon.
For socks, use what's comfortable and has worked in the past. Injinji, Darn Tough, and Swiftwick all have great options.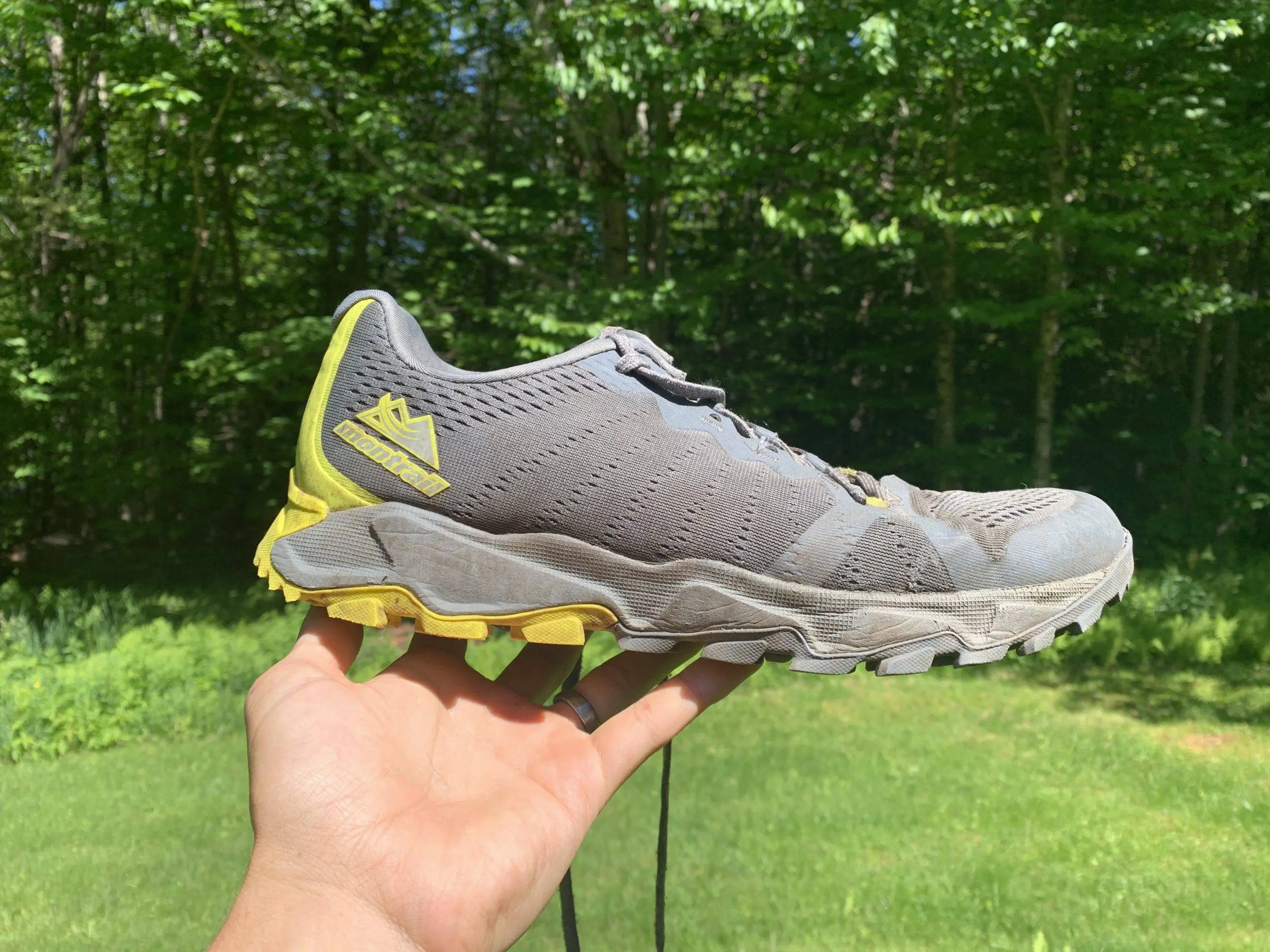 Shelter
If a shelter is necessary for your trip, it needs to be as light as possible. Avoid bulky, freestanding tents from big-box stores and focus on single-wall shelters or tarps made from Silnylon or Dyneema Composite Fabric (DCF). Aim for a weight of about one pound (16 ounces) for three season conditions, but budget for more weight if venturing out in the winter.
Some of the best options include the MLD Pro Rain Poncho Tarp (which doubles as rain gear), the Zpacks Hexamid Solo, Tarptent Aeon Li, or just about anything else you can find that fits the bill. Dan Durston's X-mid is a smart economical option as well.
Sleep System
Depending on the length of your trip, you may need to bed down for a solid night's rest and recovery to be ready for the next day. To do so, you'll need a sleeping pad, quilt or sleeping bag, and possibly a pillow (I always use one).
For pads, the best options are closed-cell foam (such as the Thermarest Zlite Sol) or inflatable ones like the Thermarest NeoAir Xlite or Uberlite. These pads are already lightweight and packable, but to trim a few ounces more you can get the "short" versions (or cut panels from the Zlite) which provide coverage for your shoulders and hips but stop short of being a full length pad. You can then use your pack, clothes bag, or whatever else to prop up your knees and feet for full-body coverage.
Pro tip: If using a frameless backpack, use a Zlite pad as your internal frame.
Electronics
Because you'll be putting in long days, you might need to get up before the sun rises or set up camp after sundown. A quality headlamp is the difference between an enjoyable or miserable night hike/run. On the low end, bring 250 lumens. The Nitecore NU25 is an extremely powerful and lightweight rechargeable headlamp that fits the bill for most trips, although if you plan to do a lot of night running you might opt for something with a more powerful and longer run time like the Petzl Nao.
If you're heading into a very remote area, you may consider using a satellite communicator such as the InReach Mini. At $350 before you factor in a monthly subscription fee, this is an expensive add on. However, this will allow you to communicate with your friends and family in areas without cell service while also having the ability to transmit your location to emergency personnel should you need assistance. If you're going for a speed record, these devices can also track your movement with time stamps to validate your claims.
One of the most important items to have with you on a fastpacking trip is a cell phone. Not only can it be used for emergency calls (if service exists), but it's also a navigational tool and a camera that can be a real lifesaver. For extended trips, you'll also want a battery backup to recharge your devices
Miscellaneous
Things like a water filter, toothbrush, toilet paper, necessary medications, and first aid should also be included in your kit to keep you healthy and hydrated for the duration of your trip. The key is to pare these down to just the right amount by decanting into small bottles or baggies to reduce bulk and weight.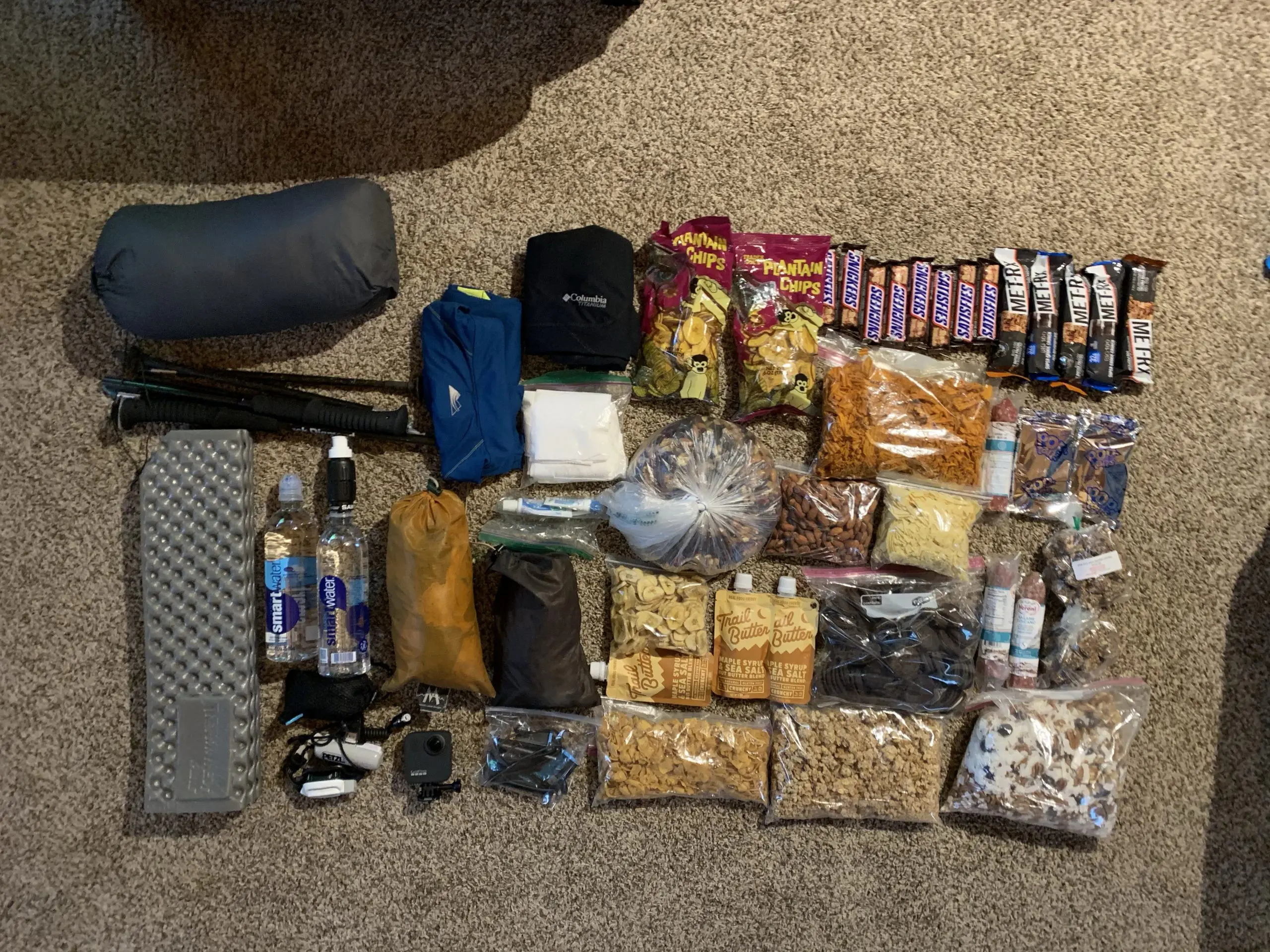 ---
Wrapping Up
This is a high-level overview of what is an exciting and rewarding pursuit. Fastpacking combines the speed and distance of ultrarunning with the self-reliance and weight savings of ultralight backpacking into one epic adventure. Although there is no wrong way to go about it, learning some of the best practices and developing the necessary fitness and skills will go a long way in improving the success and enjoyment of your trips.
Be on the lookout for lots more specific content on the above-mentioned topics in the near future.
What burning questions or concerns do you have about fastpacking?
---
---
This post contains affiliate links. I earn a small commission on sales via these links at no additional cost to you. If you'd like to support me, please purchase products through the affiliate links. Thanks!
Brandon Chase is a writer, endurance athlete, and guide based in Maine. He is a former Foreign Service Officer with the U.S. Department of State and spent nearly a decade overseas serving at embassies in Egypt, Cyprus, and Pakistan.
Along with a 98-day thru-hike of the Appalachian Trail, he has summited Mt. Kilimanjaro, hiked the West Highland Way, fastpacked in the Himalayas, and trekked around New Zealand and South Africa. He also regularly competes in ultramarathons at the 50k, 50-mile, and 100-mile distances.