In early 2020, I picked up the Nathan VaporKrar 2.0 4L vest to test out for shorter runs and longer supported efforts. Named after and co-designed by Rob Krar, one of the top endurance athletes in North America and two-time winner of Western States, the second version of this vest has an attractive design, fit, and set of features that I was eager to try out.
---
Nathan Vapor Krar 2.0 At-a-Glance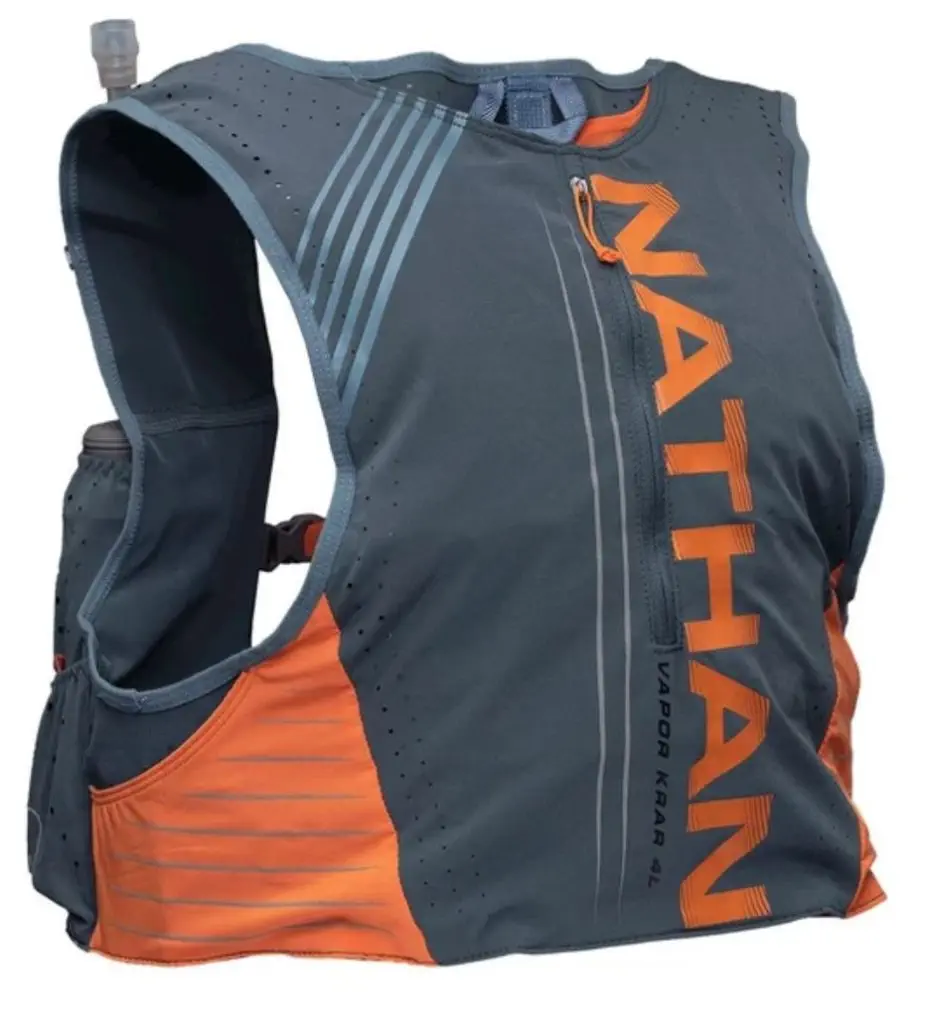 MSRP: $164.99
Weight: 7.3oz (11oz w/ 2 included soft flasks)
---
Circumstances of Use
I received the pack in early 2020 and used it for training runs throughout the year as well as my only official race of the season, the Midstate Massive 100. All told, I've spent more than 1,000 miles with this pack under a variety of conditions including snow, rain, and blistering heat. I'm currently on a 5-month trip to Mexico and I continue to use this pack almost daily.
---
Features
Equipped with two 20oz soft flasks with extended tubes to easily sip fluids without removing flasks from the front pockets
Apparel-like fit with a lightweight, breathable structure
Large front-stash pockets for quick access to on-the-go essentials
Zippered water-resistant chest pocket for smartphones
Zippered water-resistant pocket on back
Shoulder pill pocket and safety whistle
Reflective hits for 360-degree visibility
Compatible with 1.5L Bladder
---
Positives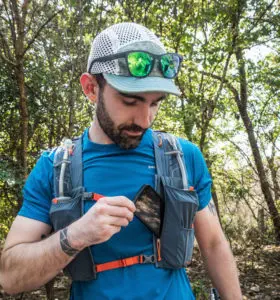 Lightweight. When moving fast through the mountains during a race or training run, every ounce matters. Compared to my other pack (Ultimate Direction Mountain Vest 4.0) which weighs 12.7oz – the VaporKrar is a significant improvement at just 7 which equates to a 57% weight savings. To do this, Nathan stripped off a lot of the extraneous straps, zippers, and cords to make this a functional featherweight vest.
Water storage. Having easy access to hydration is one of the best ways to improve your backpacking or running experience, and many race vests nowadays offer this. However, the VaporKrar 2.0 includes two 20oz bottles with extended straws that fit snugly and securely in the strap pockets so that they don't bounce around nor necessitate removal in order to drink. What's more, the bottles have a stiff piece of plastic on the back which adds some rigidity so that they are easy to slide into the pockets and don't flop around when empty (a huge pet peeve of mine with the flasks that UD includes with their vests).
Great fit. As mentioned, this vest is designed to fit like a shirt and it certainly does. With easily adjustable straps and stretchable fabric all around, it's easy to cinch it down and eliminate bounce almost entirely when packed well. During all my runs I've never felt like the vest was shifting or chaffing while running which is a huge benefit. This is the most comfortable running vest I've ever owned, and I've had many.
---
Drawbacks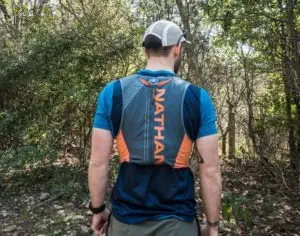 Runs HOT. Despite the claims of ventilation Nathan makes about this vest, it's intended to fit snug to the body like a shirt and offers only a few holes for airflow. As such, it tends to trap heat and sweat better than I would like. I wore this vest while training in hot places like Pakistan and Mexico where I would come back from a run and have salt stains on the back of the pack because it had been completely soaked through. In cold conditions this would not be a problem and may even help with insulation during winter runs, but for tropical conditions it's not ideal.
Not-quite-perfect features. Nathan rolled out a lot of cool features with this vest, like the aforementioned flasks, the included whistle, and the open-sided kangaroo pocket in the rear. However, some of the flagship components did not pan out as expected and end up being more of a hindrance than a feature. For example, the cellphone pocket on the left-side strap is a great idea in theory, as it provides someplace other than one of the larger flask pockets to store your device – and they even included a "water resistant lining" to keep it dry. In practice, however, this pocket does more harm than good. Because the vest runs so hot, I tend to sweat through it and nothing but a fully-waterproof container is going to keep anything dry. Every time I store my phone there it's soggy when I take it out. What's more, the pocket is tucked behind one of the flask pockets and if you have a full bottle it pushes against the pocket, causing the device to dig uncomfortably into your chest. Because of these shortcomings, I no longer use the pocket at all.
Another pet peeve of mine is velcro on pockets. There is absolutely no need to have velcro anywhere on a running vest as it just gets in the way and snags on everything. The last thing I want to do 20 hours into a race is fuss with velcro, and for whatever reason this vest has it on the two smaller storage pockets on the straps, even though they already have elastic closures. I highly recommend removing the velcro on future versions, as it's unnecessary and cumbersome.
---
Conclusion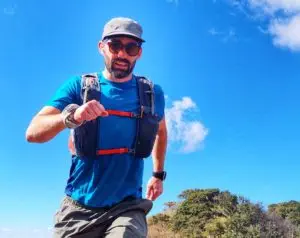 The VaporKrar 2.0 4L vest is hit-or-miss in several ways, but overall I'm happy with its performance. The rear kangaroo pocket, excellent hydration flasks, and perfect fit mostly overshadow the useless phone pocket and crummy velcro pocket closures. Having used this vest heavily for over a year, I'm pleased with its performance and durability as it shows almost no signs of wear despite at least 1,000 miles of use and many washes.
If you're looking for a lightweight and comfortable solution for shorter runs or racing I would definitely recommend taking a look at the VaporKrar 2.0!
Check out the Nathan VaporKrar 2.0 4L here
---
Comparable Vests
MSRP: $124.95
Weight: 5 ounces
MSRP: $144.95
Weight: 9.5 ounces
MSRP: $130
Weight: 9.9 ounces
---
---
This post contains affiliate links. I earn a small commission on sales via these links at no additional cost to you. If you'd like to support me, please purchase products through the affiliate links. Thanks!
Brandon Chase is a writer, endurance athlete, and guide based in Maine. He is a former Foreign Service Officer with the U.S. Department of State and spent nearly a decade overseas serving at embassies in Egypt, Cyprus, and Pakistan.
Along with a 98-day thru-hike of the Appalachian Trail, he has summited Mt. Kilimanjaro, hiked the West Highland Way, fastpacked in the Himalayas, and trekked around New Zealand and South Africa. He also regularly competes in ultramarathons at the 50k, 50-mile, and 100-mile distances.