Katie and I thru hiked the John Muir Trail/Nüümü Poyo in August 2020. Usually, my style is ultra minimalist in hopes of setting a speed record, like hiking the 272-mile Long Trail in less than 5 days or the 2,160-mile Appalachian Trail in less than 46 days. This time, my pace was a little different: Katie and I hiked together instead of her being my crew chief.
On this trip, jumping in alpine lakes and making new friends was just as important as logging miles. While our pace was considerably slower, I brought my ultralight methodology of fastpacking to couples thru-hiking and we managed to have a wonderfully successful and enjoyable adventure with minimal weight on our backs.
In this article I outline conditions we faced and the John Muir Trail gear list I used from start to finish which should give you a good point of reference should you desire to do the JMT yourself (and you should!).
---
Conditions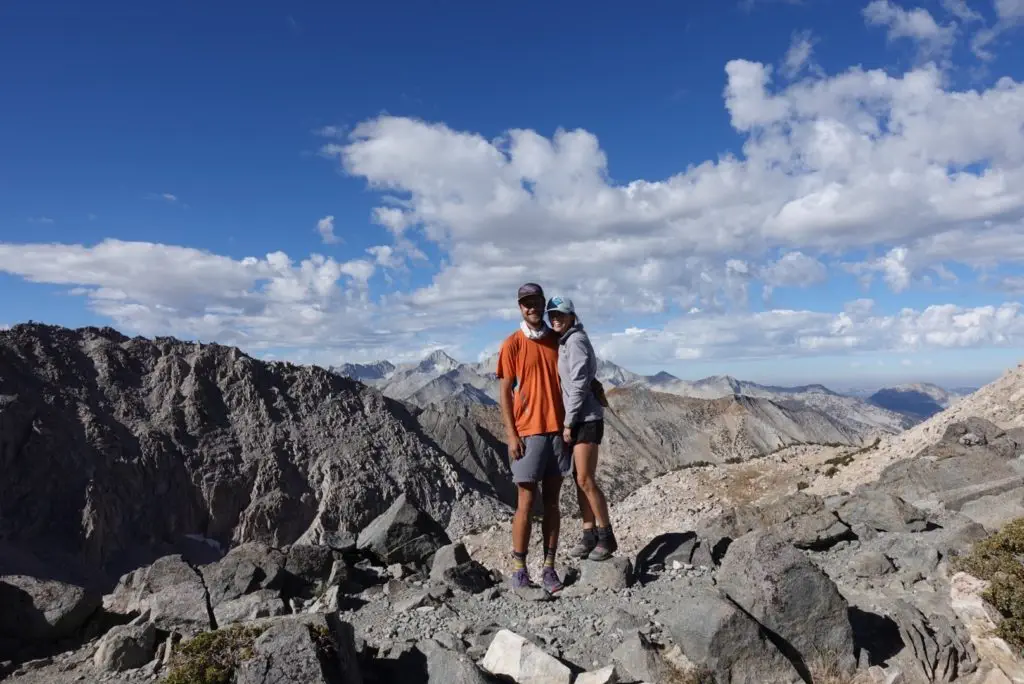 Working as a backpacking guide, the first mistake I notice for novice backpackers is that they "pack for their fears". There are lots of ways to be a better backpacker, but I find this to be the biggest challenge to overcome for a novice. Often, we put in a few extra snack bars because we worry we will go hungry, or we pack a second fleece jacket because we heard it might get cold. Instead, hikers should be looking to thoroughly analyzing conditions before considering gear choices.
Since we were thru-hiking, Katie and I looked at historic temperature highs/lows/averages using NOAA. We consulted trip reports on the John Muir Thru Hiker 2020 page on Facebook to get insight on snow level and bugs. Through our research, we knew that we would be in heavily exposed areas (hello, sunshine) with expected temps between 30-80 (moderate), lots of water (glug, glug, glug) and no bugs (thank GOD). That's about as good as it can get and makes packing rather simple.
---
Gear Introduction
An experienced backpacker is able to make a few smart decisions to significantly reduce the amount of pack-weight, which can lead to benefits such as a lower likelihood of injury, faster hiking paces, and less clutter. Katie and I benefited from having put in a lot of miles on trail and knowing what we can (and should) leave at home. The result was that my John Muir Trail gear list base weight was about 17 pounds–and never topped 30lbs even with food, water, and fuel –compared to 55 pounds, which was the pack weight of a hiker friend we made on trail (and anecdotally the average of what we saw).
For the sake of clarity, I have broken up my gear into 8 sections:
Worn Clothing
Sleep and Element Protection
Backpack
Shelter and Sleep
Kitchen
Hydration
Electronics
Personal
Total Weight: 61.8 oz (note: worn weight does not count towards base weight)
Total Weight: 53.4 oz
Total Weight: 71.8 oz
Total Weight: 51.4 oz
Total Weight: 22.2 oz* not including canister stove + fuel
Total Weight: 15.6 oz
Total Weight: 39.3 oz
TotalWeight: 21.9 oz
---
Takeaways
Hopefully my John Muir Trail gear list provides some insight and inspiration for anyone who is planning a JMT thru-hike. It's very easy to go overboard with gear and "pack your fears", but with some experience and research you'll find that you likely don't need as much as you thought. That being said, you should always check the conditions of where you'll be hiking as those will be the largest factor in determining what you bring.
Also, gear can be notoriously expensive and niche – don't feel pressured to have the latest and lightest of every item. Check sites like LWHiker.com to find used gear or wait for sales and upgrade items as your budget allows. Soon enough, you will have a lightweight and comfortable kit that is adaptable for nearly any trail.
Feel free to ask for gear recommendations or insights in the comments below!
---
---
This post contains affiliate links. I earn a small commission on sales via these links at no additional cost to you. If you'd like to support me, please purchase products through the affiliate links. Thanks!