This is one of 4 blog articles on the Long Trail in addition posts on Instagram and Strava that I'm currently writing. See links below.
Long Trail Announcement – Part I
Long Trail FKT Recap – Part II
Long Trail Gear List & Review – Part III (congrats, you're here)
Long Trail Food & Sleep Strategy – Part IV
Long Trail Trip Brief
The Vermont Long Trail is 273 miles long with 65,000ft of elevation gain. I went SOBO from the northern to southern border of Vermont. I set a new self-supported Fastest Known Time of 4 days, 23 hours and 54 minutes, averaging 54.5 miles per day.
I started the trail with ~8 pounds of base weight, 19 pounds of food, and over one pound of water. I attempted to eat 9,000 calories per day, which was a bit ambitious. I had closer to 7,000, although that was partially due to a throat infection that made it impossible to eat nuts, one of my favorite trail foods. My on-trail strategy generally consisted of 19 hours on my feet, 1 hour in camp, and 4 hours sleeping per day. I would take a 2 hour nap from 9PM-11AM and from 2:30AM-4:30PM.
Generally, my body held up aside from the throat issue, blisters on the arch of my foot and lower back pain from pack rubbing. My two biggest issues were actually in my gear, specifically with my hydration and electronic systems.
Long Trail Conditions
Conditions were expected to be between 40-75 degrees, with a bad rainstorm on day 2. Vermont is affectionately known as 'Ver-mud' to AT thru hikers. The southern ~100 of the 273 miles follow the AT. The northern ~173 mile section is the most challenging terrain I've ever encountered over a prolonged distance.
Roots and large rocks are everywhere, my average moving pace was almost 1 mph slower than my average moving pace during my Appalachian Trail FKT. This is partially due to the rainstorm, mud, and slippery footing, but the constant extreme elevation gains/losses and general rugged footing is the biggest culprit.
Curious for more? Subscribe to my bi-weekly newsletter about trails, coaching tips and more. No BS.
My gear is broken up into 7 sections, broken into specific weights below.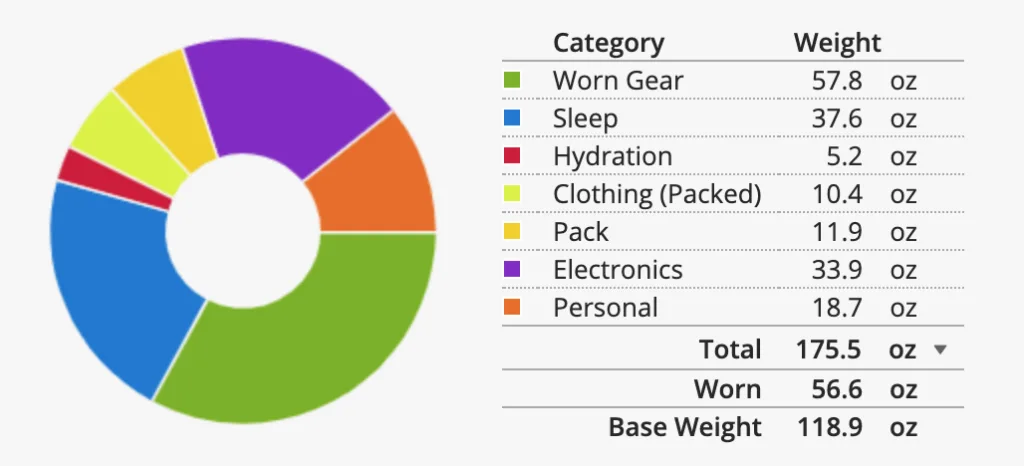 I was expecting mud, rain, mild temps and endless rocks. I knew I'd be wearing a shorts/shirt combo and felt really good having worn a lot of this gear for hiking, running and backpacking. Shoes worked great, this is the hardest terrain I have done over sustained distance, and that includes trails like the AT and PCT and runs like UTMB and the Wicklow Round. The rocks, roots and constant elevation take a huge toll on you. Brought Injinji socks to prevent toe blisters, although I still had a pinky blister. Despite not living up to the advertised battery life on COROS website, the Vertix is still hands down the best battery on the market, IMO. Poles are a must.
| | | |
| --- | --- | --- |
| Item | Weight 57.8 oz | Notes |
| Columbia Titan Ultra Shorts | 3.3 | Some chaffing on day 1/2 |
| Columbia Titan Ultra Shirt | 6 | Wore in 40+ temperatures, performed great |
| Columbia Montrail Cap | 2.8 | Enjoyed dipping this in streams on humid days |
| Columbia Montrail FKT III | 25.6 | Great performance, some slipping on day 2 rainstorm. Needed to progressively tighten shoelaces over time. Needed to clean insoles periodically because of dried minerals from mud which caused blisters. |
| Columbia Buff | 0.9 | Didn't want to spread COVID! |
| Columbia Running Belt | 2 | Additional space to carry snacks |
| Injinji Lightweight Crew | 1.3 | Great sock, still had blister on pinky toe, but I think that is unavoidable |
| Smartwool Compression Socks | 1.7 | A pain to take off at night, but provided mild protection, and warmth. |
| BD Carbon Z Poles | 10.4 | Did their job, highly recommend poles |
| COROS Vertix | 2.7 | Incredible performance. Got ~100 hours in ultrasport mode, used about 130% of the battery (including recharge) |
Tried to be as minimalist on the sleep system as possible. Elected for the poncho because of a long rainstorm on day 2. Didn't need for overnight rain protection. Bivy was super fast to set up and a quilt allows for great heating regulation and awesome weight. Sol Z pad doubled as my internal pack frame for my Pa'lante Joey, modified to fit my bag and to allow more internal bag space. Same pad that I used on the AT.
| | | |
| --- | --- | --- |
| Item | Weight 37.6 oz | Notes |
| MLD Pro Rain Poncho | 6.2 | Used on day 2 rainstorm. Performed well, although it got hot when it stopped raining. Lots of ventilation and kept my gear dry in 7 hours of rain. |
| EE Revelation Quilt | 13.4 | Love, love, love this thing. 40 degree quilt. Was cold on day 4 on cold, windy ridge at elevation with no bivy protection. Shocker. |
| Thermarest Sol Z | 6.4 | Modified by cutting out 2 panels and trimmed edges. Provides internal frame and support for my frameless bag. Slept comfortably. |
| MLD Superlight Solo Bivy | 8.4 | Performed perfectly. Extra warmth, shelter and bug protection. Superfast set up. |
| Stakes | 3.2 | Did the job. |
Oh boy, lots of hydration problems. If I were to do it over, I'd bring 2 Sawyer Minis. I gave into peer pressure and only brought one water filter. The Sawyer Mini has better water flow and is nice to have in case of gear failure. And I experienced failure. The O-ring of my Sawyer fell out on night 3, rendering it next to useless. A half day later, I discovered I could create a one time replacement for the O-ring by folding and inserting leaves in between my water bottle/filter. It worked 70% of the time and I wasted a lot of time and energy trying to figure this out on the move. Two water bottles are on my front chest to allow quick and easy water access. Details in my trip report.
| | | |
| --- | --- | --- |
| Item | Weight 5.2 oz | Notes |
| 2 Dasani plastic bottles | 2 | 600 ml. Plastic held up although carrying capacity was closer to 500ml towards the end because I had to squeeze the bottles so much. |
| Sawyer Micro Squeeze | 2.1 | Did great until it didn't. Lost the O-ring and was quite frustrated. Waterflow was weak. Should have brought 2 minis. |
| Sawyer Backflush | 1.1 | Smart to bring. |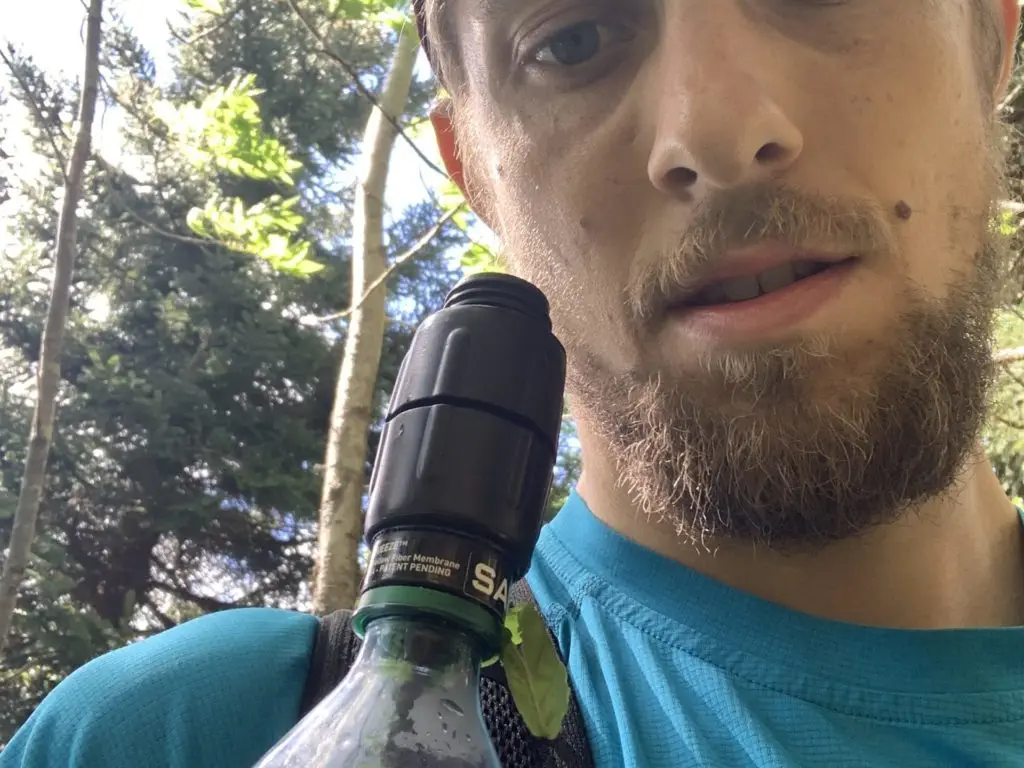 Was unsure I wanted the extra weight, but knew I should be responsible and bring it anyway. Some of the nights got chilly, and they were quite useful with some of the extreme conditions I put myself through, like a night summit of Camel's Hump, one of the most exposed mountains on the Long Trail, in windy, post-rainstorm conditions. Needed the quarter zip for almost all of day 4, so I was quite glad I brought backup.
| | | |
| --- | --- | --- |
| Item | Weight 10.4 oz | Notes |
| Columbia Running Tights | 6 | Only used for sleep at a few night sections. Heat insulating, great to have. |
| Columbia Tech Trail Quarter Zip | 4.4 | Wore on most of day 4 which got chilly. Wasn't sure if I would need, but colder temps made this a necessity. |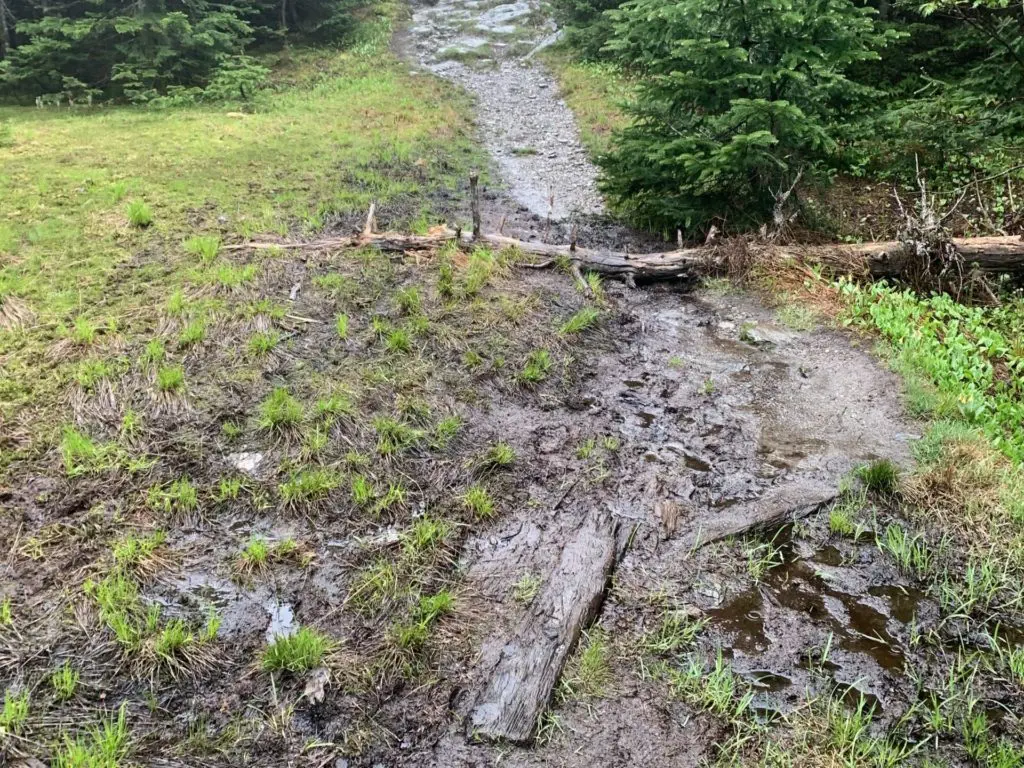 My favorite pack, although I do love what Mountain Laurel Design puts out. Pros: minimalist, a butt pocket, front pocket access, all of the pockets!!! Cons: I ended up with back chaffing, but that has more to do with using a Z pad as a padding. I also experienced skin problems/pain on my shoulders and ribs (chest strap rubbing). Should have done more backpacker showers to help keep skin fresh.
| | | |
| --- | --- | --- |
| Item | Weight (oz) | Notes |
| Pa'lante Joey | 11.9 | Pack was perfect, aside from inevitable skin problems. Used with Thermarest Z Pad for additional cushioning. Had to constantly change pack strap settings to alleviate chafing on days 4 and 5. |
Along with hydration, this was my other pain point. TL;DR My headlamp died before the final night, causing me to finish 2-3 hours slower. I ran off the iPhone battery until it died, and then I had to sleep/lose time. How did this happen? My Petzl accidentally turned on while I slept on night 4. Also, the battery died quicker than anticipated and the 3 bar power indicator is not precise. Only way to put Petzl on low power mode is by using the Petzl app + bluetooth. I hadn't set this up beforehand and wasn't going to figure out on trail. Details in my trip report.
| | | |
| --- | --- | --- |
| Item | Weight 33.9 oz | Notes |
| Petzl NAO | 6.7 | 700 lumens. Three bar battery life indicator was frustrating because it wasn't precise. Battery drained faster than I had tested in the past. Frustrated that headlamp can unintentionally turn on, need to use lock feature in the future |
| SPOT Gen 3 | 4.2 | Piece of cr**. Don't love, but needed it for FKT verification. Forest coverage prevents most GPS communication |
| GoPro 360 Max | 5.7 | Making a doc with Pilot Field, similar to my PCT and AT documentaries! |
| GoPro Battery + SD Card | 1 | |
| Cords | 1 | COROS and iPhone charger |
| iPhone XR | 8.6 | You can't NOT bring your phone. Takes great pics, decent service with Verizon. Sent voice memos to communicate with Katie. Back up flashlight that I needed for about 4 hours total of night running. |
| Anker PowerCore II | 6.7 | 10,000 mAh. Mismanaged battery consumption |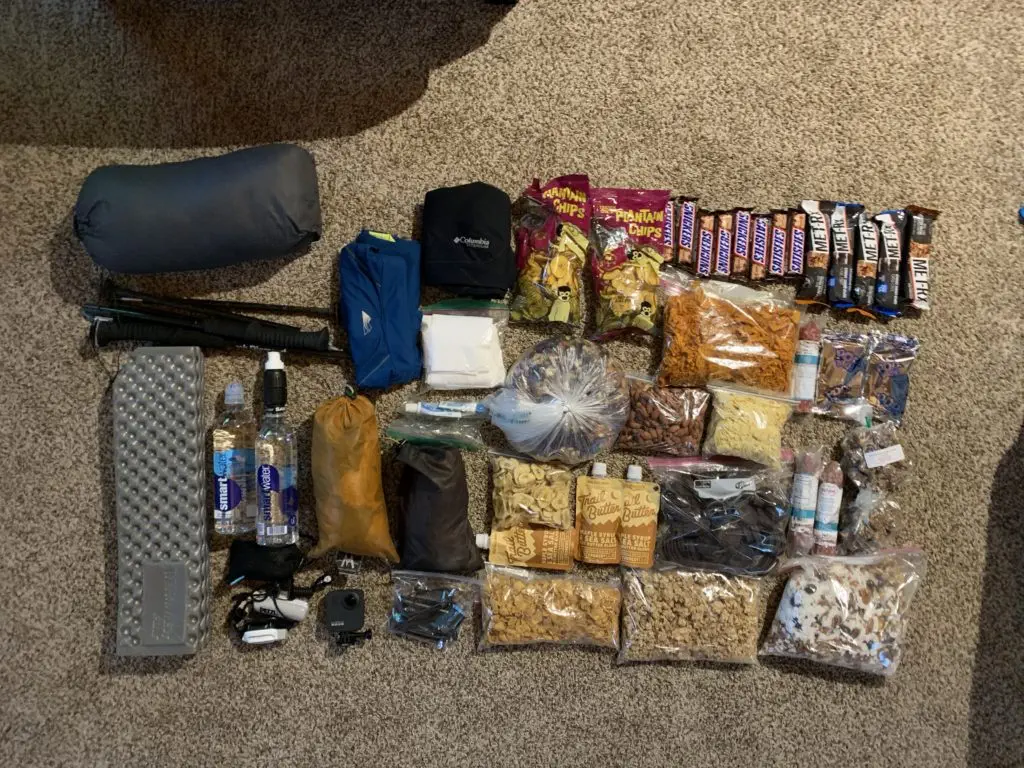 No real qualms with these items. Didn't have bug problems, I did have a throat infection that was aggravated by high calorie consumption, sucking on my water filter, and falling asleep with food in my mouth/not brushing my teeth. Dang hygiene! Vaseline Lip Therapy is once again an MVP. Please see notes about the rocks that I carried, systemic racism against black individuals also affects their experience and perception of outdoor spaces, hopefully we can promote equal access to all people.
Item
Weight 18.7 oz
Notes
Toothbrush/paste
2
Should have used more to possibly prevent throat infection
TP
1
Man's best friend
Paper Maps
0.8
Green Mountain Club maps. Love paper maps, wouldn't replace.
Vasoline Lip Therapy
0.4
Used for crotch chaffing, foot blister prevention and chapped lips. Must have, although it didn't perform as well as I had hoped to prevent blisters. Applied every time before/after bed
First Aid
1
Ibuprofen + neosporin
8 Can't Wait Rocks
13.5
Carried 8 rocks with the first names of black individuals who had been murdered from police/civilian brutality to acknowledge systemic racism and the fight for equality, in reference to the 8 Can't Wait movement:: Ahmaud Arbery, Trayvon Martin, Tamir Rice, Manuel Ellis, Freddie Gray, Breonna Taylor, Eric Garner, George Floyd

Read more here, and consider donating to organizations like Outdoor Afro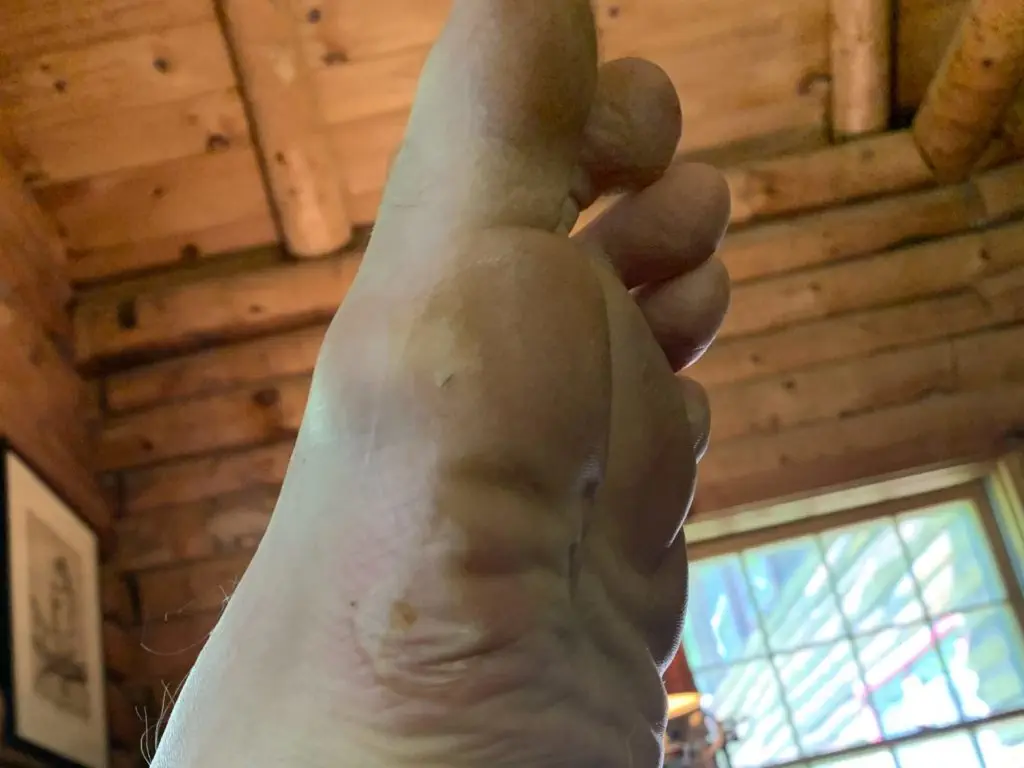 Is this still not enough?
Congratulations on reading my Long Trail Gear List and Review. I hope you enjoyed reading about my journey.
My name is Joe 'Stringbean' McConaughy, an ultramarathon runner for Columbia and a fastpacking/running coach. You can follow along with his adventures on Instragram, Facebook and Strava.
Leave comments/thoughts/musings below. I'll happily answer any questions!
---
---
This post contains affiliate links. I earn a small commission on sales via these links at no additional cost to you. If you'd like to support me, please purchase products through the affiliate links. Thanks!