In 2020 I thru hiked the John Muir Trail in 14 days. In 2021 spent 10 days guiding backpacking groups in Yosemite National Park. I experienced the classic thru hiker vs. backpacker differences. Which do I like more? How are these experiences different?
No matter how you do it, spending time in California is Sierra's is a spectacular experience. Between the glacier carved valleys, high mountain passes and beautiful Alpine Lakes there is so much beauty in the wonder in this place.
In writing this article, I want to discuss both the importance of planning and executing different types of backcountry trips, as well as my reflections for choosing to do a different style of trip. As a backpacking guide and fastpacker, I've put my skills to the test during hundreds of a nights of experience.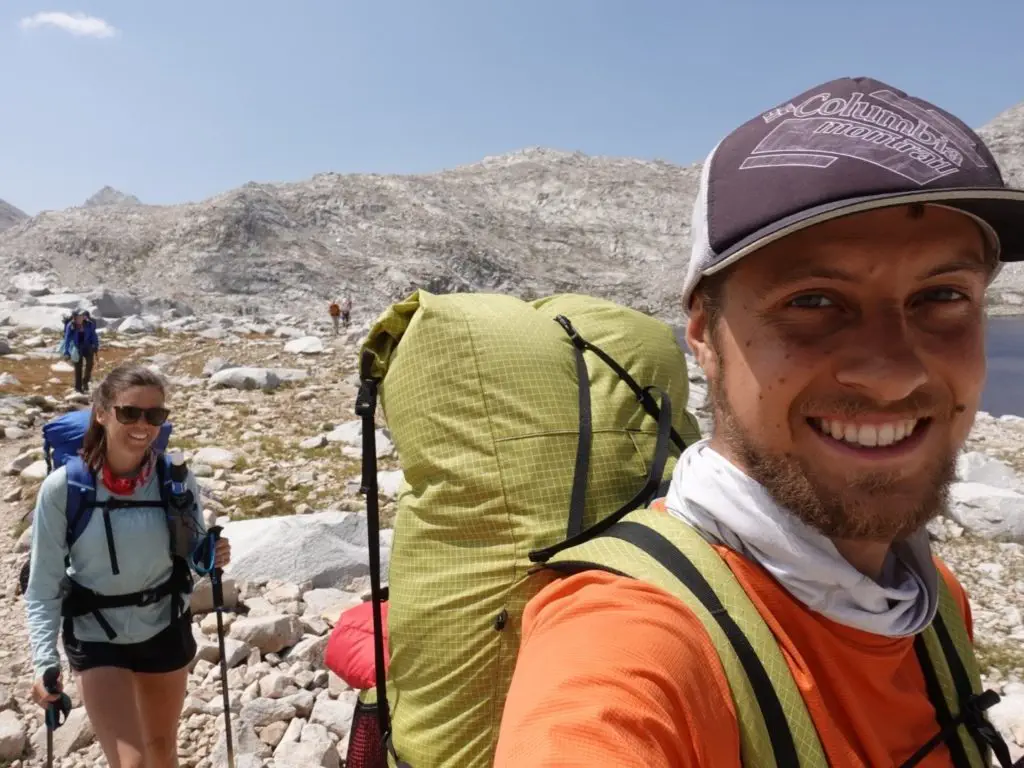 ---
My experience thru-hiking the John Muir Trail
There is a certain majesty and grandeur in these mountains that is undeniable. And many regard the John Muir Trail or the Nüümü Poyo as the 'greatest hits' of the region. The hike is so popular that you have to apply for a permit is a must and many folks wait years to hit the trail. A thru-hike of the Sierras also attracts a hiker culture; people of all ages and backgrounds are able to complete part or all of the trail with the same overarching goal.
I hiked the John Muir Trail with Katie, my partner, in 14 days. We started at the Happy Isles trailhead and ended our journey at Mount Whitney in the Inyo National Forest. The entire trip was on trail. We covered 212 miles – all on trail – with 47k of elevation gain, or 220 ft/mi.
---
Planning to hike the John Muir Trail
For Katie and I, the logistics to organize the John Muir Trail were the most challenging part of the trip. The vast wealth of resources like the Guthook app and on-trail resources like resupplies and trail markers make the hike itself quite straightforward. Our most important pre-trip details to figure out were:
Getting a permit for the John Muir Trail is HARD. I was rejected at least 30 times. We put our name down for the rolling lottery. Because this was during COVID, I expected that a last minute cancellation might arise during our ideal window in August. Luckily, I found a cancellation on their website, called a ranger immediately and registered for the permit.
Once we had our start date, the conditions assessment was quite easy. I'd spent a bit of time in the Sierras and know how to predict backcountry weather.
Katie and I put our gear list together using our existing gear. The only major purchases we made were an MLD Duomid and Spirit Quilt.
The food resupply options threw us for a loop. Being a well-traveled trail, I expected this part of the planning to be straight forward. Not so. Shipping to Red's Meadow requires sending a package weeks in advance of your start date. Our second resupply location, Muir Trail Ranch, was even more difficult. They required a 5 gallon bucket and cost an expensive shipping fee. Since we got out permits late, we had a mad dash to send everything in time.
Getting to and from the trailhead was not easy. We drove from Seattle. I dropped our car off at the Whitney Portal parking lot, but needed to get back to Mammoth Lakes without a ride. So, I ran 12 miles down to Lone Pine and caught the ESTA to Mammoth. Katie and I stayed overnight at the Mammoth RV Park and took the YARTs to Little Yosemite Valley.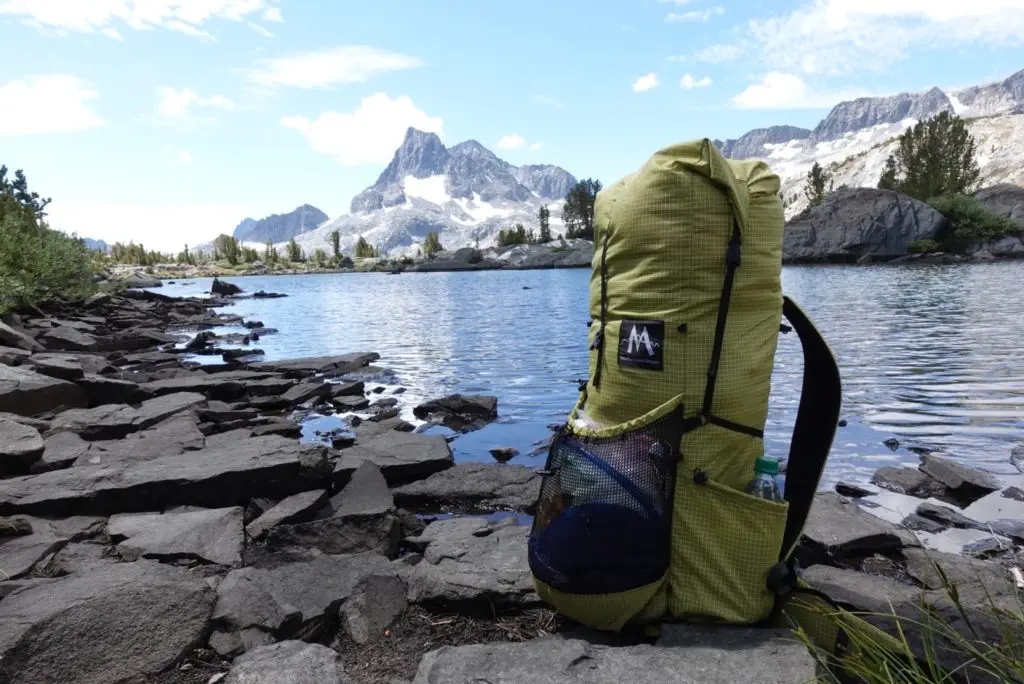 ---
Our experience hiking the John Muir Trail
Coming from sea level, the elevation slowed us down a little at the start. After realizing that the altitude drug, Diamox, was giving us terrible side effects, we stopped taking the medication. We realized our symptoms were more connected to the drug than the altitude. After that, we had smooth sailing. Going Southbound on the JMT allows your body to acclimate well, because the trail hang around 4,000-9,000ft in elevation for the beginning and slowly gains in over the rest of the trek.
Katie and I were blown away by the views. We jumped into alpine lakes, stood in awe of huge granite slabs, and worked our way up increasingly more spectacular mountain passes. The most strategic part of hiking the John Muir trail is timing mountain pass climbs. Guthook gave us really reliable data. Each day could be quantified in difficulty by how many mountain passes we covered. One was good, two was a long day. Graded and smooth, hiking on the trail is straightforward. So, with a little understanding of hiking pace and skills around campsite selection, this wasn't much of an obstacle. Plus, the passes are incredible. We woke up at 3 am at guitar lake to try to see Whitney at sunrise. The experience was surreal. We felt a huge sense of accomplishment hiking all the way from Yosemite Valley to Mt Whitney.
However, something was missing on the first half of our trip. Katie's and I were looking for a social experience. It wasn't until after Muir Trail Ranch, about half way through the hike, that we stumbled upon our trail family. We met a group of nine hikers at the hot springs near the ranch, and we quickly became best friends. The inside jokes were endless, and each evening was a great way to unwind after a good day of hiking. I even caught my first Brookie! We still stay in touch with this group and even had one couple come visit us in Seattle.
Of course, the social side had its drawbacks. We had to make group decisions around campsite selection mileage for the day. Katie and I probably would've put in more miles each day. Katie and I felt really lucky to stumble upon such a great group of people well hiking.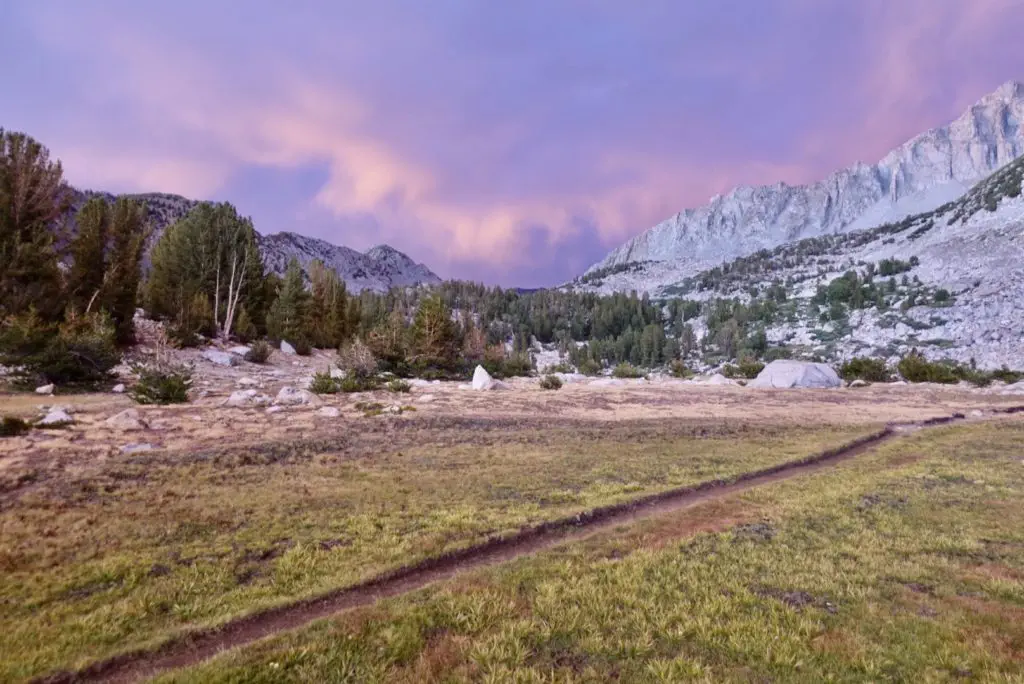 ---
Backpacking in the Sierras
Hikers often refer to trails as a 'corridor.' 95% of visitors to Yosemite National Park don't leave their cars (which is 95% wilderness). For the folks who do, the John Muir Trail route is by far the most trafficked. Established trails have a bit of use, but very few have the confidence to stray from the dotted lines that denote 'trail' on a topographical map. Outside of the trail corridors, Yosemite is barely touched, which is the area I was exploring on my guided trips.
Now, I would like to give a disclaimer on backpacking off trail in the Sierras. The Sierras, or any mountain range, are extreme and delicate environments. When not done properly, human use can change these environments. If you are interested in the type of travel described below, please understand the principals of Leave No Trace and practice responsible backpacking.
Because of its remoteness, long backpacking trips in the Sierras is often done best with a team, unless you have experience and intermediate backpacking competencies. The travel is often much more remote – you won't find a trail family. You'll need to design your route and will have to strategically seek out resupplies if you're out long enough. One of the main difference in the style of the trip compared to the John Muir Trail is that the goal of these backpacking trips is to practice self-sufficiency and develop a keen understanding of the landscape.
I spent 10 days backpacking getting trips in Yosemite National park north of Tuolumne Meadows as a backpacking guide with Andrew Skurka Adventures. I covered ~83 miles and 20.5k vert, or 245 ft/mi. I first led a three day backpacking trip in for beginner backpackers and then led a seven day trip advanced backpackers. The three day trip featured a route in eastern Yosemite and the seven day trip featured a route in northern Yosemite.
---
Planning to backpack in the Sierras
Working as a guide and program manager for Andrew Skurka, I've continued to refine my backpacking skills. Running an ambitious backpacking route in the Sierras requires planning, but doing it as a guiding operation requires expert like precision. The most important pre-trip details to figure out were:
Acquiring a wilderness permit
Route creation
A gear list
Food resupply options
Travel to/from the trailhead
You'll have a lot more luck getting a backcountry permit in Yosemite if you aren't pulling out of a John Muir Trail starting trailhead like Happy Isles. You simply apply for a starting and ending trailhead, and then have to figure out how to get from point A to point B. Often you can make elegant loops with a variety of route options.
Route creation is a complex topic. I'd highly recommend using CalTopo as your map creation tool. I find guidebooks, personal connections and prior backcountry knowledge to be the most valuable planning resources.
The conditions assessment for this type of trip is much more important. You won't be on a buffed out hiking highway for the entire trip, and you'll want to research accordingly. Particularly, think about how different terrain might affect your pace and exit strategies if something were to go wrong.
I had a pretty identical gear list on this trip compared to my JMT hike.
Working as a running coach and a sponsored ultra runner for Columbia, training and physical preparation is something that comes naturally to me. On the JMT, it's pretty straightforward. You hike what you can hike. You'll want to train to be in your best shape possible, and you'll need to be fit enough to get to your destination before you run out of food. However, when you are following a route that may have multiple options, you'll want to understand your fitness and how that relates to the type of route you are backpacking.
If you are looking to have a food resupply, you'll have to do the planning yourself. You'll likely want to stash your food at an existing bear locker or utilize a resource that caters to hikers, like Red's Meadow.
Likely, you aren't doing a point-to-point route, so you'll probably find travel to and from the trail head to be straightforward.
---
My experience guiding in the Sierras
The three day trip allowed us a good full day of exploration into Yosemite's backcountry, however we had to spend a day getting in and a day getting out. That being said, the front country trails featured stunning views. I enjoyed a nice alpine lake dip, so it was a good way to ease into the 7 day trip which started immediately following the 3 day trip..
Part of my group wanted to climb a nearby peak at 12.5k vert and another wanted to do a less elevation heavy route along a pristine alpine lake. I took the group who wanted to climb the peak – which didn't have any official trails on it. We spent an entire day using a combination of off-trail travel and use-trails to get near the peak. With only about 400 vertical feet of gain until the peak, I made the decision that we needed to descend. Our team wasn't moving fast enough to safely hit the peak and get back to camp before day light. We had to make strategic decisions to manage risk and keep everyone healthy and happy. Instead, we jutted to the nearby Ridgeline for an expansive park view. We could see the entire Cathedral Range, and with a map and compass and the mapping app Gaia, we were able to identify a handful of distant peaks.
The three day trip allowed for elevation adjustment; I was able to spend a handful of nights sleeping at 8-9k vert and I didn't have any issues when we were sleeping at 9-10.5k vert or climbing a mountain pass over 12k vert. A common mistake on these types of trips is to not adjust for elevation. While the JMT features a natural progression to high altitude, the quick availability of high alpine environments leads to Acute Mountain Sickness for some individuals. I'd recommend camping at elevation a few nights before you start your trip.
On the 7 day trip, we spent 5 days in the backcountry and 2 days on front country trails. Five days is a lot of time to explore. We were able to visit very remote and pristine parts of the park. Aside from another one of Andrew's groups, I saw less than 10 people over those 5 days. Some people might find this remoteness invigorating, which others may find it lacking human connection or anxiety inducting.
Our group had a 7 day route to follow, and we made iterations based on our groups interest and energy levels and fitness. I experienced a certain level of creativity and achievement that was missing from the JMT. The route required constant navigational skills and attention. You couldn't go into autopilot and expect good things to happen. There was no Guthook app to tell us when our next water source or campground was. Myself and my the lead guide, Jessica Winters, drilled navigation into the minds of our team, and we operated better because of it.
---
Final Thoughts
In my 20s, I was always drawn to thru-hiking – big miles, epic views and new friends. However, as I've become more proficient, the idea of designing my own route and creating my own adventure appeals to me more and more. I love guiding trips with Andrew Skurka because it allows me to take less-travelled wilderness spaces and explore them.
Backpacking seems to attract more weekend warriors, while many thru-hikers are in a transitional phase in life. They may be in between jobs, just out of college, or recently retired. I still enjoy both experiences, and if you haven't tried both, I'd highly recommend it.
I've boiled down my comparison to a few points on backpacking vs. thru hiking that I ask myself when I'm planning a backpacking trip.
What is your sense of purpose? A thru-hike has a clear, achievable goal. Get from point A to point B. For many people, it is easy to gauge the success of their trip on a thru-hike. Backpacking a route is more ambiguous. Does it really matter if I climb over this mountain pass, or should I take the less strenuous valley floor trail? Unless you are intimately familiar with the area, you can only guess to the backcountry gems you might find, but that is part of the journey. I like to both challenge myself and am quite motivated to experience remote places, so both intrigue me.
Am I looking for a social experience? Everyone on a thru-hike has a similar purpose and, if that is your thing, you will likely make friends. Alternatively, many people go to the backcountry to get away from the crowds. Dahn Pratt, one of my friends, say 'When I am in the outdoors, I am the best version of myself.' I agree with him. I like to meet other people who are the best versions of themselves, so thru-hiking is a great option for me. However, I have boundless energy, so I really like to challenge myself. I gravitate more towards backpacking for that reason.
What is my tolerance for risk? A thru-hike almost certainly puts you on the most used trail in whatever region you are visiting. If something bad happens to you, you'll figure out a way to get help. One of my friends was hiking a section of the PCT and tore her calf. Randomly, she ran into an ER nurse who wrapped her calf in KT tape and gave her advice on how to self-evacuate as safely as possible. You won't find that 3 miles off trail in northern Yosemite. The difficulty of backpacking route drastically increases or decreases your exposure to risk, and you should always do your homework to estimate the risk and the consequences of those risks that you are putting yourself into.
Do I enjoy navigation? Navigation is the Beyonce of backcountry skills. Everybody wants to be her. 'What if I could use my map and compass and go anywhere I want? I'd be so cool!' What most people who haven't gone off trail, done a high route, or been responsible for the safety of a group in the backcountry don't realize is that navigation is taxing. Navigation requires constant attention to detail and certain competencies to be done right. I will say, practice does make perfect. Learning to pick a sweet line to a saddle or avoid a talus field isn't rocket science, but it does require skill. If you enjoy navigating and have a passion for geeking out over maps, that is half the battle. Most people struggle as navigators because they haven't put in enough reps.
If this resonated with you, leave comments below! I'd love to hear if you gravitate towards backpacking or thru-hiking and why.
---
---
This post contains affiliate links. I earn a small commission on sales via these links at no additional cost to you. If you'd like to support me, please purchase products through the affiliate links. Thanks!